How to level-up your salads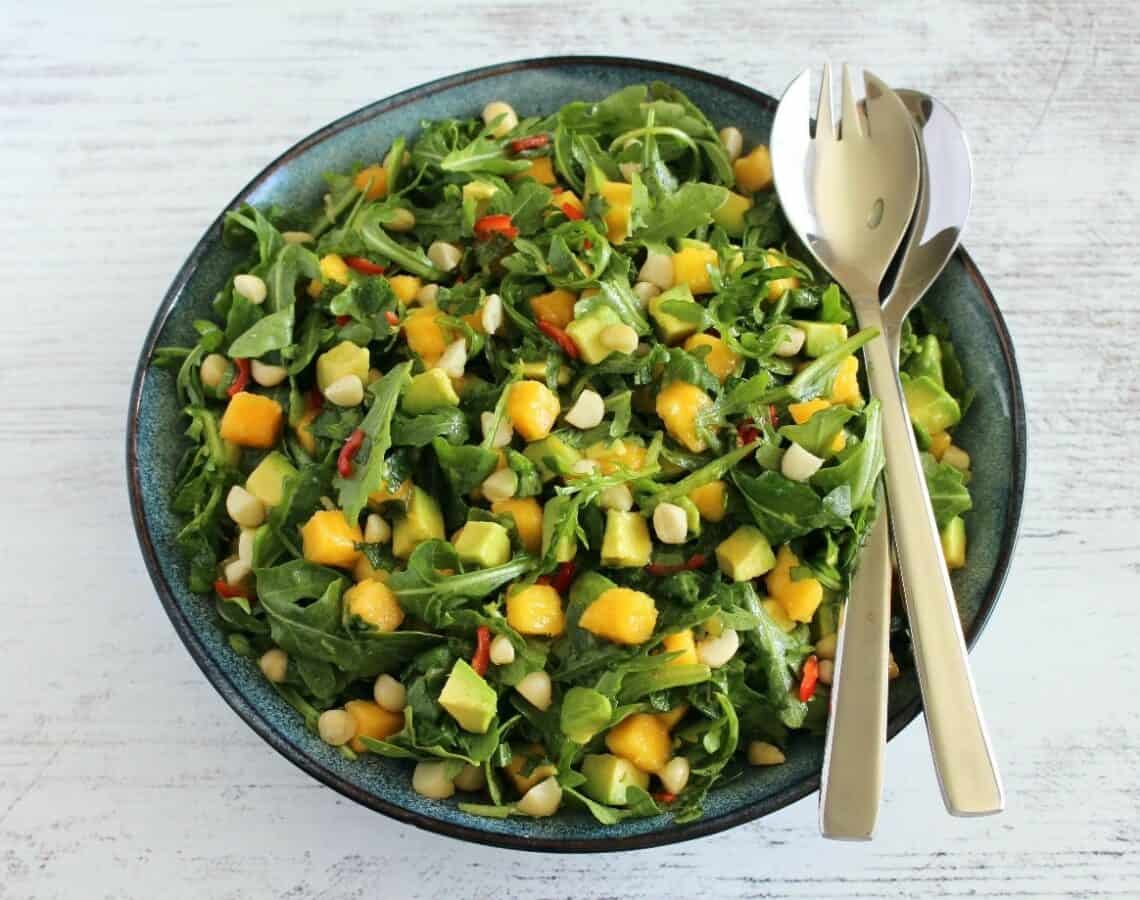 If you're yet to spark an interest in salads, don't stop trying! Whether you're making a salad for your family at home or to bring to a friend's place, try our tips to liven up your salads so they'll never be 'boring' again.
1. Add some colour
'You eat with your eyes' – so if salads look good, they're more appealing to eat. Try adding in a few other vegetables and fruits to get different colours coming through. Doing this gives you a mix of vitamins, minerals and antioxidants, as food of similar colours contain similar nutrients and health benefits.
Here are a few colour additions to get your started:
Red – Try tomatoes, radishes or watermelon. They contain lycopene which is pretty important for fighting disease.
Green – Try green bean, spinach or kale. They contain lutein and zeaxanthin which protects against age-related eye disease.
Orange and yellow – Try carrots, sweet potato, yellow tomatoes or corn. They contain Vitamin C and folate which supports healthy immune system function.
Blue and purple – Try eggplant, purple cabbage or blueberries. They contain anthocyanins which have an anti-inflammatory effect on the body.
White and brown – Try cauliflower or mushroom. They contain sulforaphane which is great for cancer prevention and heart health.
2. Have fun with the ingredients
Life's too short to have the same salad over and over again when you can easily try new recipes using cheap ingredients.
Base: The usual go-to salad base is iceberg lettuce. It's a perfect all-rounder or try starting with other greens such as spinach, rocket, watercress and kale. These contain more antioxidants, fibre, and minerals like iron and also provide different textures.
Fruits: Hear us out, fruits can be the perfect addition to your salad. Pineapple, watermelon, mango, mandarin and pomegranate add extra flavours, textures and add a refreshing twist. It also helps that they're full of the good stuff like Vitamins A, C, fibre, and phytochemicals that are important for good eye-health and can help prevent cancer, stroke, and heart disease.

Watch for: Dried fruits (raisins or cranberries) are energy dense and may contain added sugar. Toss in a few fresh grapes to your salad instead.

Bulk it up: Make your salad go further with grains like quinoa, rice, cous-cous or pasta. Grains are naturally high in fibre, so they'll help you to feel full and satisfied, and maintain a healthy digestive system.

What to get: Opt for the wholegrain options.

Go nuts: Our favourite nutty salad additions are walnuts – these heart-healthy nuts contain the most omega-3 fatty acids of all the nuts. Omega-3 fatty acids can improve cardiovascular health and improve cognitive function. To add a bit more flavour, toast the walnuts in a dry pan or in the oven until you can start to smell them.

Alternative: If you're not a walnut fan, try almonds, sunflower seeds or pumpkin seeds – they're all good sources of protein, healthy unsaturated fat, fibre, and vitamins and minerals.
3. Make use of local produce
You'll not only be supporting your community's farmers but buying local means the freshest produce, at a good price. This guarantees you're getting the produce that's in season, so you can find different foods all year round.
If you don't have local farmers markets, try growing your own vegetables, fruit and herbs in your backyard or on your balcony. You can do this all year round and if you're not sure how, read this resource that answers all your gardening questions.
4. Keep it simple
You don't have to spend a lot of time and money on superfood ingredients and preparing a fancy salad – save yourself the time. Basic salads made with ingredients from the fridge are just as delicious. Here's a few ways you can dial down the complexity of your salads and dial up the flavour.
Sauce: Some pre-made sauces and salad dressings can be high in added salt, sugar or added fat.

Swap: Instead of Caesar, ranch or blue cheese reach for balsamic vinaigrette or Italian style dressings.

Make healthier: Potato salad, pasta salad and coleslaw can all be made with a healthy twist.

Swap: Instead of just using mayo, try using reduced-fat natural or Greek yoghurt plus a tablespoon of mayo. You will get a lovely texture and flavour and around 80% less fat.
Add: Grate up extra veggies like carrot and zucchini to give these salads a colour pop and increase their fibre and nutrient content.

Pre-made: Many supermarkets sell pre-packaged salads in the produce section which are super convenient. Be aware of the sauce and if it's creamy, consider swapping it out for a homemade version.

Educateyourself: If choosing packaged products it's good to be across the nutrition information panel on the bottle or package. Aim for products with:

Less than 3 g per 100 g of saturated fat
Less than 15 g per 100 g of sugar
Less than 400 mg per 100 g of sodium (salt).

Leftovers: Leftover protein, grains and roast vegetables can all be cut up and repurposed into a delicious new meal to reduce food waste and save money.

Meat protein: Look for lean cuts like grilled chicken, fresh seafood or diced beef as opposed to bacon, ham, sausages or fried meat, as these will keep your saturated fat intake down and help to keep you fuller for longer.
Vegetarian protein: Add baked, grilled or sautéed tofu, eggs, black beans, edamame, lentils, nuts and quinoa.

Extras: Be mindful of other extras like croutons, crunchy noodles, or too much high fat cheese as these can reduce the nutritional value of the salad and quickly add up to a kilojoule-dense meal with excess salt or saturated fat.

Options: Instead try grilled sweet potato pieces, wholegrains like rice and quinoa, and some reduced fat feta cheese.
5. Recipes to inspire you
If you've read all of this and you're still not sure where to get started, we've got you sorted. We have a few salads to get you going and with our tips in this blog, try tailoring these salads to you.