Mango, Avocado and Macadamia Salad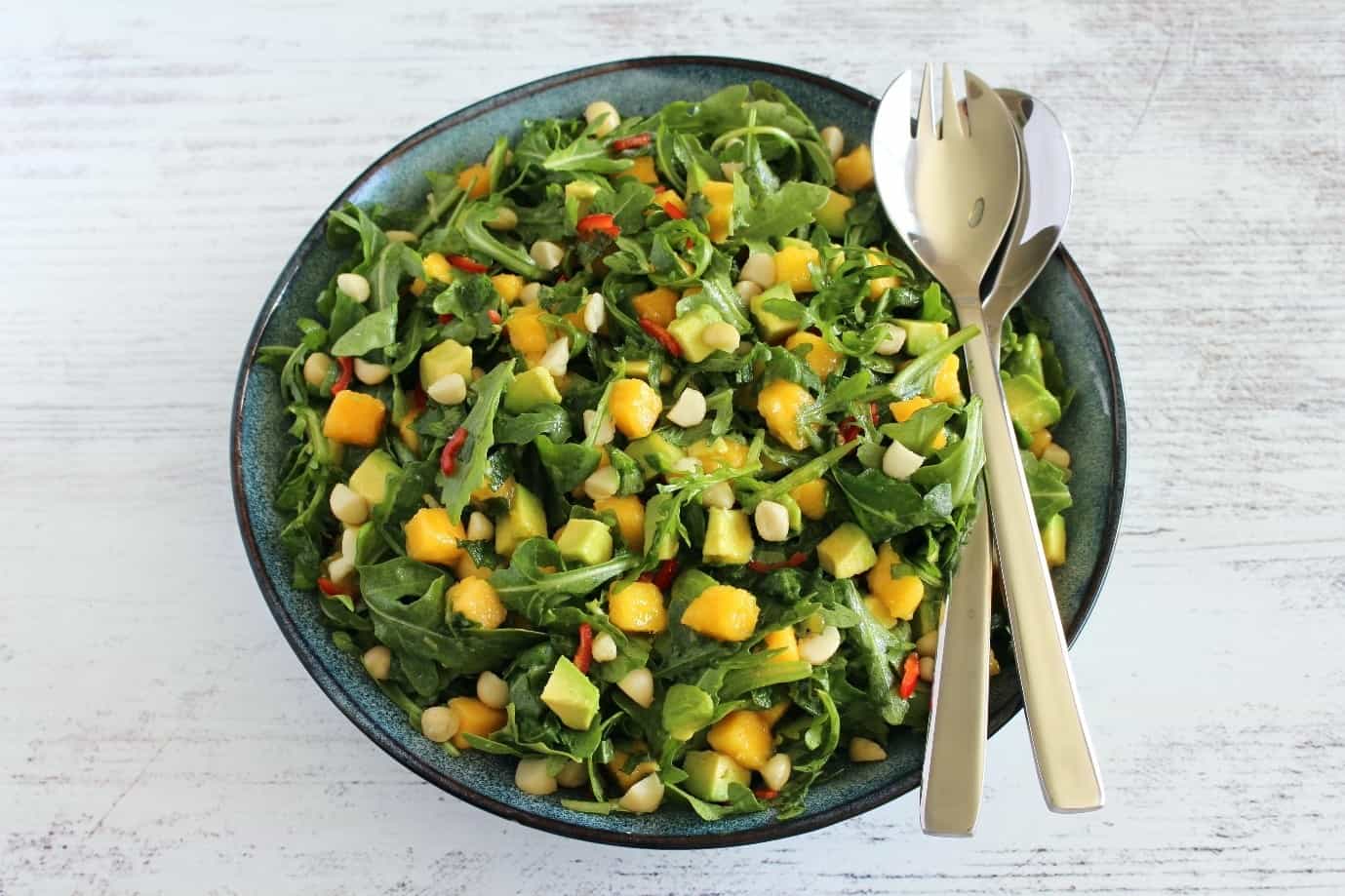 Beauty in a bowl, this nutrient-dense salad will bring new followers to the I-love-salad camp!
6
Serves
.3
Serves of Fruit
(Per Serve)
1.5
Serves of Vegetables
(Per Serve)
INGREDIENTS:
2 medium mangoes, diced
2 medium avocados, diced
1 ½ tablespoons lime juice
1 ½ tablespoons extra virgin olive oil
1 garlic clove, crushed
1 long red chilli, deseeded and sliced
150g rocket leaves (approx. 5 cups)
¼ cup mint leaves, finely chopped
¼ cup macadamia nuts, roughly chopped
METHOD:
To make the dressing, combine the lime juice, extra virgin olive oil, crushed garlic, and sliced chilli in a small bowl.
Place the rocket in a large bowl and add the finely chopped mint leaves, diced mango and avocado. Add the dressing and gently toss to combine.
Sprinkle with chopped macadamia nuts to serve.
RECIPE NOTES:
Adapt this recipe to suit your preferences or what you have available. For example, replace the rocket leaves with baby spinach leaves or mixed lettuce, or replace the macadamia nuts wither another type of nut or seed.
If mangoes aren't in season, try tinned (low or no added sugar) or frozen, which will work just as well. Defrost frozen mango in the refrigerator and drain excess liquid prior to adding the mango to the dish.
Serve with grilled meat, chicken or fish as well as a grain such as cous cous or quinoa.
This recipe is rich in monounsaturated fatty acids, which are great for our heart health.
If possible, choose mangoes grown locally in north Queensland, avocados grown locally in north and central Queensland, as well as macadamia nuts grown on the Fraser Coast.
ACKNOWLEDGEMENT:
Recipe produced in conjunction with Nutrition Australia Qld.