Evidence-based validation for Pick of the Crop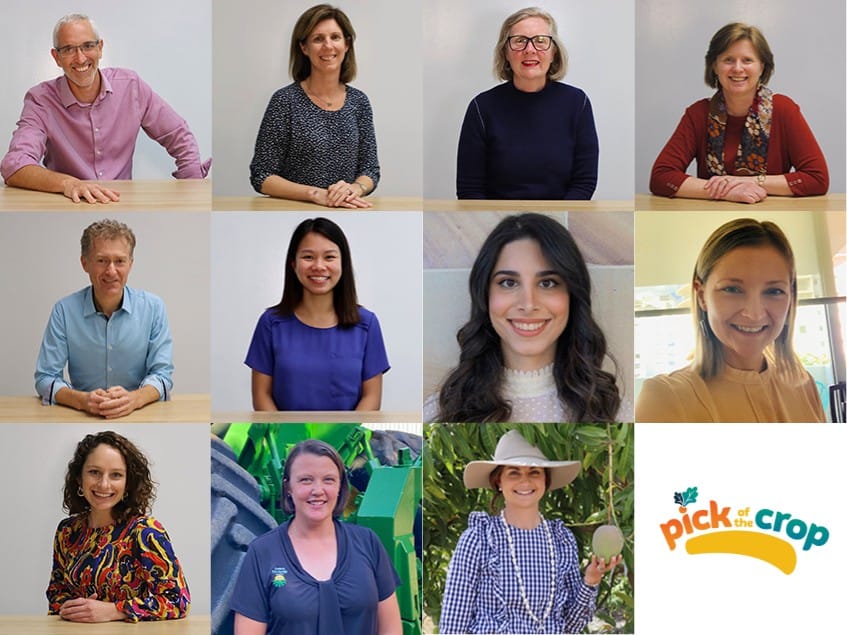 (Image: Pictured in order, as per below team bios).
What do you get when you put a diverse and deeply knowledgeable team together with expertise in nutrition, education, early years development, nursing and public policy? It's not a riddle, it's the Pick of the Crop Program team.
Pick of the Crop was established as one of our signature programs to tackle the ongoing and persistent low intake of vegetables among children. Through consultation and co-design with schools, growers and sector players, Pick of the Crop was developed into a whole of school healthy eating program.
Since its launch in October 2020, Pick of the Crop has established itself in more than 35 schools across three pilot locations in Queensland's Bowen, Bundaberg and Logan regions.
At its heart, Pick of the Crop has been enthusiastically embraced by participating schools because of the value it adds to schools wishing to embed healthy eating. Through locally agreed actions, schools prioritise which of the five program components they want to focus on, which cover: farmer and food connections; teaching and learning programs; opportunities to taste vegetables and fruit at school; healthy school environments (such as tuckshops and veggie gardens); and parent connections.
Health and Wellbeing Queensland Principal Lead – Public Health Nutrition Mathew Dick said the team's approach from the beginning was to meld its vast experience with the evidence base, ongoing studies and the voice of stakeholders to develop something truly valuable and sustainable.
"We've always been clear on our aims—to shift the dial on sustainable practices in schools, as well as mindsets focused on healthier eating for children—and we're already seeing exciting shifts in the way school leaders, their staff and students are taking on the messages within Pick of the Crop," he said.
"Longer term practice and policy shifts need to be informed by evidence-based thinking and our partners at UQ have just completed a vital piece of research into the enablers and barriers to the success of school-based nutrition programs."
"It's no surprise that the research found sustained, long term funding and support of programs like Pick of the Crop increased their likelihood of success."
"By understanding the success factors for long term programs, we will soon be able to overlay those findings with the evaluation findings of our pilot program, due to be published early in 2022, and ensure sustainability is central to planning for the future, and our early observations tell us we're on the right path," he said.
Validation through academic rigor
Part of the Health and Wellbeing Queensland difference is our ability to bring varied expertise together, and in this case, deep sector knowledge and academic precision.
University of Queensland PhD candidate and Accredited Practising Dietitian, Leila Fathi joined the project team and brings a lifelong passion for food and its interconnectedness with wellbeing.
Her clarity moment was the discovery of a paper, Promoting Healthy Eating among Young People—A Review of the Evidence of the Impact of School-Based Interventions, which laid out the effectiveness of school-based nutrition programs of various durations.
"What I discovered was that past one year, and at three years, intervention programs started to drop off when critical barriers were present—such as limited access to long-term support, lack of funding, as well as other factors such as inflexible program delivery and poor engagement of the school community," she said.
"Put another way, ongoing funding and support from institutions are clearly indicated in the success of school nutrition programs—as are different ways of engaging children and involving parents and carers."
"What I discovered in the literature review process was a strong correlation between those programs that were multi-component, sensitive to the school's sociocultural context and supported beyond five years also had the most positive health impacts on the children," she said.
"The research also told us that successful programs were a combination of age-appropriate education, behavioural adaptations, support from policy, parental involvement, evaluation systems and increasing exposure to healthier foods through the school environment."
What this literature review gives us is the green-light to continue with our long-term strategy of building local capability with the Pick of the Crop program.
The accumulation of local capacity and knowledge around nutrition connecting with how and where food is grown and creating interactive and engaging learning activities will over time help increase opportunities for Queensland children to learn about and eat more vegetables and fruit: a major factor in helping reduce obesity and overweight rates.
A diverse project team
The Pick of the Crop program benefits from the broad collective knowledge and experience of some of the sector's most experienced practitioners.
Mathew Dick, Principal Lead – Public Health Nutrition, brings more than 20 years' of policy experience in working with schools, including implementation of the Smart Choices – Healthy Food and Drink Supply Strategy for Queensland Schools strategy. He's also been at the forefront of national work to promote healthy eating at school and worked closely with a team form education and health sector peak bodies and agencies to develop a call to action supported by good practice guidelines.
Charlotte Morrison, Senior Public Health Nutritionist who has experience in working in both the government and non-government sectors and continues to work closely with the Department of Education to manage implementation of the Smart Choices strategy, and the school tuckshop support program.
Sally Russell-Hall, Clinical Nurse Consultant and a Registered Nurse and non-practicing Midwife who has worked with Queensland Health as a School Based Youth Health Nurse Coordinator and has extensive experience working within the Preventive Health Branch in Queensland Health.
Cathie Gillian, Senior Health Promotion Officer, who has spent a career in public and mental health roles in the early childhood education and care sector and primary schools and was part of the team that established Health and Wellbeing Queensland.
Roger Meany, Policy Manager, who is an experienced public health policy leader with more than 20 years' experience leading and supporting national and state health promotion and prevention initiatives, including initiatives for COAG Health Council and the Ministerial Forum on Food Regulation.
Dr Li Kheng Chai, Research Fellow, is a dietitian and health behavioural researcher with experience across public health and academic settings. Li Kheng brings her skills in research design, implementation and evaluation to the project.
Leila Fathi, PhD Candidate, whose Dietetics mentor is Dr Robyn Littlewood (Health and Wellbeing Queensland Chief Executive). While Leila has just completed the systematic review, her PhD will provide valuable evidence to inform the sustainability of Pick of the Crop.
Rachel Afflick, Senior Media and Communications Advisor, an experienced digital and print journalist and editor, Rachel brings her skills in helping to amplify the reach of the project team.
Kat Cacavas, Regional Coordinator Logan, is a primary school teacher, Dietitian and Nutritionist with experience across Australia and internationally. She brings a broad understanding of culturally appropriate curriculum development and has worked across government, academia, and NGOs.
Jenna McCormick, Regional Coordinator Bundaberg, with almost a decade as a primary school teacher and a former career utilising her environmental science degrees, Jenna brings sector knowledge and academic precision to help schools deliver targeted learning experiences.
Olivia Gordon, Regional Coordinator Bowen, having worked in a school environment with both teachers and students as a teacher aide, Olivia combines her experience of living and working on a beef cattle grazing business with extensive business administration experience to bring on-the-ground farming knowledge into schools.
With our pilot sites recently expanding to the Wide Bay Region, Pick of the Crop is set to offer its healthy eating program to an additional 21 schools in the region, which means more Queensland kids will be exposed to the benefits of learning about and eating more vegetables and fruit.
Learn more about Pick of the Crop.