Pick of the Crop's bumper boost for Bundaberg primary schools as healthy eating pilot expands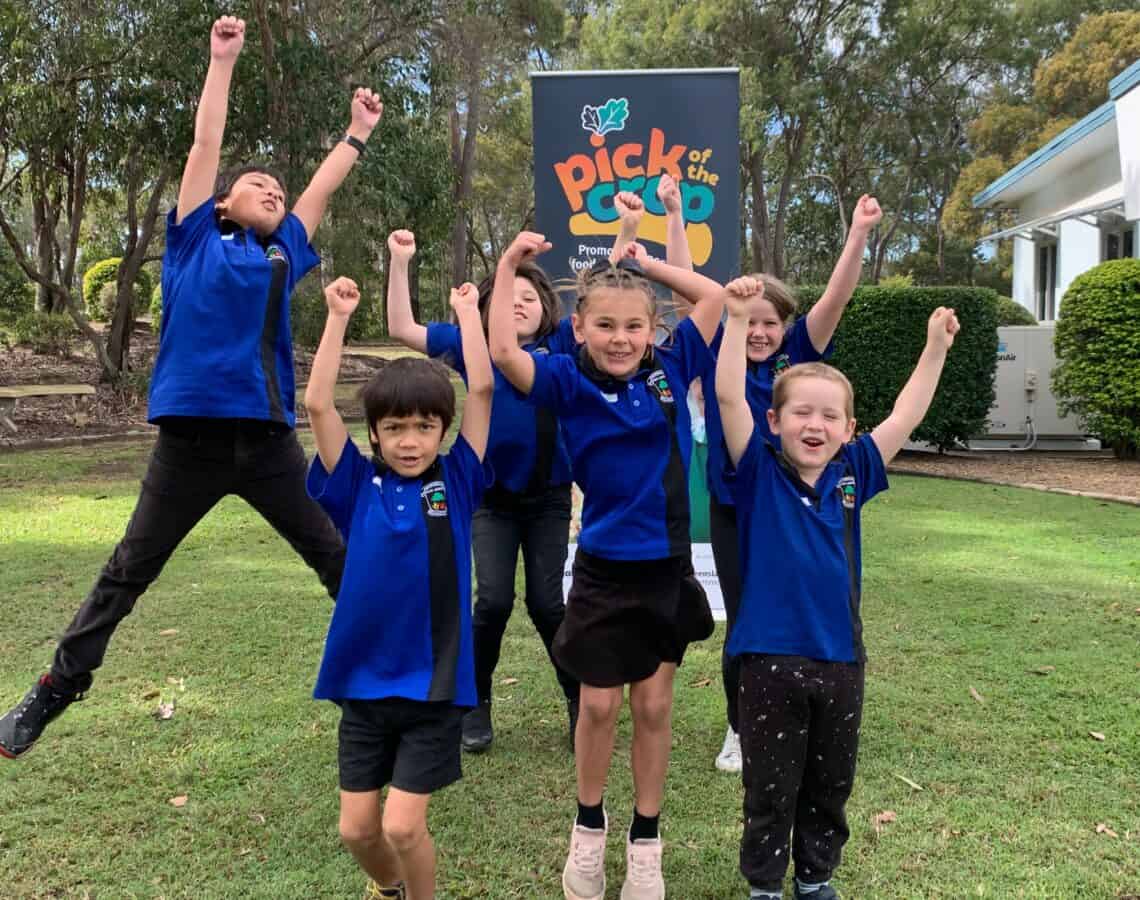 Up to another 5,000 primary school students in the Wide Bay region will have the opportunity to learn about and eat more vegetables and fruit and meet the farmers who grow them, with Health and Wellbeing Queensland's Pick of the Crop program set to expand in the region.
An additional 21 state primary schools will have the chance to apply for Pick of the Crop and access $5,000 grants for small projects to enhance students' learning about vegetables and fruit.
Health and Wellbeing Queensland (HWQld) Chief Executive Dr Robyn Littlewood and Bundaberg Fruit and Vegetable Growers (BFVG) Managing Director Bree Grima delivered the news during the inaugural Connecting Students with Agriculture Interactive Forum. The event brought Pick of the Crop primary schools from across Bundaberg together to learn from local industry groups about where food comes from and why vegetables and fruit are important for our bodies.
Dr Littlewood said she was delighted Pick of the Crop would continue in partnership with BFVG, and reach even more schools than before. "Pick of the Crop is an exciting program bringing Queensland state primary schools and growers together to increase opportunities for children to consume and learn about vegetables and fruit," she said.
"Vegetables and fruit are vital to our health and our children's ability to perform at school, on the sporting field and everywhere else.
"Only 6 per cent of kids aged 8 – 11 years are eating the recommended amount of five vegetables every day, so nearly all Queensland children need to eat more veggies to stay healthy and well. Pick of the Crop creates school environments that reinforce healthy eating and build a positive food culture and it's wonderful to see so many schools embracing this."
Bundaberg Fruit and Vegetable Growers Managing Director Bree Grima said she was thrilled to be involved with the expanded program. "As one of the largest growing regions in Australia providing 25 percent of Queensland's fresh produce it makes sense for this program to be hosted in the Region," she said.
"Through this program with Health and Wellbeing Queensland we're bringing the farm to the classroom and are showcasing how easy it can be to incorporate healthy options into lunchboxes and onto dinner plates."
Since Pick of the Crop began in Term 1 this year, 13 state primary schools in the Bundaberg region have already jumped on board and developed their own school action plans reaching from the classroom to the tuckshop to the farm.
Hundreds of students will attend today's Connecting Students with Agriculture Interactive Forum organised by BFVG and participate in hands-on activities around healthy soils, germinating seeds, growing crops, pollination, harvesting, packing, transport and eating the right produce.
They will pack and wrap their own healthy snack to take home, along with seeds and growing kit.
Pick of the Crop centres around school actions in five areas that go across the whole school environment: farmer and food connections, teaching and learning programs, vegetable and fruit at schools, healthy school environments, and parent connections.