What NAIDOC Week means to Deanne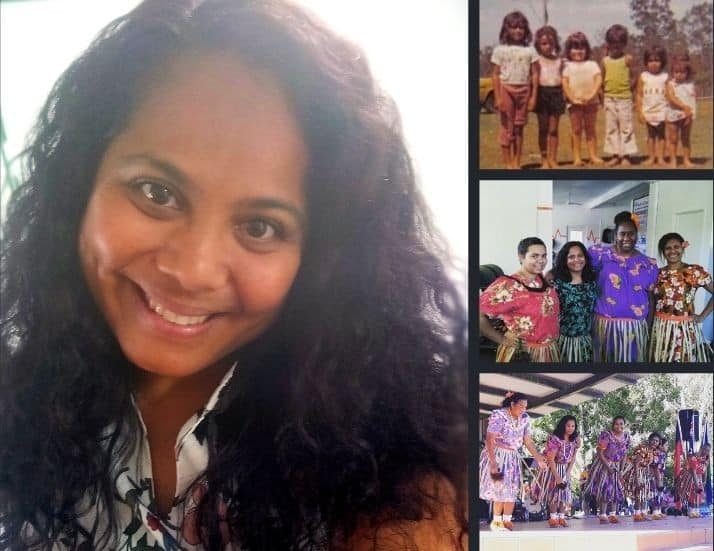 We sat down with Deanne, Principal Program Officer at Health and Wellbeing Queensland who shared with us her family history, what this NAIDOC Week means to her and how you can learn from Aboriginal and Torres Strait Islander Australians.
What's your first/best memory of being on the land
I spent a lot of my early years on my grandmothers country (Dad's Mum), Gooreng Gooreng in Lowmead, just outside of Bundaberg. We grew up with my grandparents, auntys, uncles and cousins on this property. This is where I learnt about some of our traditional foods as well as my roles and obligations within our family. I remember spending lots of time down at Baffle Creek swimming with my older sisters and cousins, and remember spending some of our Christmas's in Agnes Waters down the beach.
How do you connect to Country?
I go back to country (Lowmead/Agnes Waters) almost every year with my family. My children have spent many school holidays and long weekends there. They are able to connect with their family and country, particularly during family events. It's a lot different from when we were growing up but there is still a strong connection for me and my children there.
All our Elders on my father's mothers side, from my great great great grandfather to my Dad's parents and siblings are buried on our family property. When we go home we know our Elders are taking care of us.
The theme of NAIDOC week—Always Was, Always Will Be—what does this mean to you?
My Dad was part of the Port Curtis Coral Coast Native Title Group that saw us gain native title determination with other native title claimants in 2017 after 25 years of trying to get recognition. This was a very proud moment for Dad as well as all claimants. The determination gives traditional owners various non-exclusive native title rights to 4,205 square kilometres of land within the 19,000 square kilometre boundary. It includes access to camp, fish, hunt, take and use natural resources and water, hold meetings and maintain areas of cultural significance.
The NAIDOC Week theme means a lot to us because for some Aboriginal and Torres Strait Islander peoples they still are fighting to be recognised on their own country: this is an opportunity to highlight this issue.
It's also a time to reflect and recognised Aboriginal and Torres Strait Islander peoples as the first people of this country and acknowledge their skills and knowledge developed over many years as the first scientists, first nutritionists, first doctors, first farmers and first astrologers.
What is the significance of Country to you?
Country means a lot to me. It means culture, it's strength, it's belonging. When I'm not feeling so good, going back home, to Country, heals the soul and puts the mind at rest.
I also identify as Torres Strait Islander. Being involved in cultural events, learning our dances and language has also been part of healing and belonging for me during some good times and tough times.
How can we help others appreciate the vast relationship First Nations people have with this land?
Learning about traditional owners and about the land we live on and work with.
Understanding Australian history and its impact on Aboriginal and Torres Strait Islander peoples.
Respecting and valuing Aboriginal and Torres Strait Islander peoples knowledge and skills.
Always Was, Always Will be. Learn more about NAIDOC Week 2020.