Matt Golinski's Yoghurt Chicken, Cucumber and Mint Kebabs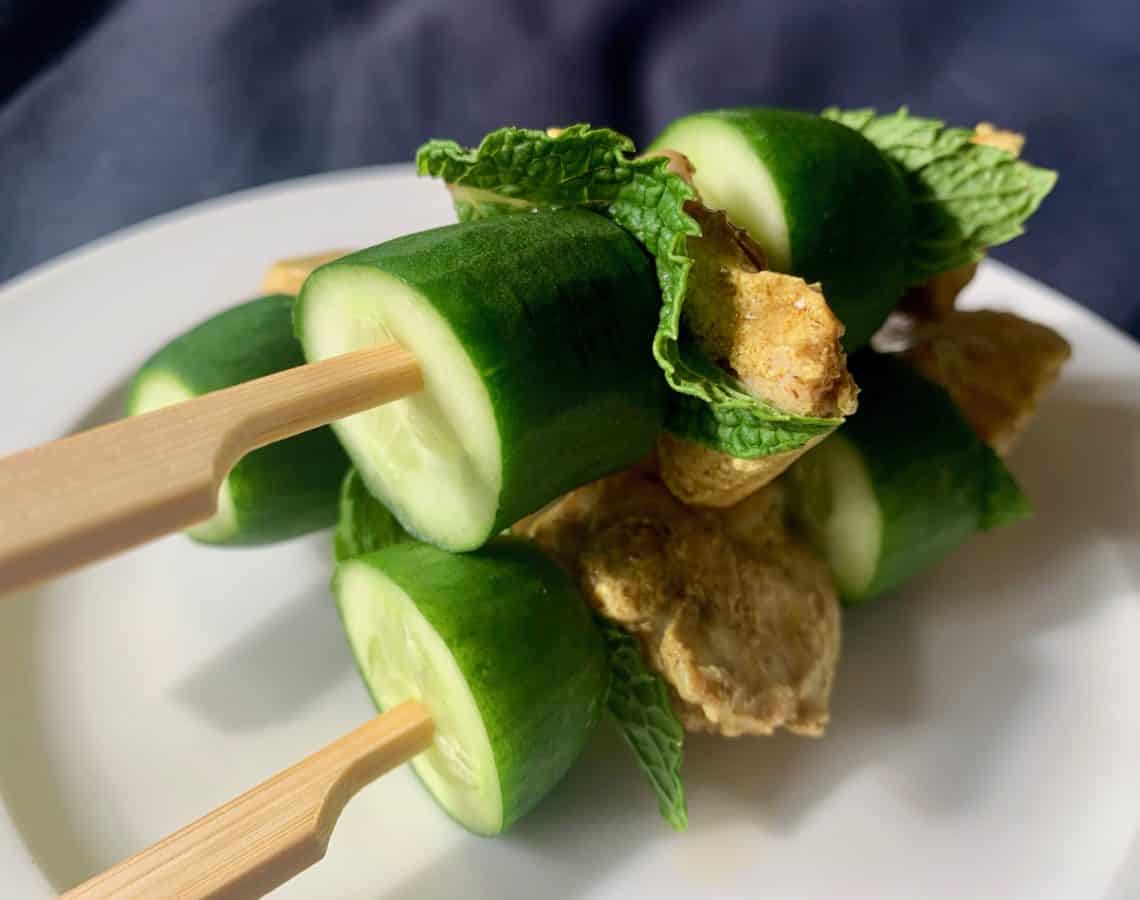 Makes 10 kebabs (5 serves)
If being taken to school in a lunchbox this snack with need to be kept cold with an icepack or two. Get the back to school food safety essentials here.
Ingredients
500 gm skin-off chicken thighs, cut into 2cm pieces
100 gm natural Greek yoghurt
1 tsp cumin
1 tsp coriander
1 tsp smoked paprika
1/2 tsp turmeric
1 tsp grated fresh ginger
1/2 tsp salt
4 'Qukes', each cut into 5 rounds *
Handful of fresh mint, parsley or coriander leaves
*Qukes are a small cucumber sold in punnets, available in many suburban supermarkets. If you can't find them, chunks of continental or Lebanese cucumbers will work fine.
Method
Preheat oven to 190 degrees Celsius.
In a medium bowl, mix the yoghurt, spices, ginger and salt until well combined, then stir in the chicken pieces to coat.
Line a baking tray with baking paper and spread the chicken out in a single layer, separating all the pieces so they aren't touching.
Bake for 20 minutes, remove from the oven and allow to cool to slightly before refrigerating until completely cold.
Thread a round of cucumber, a mint/parsley/coriander leaf and a piece of chicken onto a wooden skewer, then repeat.
Repeat with the remaining skewers.
Keep refrigerated until ready to serve up.
To increase your veggie intake, serve with a side salad or cut veggie sticks such as carrot and capsicum.
Nutritional Information
Per serve (based on 5 serves): 631kj energy, 5.9 fat (1.96g saturated fat), 20g protein and 0.1g fibre.
Recipe created by Matt Golinski, Health and Wellbeing Queensland Ambassador.