Matt Golinski's Last-Minute Five-Minute Fried Rice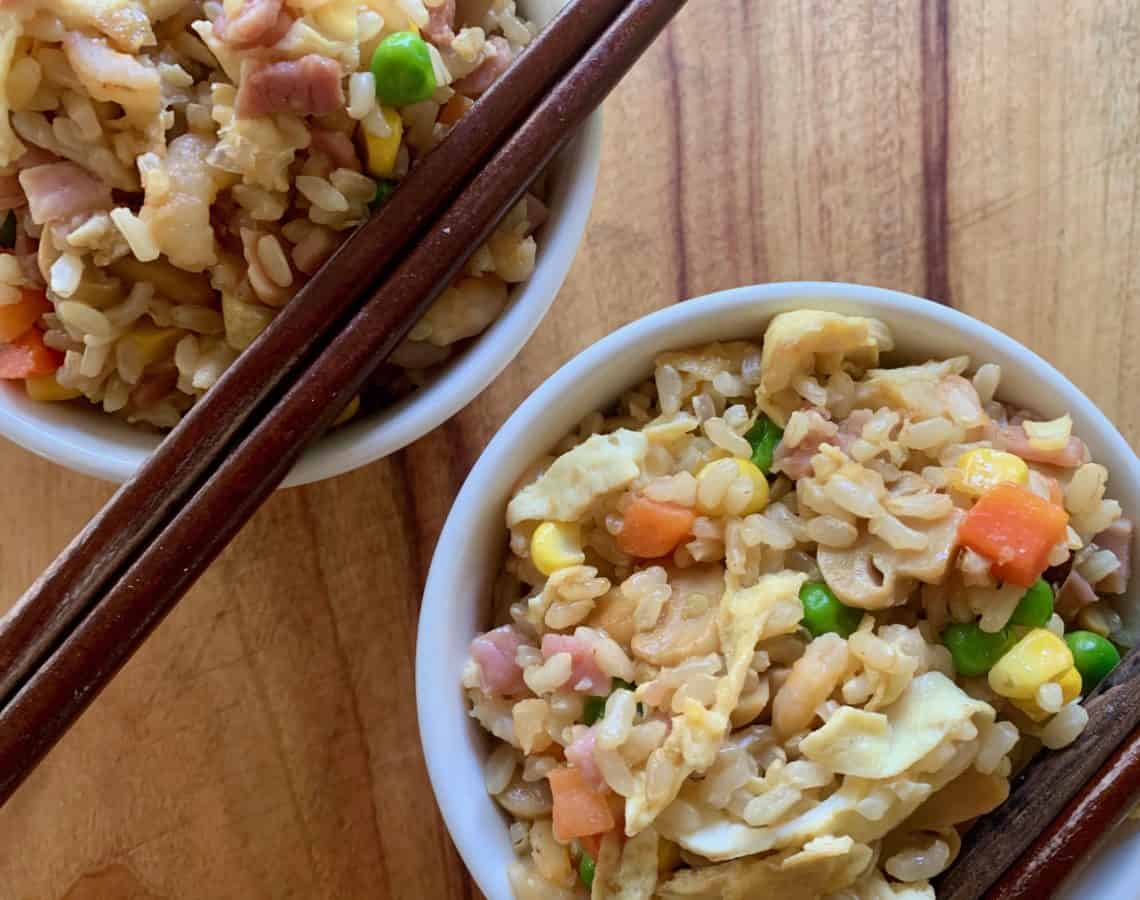 Fried Rice is an economical, quick, nutritious and delicious meal that will please the whole family, plus it's a good way to use up bits and pieces you may have in the cupboard or fridge. By using the 90 second microwave rice it means you don't even have to wait for the rice to cook!
I used brown rice, over white rice because it's lower GI (Glyacemic Index). It's a healthier option and in this dish, it really adds to the overall flavour and texture, plus adding more fibre which is so critical to a healthy diet. If you do want to cook brown rice from scratch, start with 1 cup of uncooked rice to end up with the right amount for this recipe.
I've used frozen mixed vegetables and tinned mushrooms and prawns. When using tinned ingredients, try to find no salt or low salt to keep sodium levels in check, especially for this recipe, since soy sauce is already salty.
If you don't like prawns, replace them with chicken or beef. For a vegetarian version leave out the ham and prawns and add in diced tofu, cooked chickpeas, and throw in some diced capsicum and broccoli florets.
This recipe has a generous amount of all the good bits so if you wanted to stretch it out you could easily add a second packet of rice, more vegetables and a bit more soy sauce. Or just add more veggies because they're the best!
Leftovers reheat well for lunch or pack into a lunchbox and eat it cold. Just remember food safety, when dealing with leftovers.
4 servings
Ingredients:
1 x 250gm packet 90 second microwave brown rice
4 eggs
2 cups (250gm) mixed frozen vegetables (carrots, peas and corn)
1 x 200gm tin baby prawns, drained
1 x 180gm tin champignons (baby mushrooms), sliced
150gm ham, diced
2 tbs pure vegetable oil (go for canola or sunflower)
30ml light soy sauce
Method:
Tear the corner off the packet of rice and microwave for 90 seconds on high.
Break the eggs into a bowl and whisk lightly with 1 tablespoon of cold water using a fork.
Heat a large frying pan or wok over a medium heat and add half tablespoon of oil, swirling it around to completely coat it. (I use a piece of paper towel to rub it around and get an even coating.
Pour in half the egg mixture and swirl it around to completely coat the wok or pan. Keep swirling over the heat until the egg sets (it should take 1 – 2 minutes), then fold the omelette in half and in half again to make a quarter circle. Flip out onto a chopping board to cool and repeat with the other half of the egg mixture. Once both omelettes have cooled, slice into 5mm strips.
Return the wok to the heat and add the remaining tablespoon of oil.
Once hot, add the frozen vegetables and stir for 2 – 3 minutes.
Add the rice and mix through the vegetables.
Add the prawns, mushrooms, ham and omelette strips (or protein of your choice) and cook for another couple of minutes to heat through.
Add the soy sauce, mix well, eat and enjoy!
Nutritional Information
Per serve: 1764kJ energy, 16g fat (2.8g saturated fat), 32g protein and 7g fibre.
Recipe created by Matt Golinski, Health and Wellbeing Queensland Ambassador.