Matt Golinski's Cheat's Lasagne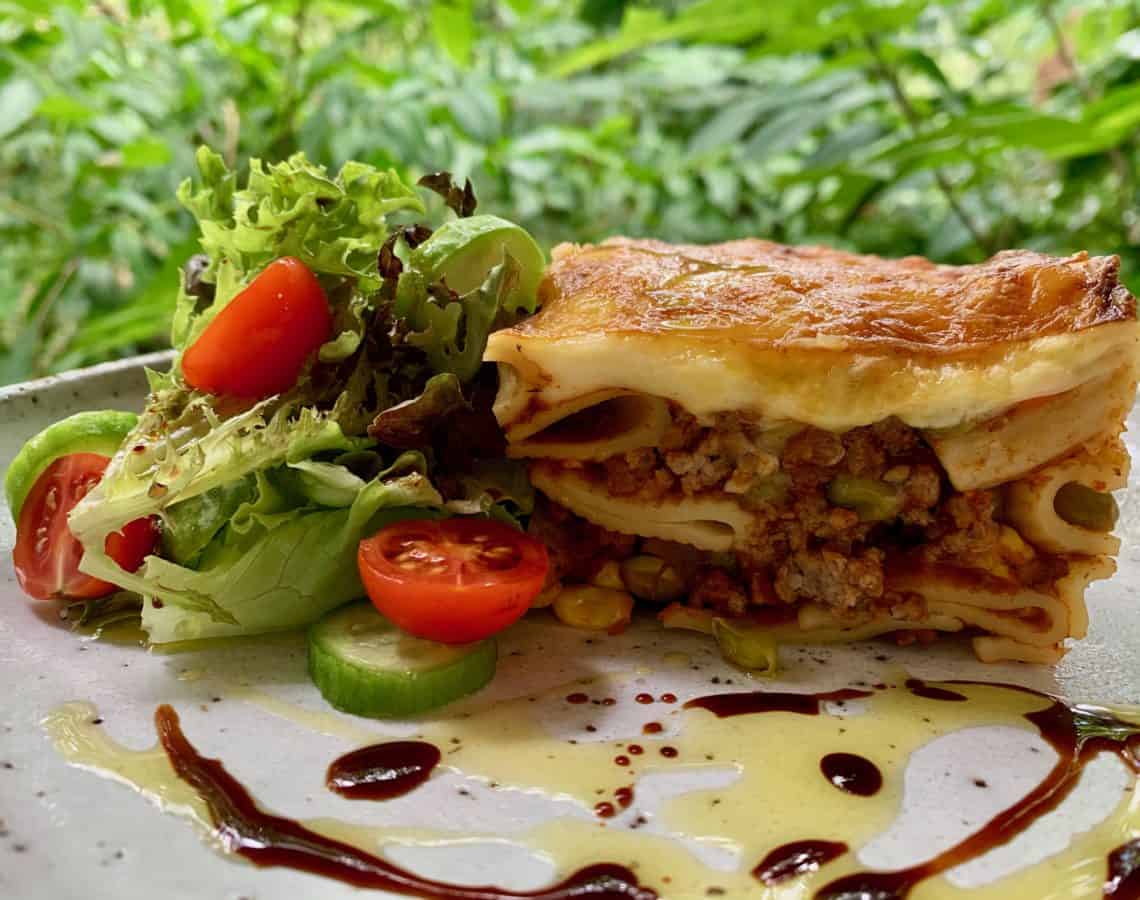 Leftovers reheat well for lunch or pack into a lunchbox and eat it cold. Just remember food safety, when dealing with leftovers.
8 servings
Ingredients:
500gm lean beef mince
1 tbs pure vegetable oil (go for canola or sunflower)
1 x 500gm jar tomato pasta sauce
3 cups diced frozen vegetables (corn, peas and carrots or whatever you like—get creative)
400gm pasta (penne, rigatoni or shells are good but any pasta will do)
2 cups reduced fat milk
40gm butter
40gm plain flour
100gm cheddar or mozzarella cheese, grated
Salt and pepper optional
Method:
Heat a large frying pan, add the oil and and fry the mince until lightly browned, breaking it up with a spoon to as it cooks.
Add the pasta sauce and vegetables and simmer for 10 minutes. Add salt and some cracked black pepper if desired.
Bring a large pot of salted water to the boil and cook the pasta for about 12 minutes, drain well and immediately mix through the sauce.
Tip the pasta mixture into a 20 x 32 cm deep-sided baking dish and press down to make it level and flat.
Heat the milk so it's just below boiling (I do this in a jug in the microwave for a minute or two to save making another saucepan dirty)
In a medium saucepan melt the butter, add the flour and stir over a medium heat for about a minute.
Add the milk a little at a time, stirring constantly, adding more milk each time the sauce thickens. Once all the milk has been added and the mixture starts to bubble up it's ready. If your sauce does go lumpy, just give it a good whisk.
Immediately pour over the pasta mixture, spreading out with a spoon to get a nice even layer.
Sprinkle on the cheese and bake for 25 – 30 minutes at 180 degrees Celsius, or until the cheese on top is golden brown.
Serve straight from the oven with a simple garden salad on the side. If needed, season with salt and pepper to taste.
Nutritional Information
Per serve: 2061kJ energy, 20g fat (8.8g saturated fat), 29.6g protein and 6g fibre.
Recipe created by Matt Golinski, Health and Wellbeing Queensland Ambassador.