Matt Golinski's Cauliflower and Chickpea Balls with Beetroot Hommus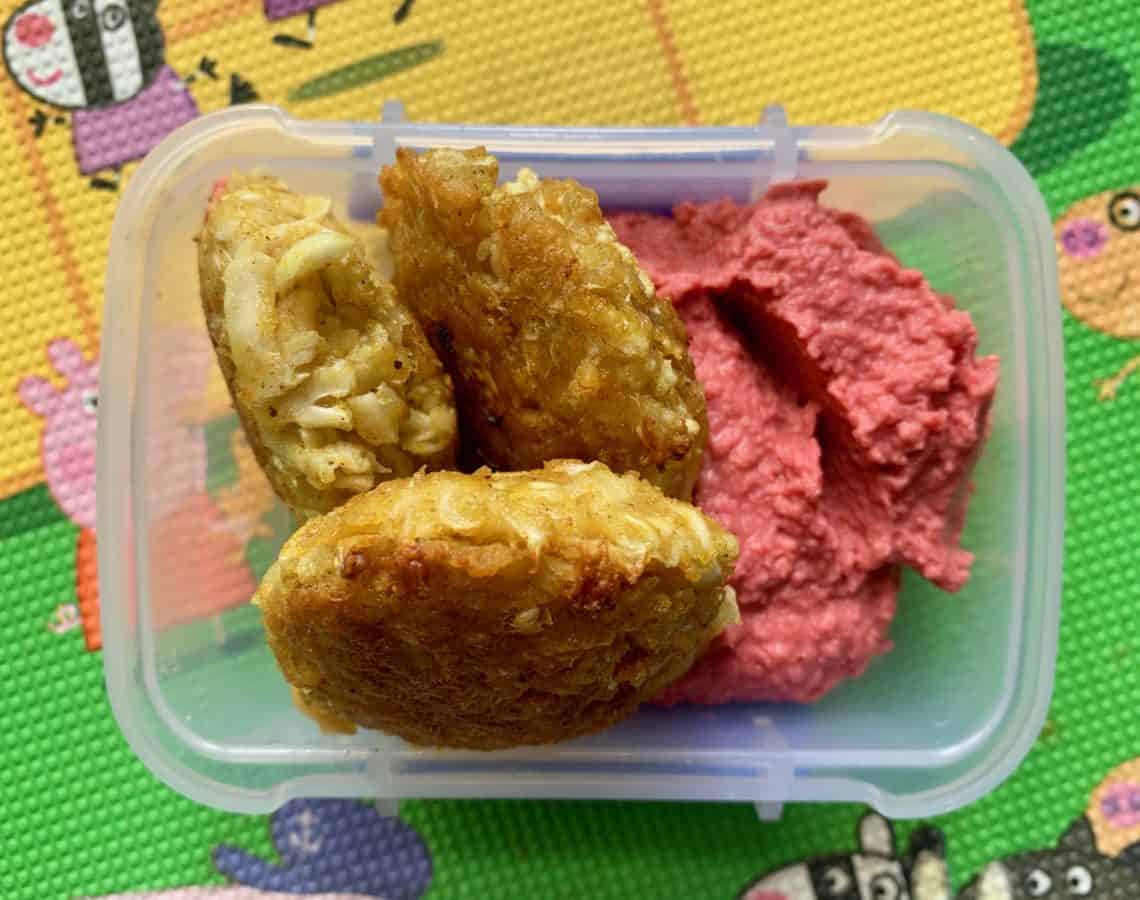 Makes 24 (2 per serve) and they freeze well for a fast lunchbox fill.
These little goodness balls, otherwise known as koftas, use chickpea flour, which unsurprisingly is dried, ground chickpeas. It brings a sweet, nutty flavour and nutritionally, chickpea flour punches well above wheat flours. But where do you get it, what else can you use it for, and can you substitute another flour? Great questions.
Chickpea flour is available at many major supermarkets, health food stores, Indian grocers or can easily be made at home by grinding dry chickpeas in a blender. Learn the answers to all your chickpea flour questions here.
If being taken to school in a lunchbox this snack with need to be kept cold with an icepack or two. Get the back to school food safety essentials here.
Ingredients
Koftas:
250 gm cauliflower, coarsely grated
1 x 400 gm tin chickpeas, drained and rinsed
2 tsp ground cumin
½ tsp ground turmeric
½ tsp ground cinnamon
25 gm chickpea (besan) flour (substitutes: buckwheat, quinoa or millet flour)
25 ml cold water
2 tbs chopped parsley
1/2 tsp salt
20 ml pure vegetable oil, for cooking
Hommus (for a fast-fix, buy store bought) or:
1 x 400gm tin chickpeas, drained and rinsed
1 x 225gm tin sliced beetroot, drained and rinsed
50 gm tahini
15 ml lemon juice
1 clove garlic
1 tsp salt
Method
Pulse the chickpeas in a food processor so they are the same consistency as the grated cauliflower.
In a bowl, mix the chickpeas, cauliflower, spices, chickpea flour, water and salt until well combined.
In a heavy based fry pan, heat the oil to medium heat and cook heaped tablespoon amounts of the mixture until crispy and golden on both sides. (I use a soup spoon and press the mixture into the spoon to create a nice round shape).
Transfer to absorbent paper and allow to cool.
Blend all the hommus ingredients into a fine puree in the same blender you used for the chickpeas. Because, who likes washing up more than they need to?
Serve the koftas with a generous amount of the hommus for dipping.
Nutritional Information
Per serve (based on 2 per serve): 590kj energy, 6g fat (0.7g saturated fat), 6g protein and 6g fibre.
Recipe created by Matt Golinski, Health and Wellbeing Queensland Ambassador.