Clinicians Guide to
Healthy Kids
Clinicians Guide to Healthy Kids is a podcast series that aims to equip healthcare professionals with expert insights, empowering them to collaborate with children and their families to build healthy habits together. The podcast series explores a diverse range of topics including sleep, nutrition, physical activity, healthy growth and disordered eating in children. By offering practical advice tailored for health professionals, this podcast series strives to promote the overall health and wellbeing of children and their families.  
Throughout the season we will engage in informative discussions with Queensland health experts to learn about strategies to approach prevention in clinical care. 
Our first season is a special 9-part series that focuses on the practical side to integrating prevention or first-line treatment into daily healthcare moments. Throughout this series we will explore how to raise health concerns with families, how to complete brief health behaviour assessments and how to provide advice and support for families across Queensland. 
Clinicians Guide to Healthy Kids is an initiative of Health and Wellbeing Queensland.
How to listen
Listen to Clinicians Guide to Healthy Kids at the links below, or find episodes on Apple Podcasts, Spotify, Google Podcasts, Pandora or your favourite podcast app.   
Episodes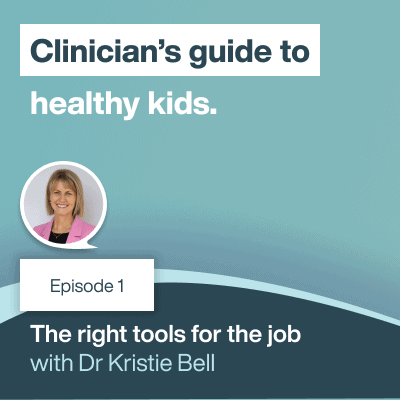 Episode 1: The right tools for the job
Featuring Dr Kristie Bell
Growth charts, BMI charts, z-scores and WHO versus CDC. Knowing which growth chart to use can be confusing. This episode deep dives into what we should be using to guide our growth assessments with kids and how we can start to recognise and discuss unhealthy weight trends early.