NAIDOC Week: closing the gap of understanding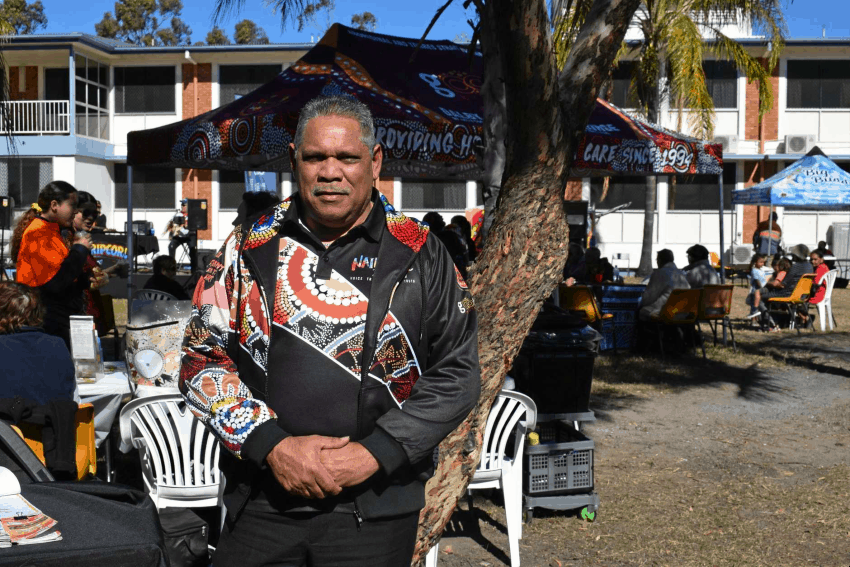 Floyd Leedie is the Chief Executive Officer, Goondir Health Services and proud Wakka Wakka man who has spent much of his career working for Aboriginal and Torres Strait Islander service providers.
Philosophical by nature, Floyd calls himself a realist who accepts and embraces the dualities of both cultures, which he acknowledges is challenging and controversial for some.
On the theme of NAIDOC Week—Always Was, Always Will be—Floyd cites his parents and grandparents' lineage with the Wakka Wakka, Kullilli and Lama Lama peoples and is clear that cultural programs teaching understanding is how we keep the connection alive for all Australians.
"We can't go back, we can only make the most of now and seek to understand our traditions and culture and preserve and celebrate what we still have," says Floyd.
When reflecting on his first memory of land and its significance to him, Floyd is immediately transported to Cherbourg at around age four as a kind of homecoming.
"I didn't realise there were so many black people living in one place. It felt like home."
His early years were spent moving to wherever the work took his Father, a fettler who maintained the railway tracks. The family finally put down roots when Floyd was 13, when his parents returned permanently to Cherbourg—also the place of his Mother's childhood: a child of the Stolen Generation.
"Even now as I travel, once I hit the Bunya Mountains, cross the Frank 'Big Shot' Fisher bridge at Cherbourg or pass a site in Maidenwell where smoking ceremonies took place, I feel I'm home, back with my mob, my people."
"It hits me as a feeling when I return to Country. It's a sense of ease, comfort, like one big back yard," says Floyd.
With a Bachelor of Commerce (Accounting major) to his credit, Floyd has been the CEO of Goondir Health Services for more than a decade now. He says what drives its success is the holistic model of practice: a combination of primary health care services, as well as prevention, intervention and education programs for the more than 5000 Aboriginal and Torres Strait Islander people it serves.
With clinics in Dalby, Oakey and St George, its services in each location are all under one roof and are based on collaborative partnerships with providers, including a burgeoning partnership with Health and Wellbeing Queensland to boost their provision of healthy nutritious hampers to families experiencing food insecurity.
Driven to provide access to culturally appropriate services how and when people need them, Floyd is quick to point out if we keep doing the same things, we get the same results.
One of their latest service innovations is the 'Big Buddy' truck, a 1928 Chevy kitted up to deliver coffee and beverages at events, including Cherbourg Council's NAIDOC Week events. Programs like Big Buddy are giving youth the opportunity to learn skills to prepare them for life after school. Skills around customer service, food handling and using EFTPOS machines.
"As well as the skills it gives kids, it's the social inclusion aspect of the Big Buddy Program that's so valuable in helping our kids develop confidence and a sense of purpose—delivering benefits for the kids that ripple out into the community."
If there is one thread, woven throughout our NAIDOC Week conversation, it's understanding—seeking to understand.
Floyd says we can never fully understand what lies beneath for others but that should never stop us from trying.
"Understanding must come before meaningful action," say Floyd.
Wise words indeed.
Learn more about:
Close the Gap: Indigenous Health Campaign
Permission granted for image use, thanks to Shannon Hardy, The Western Star News.