How to make your food stretch further to save your money and limit your shopping trips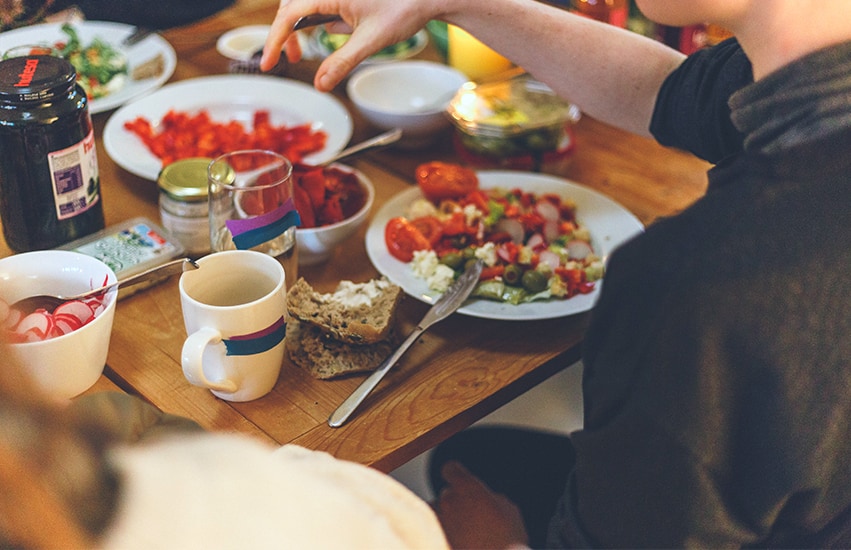 Now that you're eating most of your meals at home, you've probably found yourself cooking more often than you ever have before. Learning how to prepare your own meals is a valuable skill, and so is learning how to make those meals go further in order to reduce your grocery bill and limit the amount of trips you need to make to the supermarket.
By making the most of the ingredients you have on hand, you can add a serve or two to your meals – and make them healthier, too.
Boost with legumes
Health and Wellbeing Queensland senior dietitian Joanna Munro says legumes – which include beans, peas, chickpeas and lentils – are a great way to bulk up your meals and make them more nutritious.
"Legumes are excellent sources of dietary fibre, protein, B vitamins and many other important vitamins and minerals," Joanna says. "The fibre is probably the biggest benefit, because it will fill you up for longer periods of time."
Joanna recommends:
Adding dried lentils to bolognese, casseroles and soups
Adding chickpeas to stir fry dishes, curries, stews and soups
Use chickpeas as snacks, and roast them with spices for something different
Bulk up your chilli con carne or lasagnes by adding kidney beans
Use a variety of canned legumes in your salads for extra taste and nutrition
"You can even replace meat with legumes altogether, if you don't have meat on hand," Joanna says. "I'll often do a lentil bolognese with canned lentils and tomatoes… it's a great use of those products."
If you have leftovers, make sure to put them in the fridge and eat them within three to four days, or freeze them to keep for later use.
Get value out of your veggies
Joanna says it's important to minimise waste by getting as much use out of your vegetables and fruit as possible.
"By the end of the week, if your fresh vegetables and fruit are looking a bit sad why not make a fruit smoothie, or add them to porridge or banana bread?" she says. "You can also chop up older veggies from the fridge and add them to a delicious bolognese, stews, soups or pasta dishes.
"Whatever state your vegetables are in, try to maximise what you've got. If you've got crisp, fresh fruits and vegetables, that's great. But if you've got veggies that are starting to look wilted and getting towards the end of their time, you can still eat them, and that's where soups and stews really come into their own."
Our natural tendency is to throw things away when we think we're done with them, but when it comes to veggies, Joanna recommends taking a longer look and making an effort to save your scraps and minimise food waste.
"Broccoli stems can be shredded for a coleslaw substitute or sliced for a stir fry, and cauliflower stems can be processed into rice," she says. "Celery leaves can be chopped and added to a salad, or added to a stir fry shortly before it finishes cooking."
If you're running low on fresh vegetables, Joanna says there's no need to panic – frozen and canned veggies are a perfectly acceptable alternative.
"Some people seem to think that you shouldn't eat frozen or canned vegetables, but I'd rather people ate those than no veggies at all," she says. "If I was to make a vegetable hierarchy, I'd go fresh, then frozen, then canned, but frozen and canned vegetables are still excellent sources of nutrition. We all need to eat more veggies – even if you just start by introducing one extra serve every day, and that could be fresh, frozen or canned.
"The thing to watch out for is if frozen and canned varieties contain salt – look for options with no added salt, and use herbs and spices in your cooking to add your own seasoning and boost the taste and flavours in meals.
"Bulk meals up with frozen peas and frozen corn, for instance, or add canned corn to salads and sandwiches – these are great ways to make food go further, and to increase the amount of fibre and vitamins and minerals in your meals."
Make healthy eating a habit
Once you've mastered a few meals, Joanna recommends mixing it up and creating different meals with similar ingredients by alternating your cooking methods between roasting, steaming, grilling, simmering and stir frying.
The key is to use the ingredients you have on hand, and build habits that you can take with you long after this period of self-isolation and social distancing is over.
"I think there is an awareness in the community now that we all need to keep on track with healthy eating, especially when we're not as active," Joanna says. "People are trying their best to exercise every day, but there is a natural reduction in energy expenditure when we're spending all of our time at home.
"This is the perfect time to learn or increase our cooking of healthy meals at home. We have more time on our hands and less access to restaurants and takeaways, so this is a chance to explore new recipes and look at healthier ways of cooking. The one positive of all of this, for me, is that people have an opportunity to get into the kitchen and try new things, and to get into the habit of planning their meals and snacks.
"Take a look at healthy recipe sites, pick the recipes that you want to try, make a shopping list and use it when you go to the supermarket, so you can get in and out quickly, and it'll all flow from there."
For a range of healthy recipes you can cook at home, visit www.healthier.qld.gov.au/food/recipes.