How to create a Healthy Kids Menu for your cafe or restaurant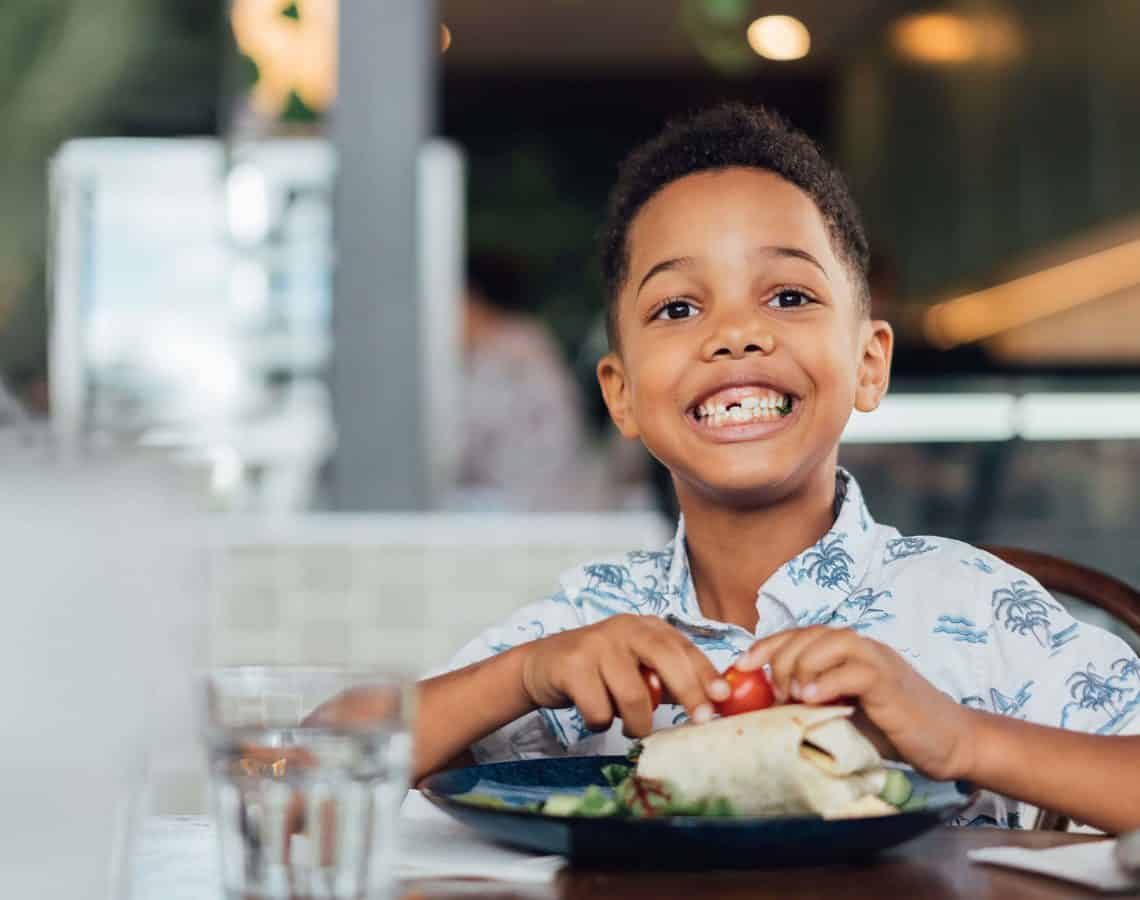 For a lot of parents or carers, the thought of venturing to a local café or restaurant with kids in tow is sometimes filled with apprehension (cue meltdowns, flying food and copious amounts of baby wipes or napkins). Having a simple, healthy kids menu available for your mini patrons can not only help put parents or carers minds at ease when doing the 'what shall we order' dance, but also to ensure kids have a healthy and happy dining experience.
With 9 out of 10 Australian children aged 5 to 14 not eating the recommended amount of vegetables, it's now more important than ever to ensure kids have access to a variety of healthy options when dining out with their families. Health and Wellbeing Queensland Chief Executive Dr Robyn Littlewood said cafes and restaurants had an important role to play in supporting good nutrition for Queensland families and children, and across the state there were already many great examples of healthy kids menus in action.
"We know that childhood obesity is a growing problem, with one in four Queensland children overweight or obese. Good nutrition and a balanced diet are essential to helping children grow and develop into healthy adults, and venues can be a positive force for helping to set kids up with healthy eating habits for life."
Dr Littlewood said healthy menus were good for children and good for business.
"Health and Wellbeing Queensland has launched the Healthy Kids Menu initiative to make it easier for parents and families to make healthier choices when eating out. Being involved creates an opportunity to gain positive promotion, recognition, and encouragement for their business."
"For parents, having healthy food and drink options for their children is an increasingly important factor when choosing a venue, especially at this time when there is so much increased awareness around healthy eating for ourselves and our families," Dr Littlewood said.
Here are our top tips on creating the perfect healthy kids menu:
Make it visible
Colour and texture make any meal tempting – and kids meals are no exception. Create that winning appeal by boosting kids meals with kid-sized salad or veggie serves, in kid-friendly preparations and simple presentations, with quality produce packed with fibre.
Make the healthy, colourful choices a priority by placing them at the top of the menu and consider offering incentives for purchasing the healthy options, such as a kids activity pack with coloured pencils and colouring in sheets.
Healthy drinks
Water must be available at no cost, easily accessible and served safely in line with current public health directives. A healthy kids menu can list the following drinks for sale or include them in a kid's meal combination:
Water, or flavoured water containing natural essences, fresh fruit or herbs (i.e. mint or slices of lemon) but cannot contain sugar or artificial or natural sweeteners.
Greater than 99% fruit or vegetable juice – with no added sugar and serve sizes of up to 250ml.
Up to 375ml plain or flavoured reduced fat milk (may be plain or flavoured with added sugar or artificial sweeteners). If prepared in-house, up to 15ml (or 3 teaspoons) of syrup or flavoured powder can be added to 375ml of milk.
Promote it
You can highlight the healthy options on the menu across your venue through menu boards, banners, stickers, flyers, posters. It's also important to ensure your healthy kids menu is up on your website and social media platforms, allowing parents to plan their outing in advance.
Consider having a tasting workshop or trial options through 'specials' where kids are able to give feedback on pre-launched menu items – more often than not, kids are brutally honest when it comes to telling you what they think of certain foods. A kids only tasting is a great way to implement feedback before a new healthy kids menu is launched.
The 'half' rule
If your kids menu includes desserts, at least half the options need to be healthy. Healthy desserts should be based around fruit (fresh, dried, tinned, grilled, baked or poached) and/or dairy (yoghurt, custard, ricotta).
Healthy desserts can include additions such as nuts, seeds, coconut, cocoa powder, vanilla and spices but cannot include too much sugar or sugary toppings like cream, ice cream, gelati, biscuits, cakes, pastry, or confectionery.
For desserts that do not meet the healthy guidelines, consider reducing the serving size of ice cream, with a limit of two scoops or 75 grams maximum of regular ice cream, and house-made desserts could be reformulated for less sugar, healthier fats, or smaller portions.
Get your venue involved!
We're keen to work with other businesses to create healthier kids menus. to find out more, visit the Healthy Kids Menu website.