Helping kids to eat well during COVID-19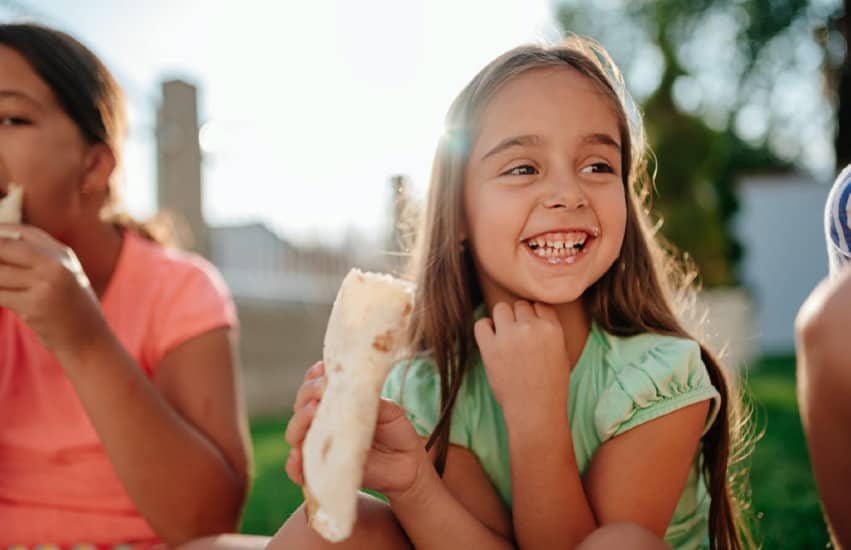 Are the kids at home and looking for snack-shaped boredom busters? Here are practical ways to manage pester power and help kids and teens to maintain healthy eating habits over the coming months.
Healthy foods to the front
The first step in creating a healthy food environment at home is to make the healthy choice the easy choice. Here are a few ways to do it:
Maintain a regular eating routine – children typically need three main meals and two healthy snacks from the five food groups
Have a 'munch and crunch' fruit and vegetable break for morning tea
Kids learn to like new foods by exploring them with all five senses. Get them involved by helping to wash, dry and prepare fruit and vegetables
Have healthy snacks at eye level in the fridge or pantry
Put treat foods into containers you can't see through and plan when you will enjoy these together
Help your child pack a lunch box with their healthy snacks for the day, and if they get hungry, direct them to their lunch box
Take the opportunity to slow down and share healthy meals and snacks together – kids tend to eat better when their parents, carers and siblings do the same.
Healthy snack ideas
Looking for new ideas for healthy snacks? Why not try…
Chopped carrot, cucumber and capsicum sticks or snow peas with low-fat dips

Chop up enough vegetables for 2-3 days – these will last in the refrigerator stored in an airtight container with some damp paper towel

Serve with salsa, hummus, low-fat cottage cheese, tzatziki or avocado dips

Seasonal fruits – apples, oranges, grapes, cherry tomatoes

Have these washed and ready to eat – they'll be less likely to go to waste

Apple slices with peanut butter or a slice of low-fat cheese
Vegetable soup
Wholegrain muesli bars
Boiled eggs
Low fat yoghurt
Air popped popcorn
Freeze dried apple or beetroot chips
Spiced roasted chick peas
Discover more healthy snack recipes on the Growing Good Habits website.
Balance your plate
It's important to be mindful about how much we're eating and what we're choosing, especially when we're less active than usual.
Be familiar with the recommended serves of the five food groups for children – they vary depending on age, gender, and other factors
Have older children weigh or measure out typical portions for different foods and see how close they are to the recommended serve sizes
Fill up on fibre by mixing zucchini and carrot noodles into spaghetti or noodle dishes, and swap some rice with cauliflower rice (you can make it yourself or find it in the freezer section)
Serve pasta and lasagne dishes with a side salad
Make your own pizza using wholegrain pita bread and low-fat cheese
Use low-fat milk, cheese, and cottage cheese in recipes
Swap corn chips for baked tortilla chips – preheat your oven to 180 degrees, chop wholegrain tortillas into wedges, spread out onto a baking tray in a single layer and bake on each side for 5-7 minutes until crispy
Use a non-stick pan to avoid using too much oil in cooking.
Choose water
Water is the best drink all year round. Have water freely available during the day and at meal times. To make water more fun you could try:
Making pretty ice cubes with chopped fruits or berries
Mashing up frozen berries and top with carbonated water
Adding lemon, lime and mint
Trying a sugar-free iced tea
Sipping from a curly reusable straw.
Juices, cordials, soft drinks, flavoured milks and milkshakes contain lots of energy; limit these to special occasions or weekends.
Avoid 'snaccidents'
To avoid consuming excessive amounts of energy without realising, here are a few tips:
Always having meals and snacks at the table
Set a 'no screens at mealtimes' rule
Slow down your eating – allow 10 minutes for a snack and 30 minutes for a main meal
Slow your fast eaters down by using chop sticks… a bowl of popcorn will last much longer!
Boredom busters
It is okay for children to be bored sometimes, as it forces them to get creative and find ways to entertain themselves. In saying that, some children might need a hand getting their creative juices flowing. Here are some suggestions:
Draw
Read
Make and play with playdough
Create an obstacle course
Play hopscotch
Clean: your room, the cars, the skirting boards or windows
Write a letter or make cards to grandparents and friends – then walk to the post box together
Start a veggie patch
Have a dance party
Make paper planes and fly them
Plan a scavenger hunt
Have everyone in the family plan a dream holiday – then try to recreate it at home
Paint sea shells or rocks
Make a meal plan as a family
Try a new recipe
Have a step-a-thon with friends
Older children could plan and start your family's own MasterChef competition:
Do a blind taste test
Try a mystery box – hide a new vegetable in dinner and see who can identify it
Film your kitchen adventures to share with grandparents
Set a challenge – aim to eat a green, red, orange, purple and yellow fruit and vegetable everyday
Baby's first foods
If you have a baby and you're looking for guidance on introducing solid foods, these baby's first food resources can help. They cover:
Readiness for solids
How and when
Fluids
Allergies
Safe food preparation.
This information has been provided by the Department of Dietetics and Food Services at the Queensland Children's Hospital to assist parents and carers during the COVID-19 pandemic. Please reach out to your local Accredited Practising Dietitian for individualised dietary advice.