From humble to hero, how to make vegetables stand out on your plate.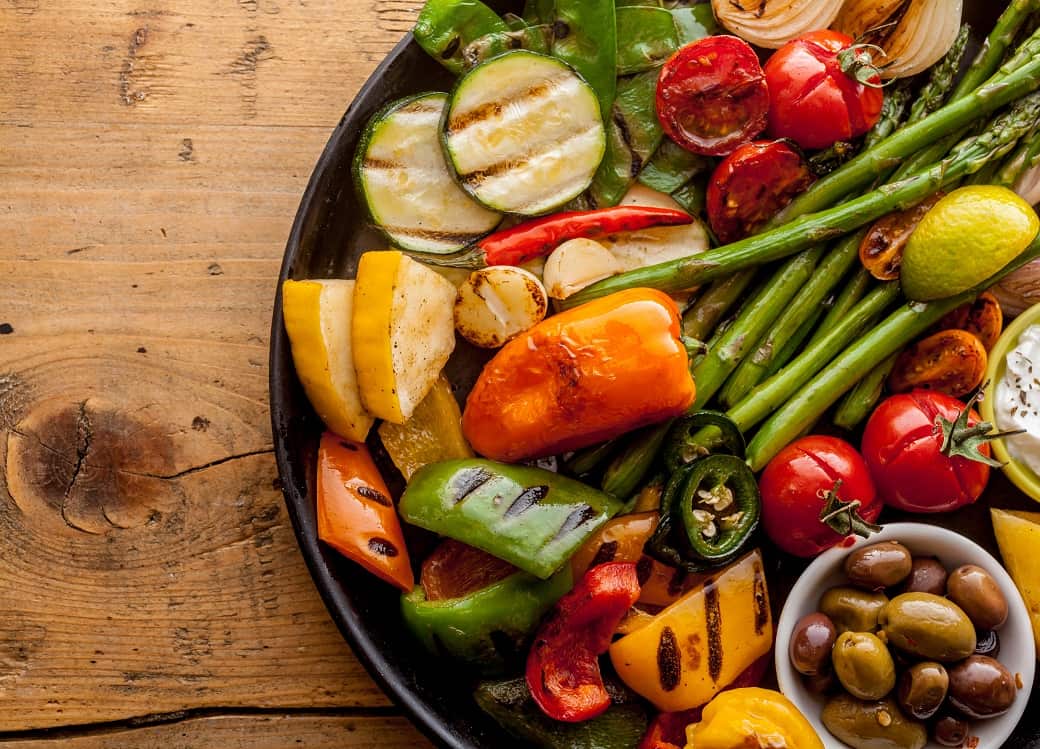 From side dish to main squeeze, we're here to help you make your next main meal delicious and nutritious by having vegetables steal the show.
Not only are they bursting with goodness, but veggies are a cost-effective way to get more flavour bang for your buck.  Vegetables play an important role in our overall health and wellbeing, they provide fibre and essential nutrients, and a vegetable rich diet is both good for a healthy gut and it can help prevent and manage obesity and chronic health conditions such as type 2 diabetes and cardiovascular disease. Not only are veggies good for our digestive health, they also fill us up for longer and add crunch, colour and flavours to our meals.
Charlotte Morrison, a Senior Public Health Nutritionist from Health and Wellbeing Queensland, says there's some simple ways to make vegetables a highlight of your plate. "The key is to make vegetables appealing – choose different colours, cook in different ways and always have them on your plate.
Studies show that Australian adults aren't getting enough vegetables, in fact nearly 95% of us aren't getting the recommended 5 serves of vegetables per day.
Health and Wellbeing Queensland's Principal Lead, Public Health Nutrition Mathew Dick says our perception of vegetables plays a key role in how we consume them. "It's easy to plan and prioritise your main meals solely around meat or protein. It goes back to that classic meat and three veg Australian way of eating. But with having access to so many more resources and ingredients and having such a wide variety of produce at our doorstep, there's a great opportunity to change the way we think about vegetables and incorporate more of them every day."
Here are some tips and meal planning hacks to incorporate in your day to give vegetables the showstopping solo they deserve.
Shop seasonal
Before accidentally teleporting yourself to the bakery aisle (we've all been there!), make it a priority to stop by the produce section first, better yet visit your local greengrocer to see what is currently in season. By shopping for seasonal produce first, it will make meal planning around vegetables a whole lot easier. Shopping for seasonal produce is also a great way to reduce your grocery spend, with bountiful in-season veggies often featuring on the weekly specials list.
Do yourself a 'flavour'
Adding a squeeze of lemon, a touch of smoked paprika and plenty of fresh herbs is a wonderful way to bring out flavour to your favourite vegetable. Add a dollop of natural yoghurt, garlic or chopped nuts for added texture and creaminess.
Vege-fy it!
Think meat-free Monday – give it a go. Look for vegetarian alternatives for your go-to family recipe, think bean and pumpkin curry, eggplant lasagne or whole roasted cauliflower next family roast night. There are so many ways you can prepare veges as the star ingredient – baking, steaming, or as an alternative to crackers by cutting into sticks and serving with dip.
Variety is the…you know the rest!
There's good reason why they say variety is the spice of life, that gives it all its flavour – and vegetables are no exception. Experiment with adding more colour on your plate with a variety of different vegetables, try something new…you never know – you might find your new favourite veggie!
For more inspiration and recipe ideas on how to make your vegetables shine, including this family friendly roasted vegetable salad visit https://naqld.org/recipe/