5 recipes to try in the QCWA Cook at Home challenge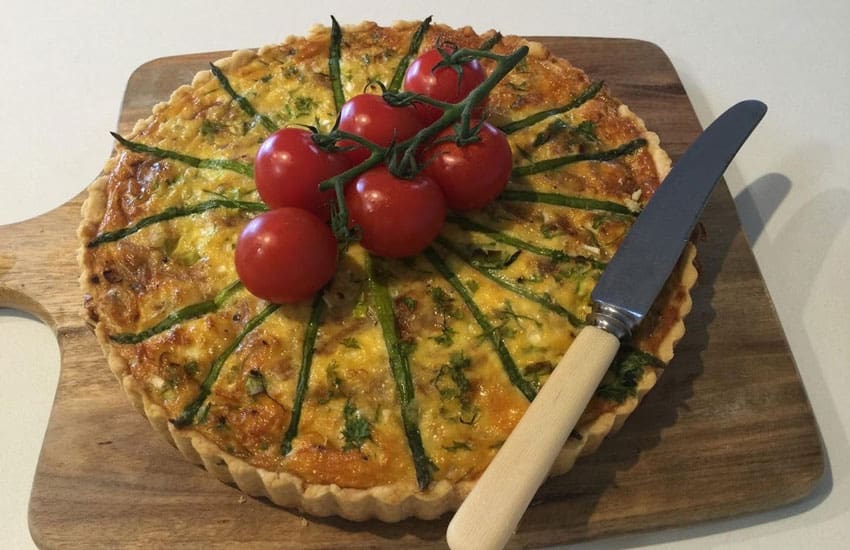 Queenslanders were busy cooking up healthy masterpieces in the kitchen for the QCWA Cook at Home Challenge, hosted in June 2020. There were heaps of colourful and creative entries, including recreations of popular QCWA recipes and a range of recipes that entrants created from scratch.
Here are a couple of our favourites and the winning recipe, Autumn Vegetable Tart with a Chickpea Flour Crust (below).
If you're craving something sweet and healthy, this dessert is light and fresh, with natural sweetness from the pineapple, carrots, cinnamon and nutmeg. The chopped pecans add in extra flavour and an added boost of fibre.
Rice paper rolls make for the perfect lunch or dinner and can be made in so many different ways, you'll never get bored. Experiment with different fillings and sauces for a completely different flavour every time.
Winning Recipe
Autumn Vegetable Tart with a Chickpea Flour Crust
Image and recipe credit: Donna Bennett
This QCWA approved, healthy and versatile dish is a great meal to add to your personal recipe book and it can be altered to suit whatever vegetables you have lying around at home. You can also substitute the chickpea flour crust for a store-bought alternative or your favourite crust recipe.
Follow the steps below to make this dish.
Recipe
Serves 6
Prep Time 25 minutes + cooling time of 1 hour
Cook Time 52 minutes
Fruit & Veggies 1 serve per portion
Chickpea pastry base
1 1/2 cups chickpea flour
64g butter, softened
3 tbsp iced cold water
1 tbsp maple syrup
Method
BLEND the butter and flour together until it resembles fine breadcrumbs.
ADD the cold water and maple syrup and work until it forms a dough.
PRESS dough evenly into a 20cm pie plate or quiche pan and refrigerate for approximately 60 minutes.
REMOVE from the fridge and par bake for 12 minutes in a 180 oC heated oven.
ALLOW dough to cool, before adding the filling.
Filling
1/4 cup finely diced onion
1/4 cup finely diced shallot
1 small garlic clove, crushed
1 tbsp extra virgin olive oil
4 eggs plus 1 egg yolk
1/2 cup milk, reduced fat
1/2 cup cream, reduced fat or natural yoghurt
Pepper, to taste
1/2 cup grated parmesan cheese
1 cup fresh or frozen spinach, if frozen thaw and squeeze out excess liquid
1 cup cherry tomatoes, cut in half
1 can asparagus spears, drained
Method
GENTLY cook onion, shallot and garlic in a pan with the extra virgin olive oil until soft, make sure this process is done slowly as you only want to soften onions not brown. This makes the onion much sweeter and tastier in the tart.
WHISK eggs, egg yolk, milk, cream or yoghurt and pepper together in a medium sized bowl and set aside.
SPRINKLE grated parmesan cheese over the base of the par baked crust, this helps the crust stay nice and crisp.
SCATTER spinach and half the tomatoes evenly over the parmesan cheese followed by the cooked onion, shallot and garlic mixture.
PLACE your pie plate or quiche pan on an oven tray and gently pour egg mixture over vegetables.
DECORATE with asparagus spears in a nice pattern on top before placing in the oven.
COOK at 180 degrees C for approximately 40 minutes, or until the egg is cooked and firm to touch.
BEFORE serving lay remaining cherry tomatoes on top for an added wow factor and some extra colour.
Tip! You can add bacon, cooked shredded chicken, grated carrot, zucchini, spring onions, chives, finely diced capsicum or sundried tomatoes. Any combination you love as long as you keep the wet mixture the same and the parmesan cheese on the bottom to add flavour.

Now that you've got some inspiration, it is time to get cooking! You can enter the QCWA cook at home challenge here and find more recipe inspiration from QCWA here. And don't forget, you can submit your own creations too.