Matt Golinski's Rice Paper Rolls with Chicken, Vegetables and 3 Dipping Sauces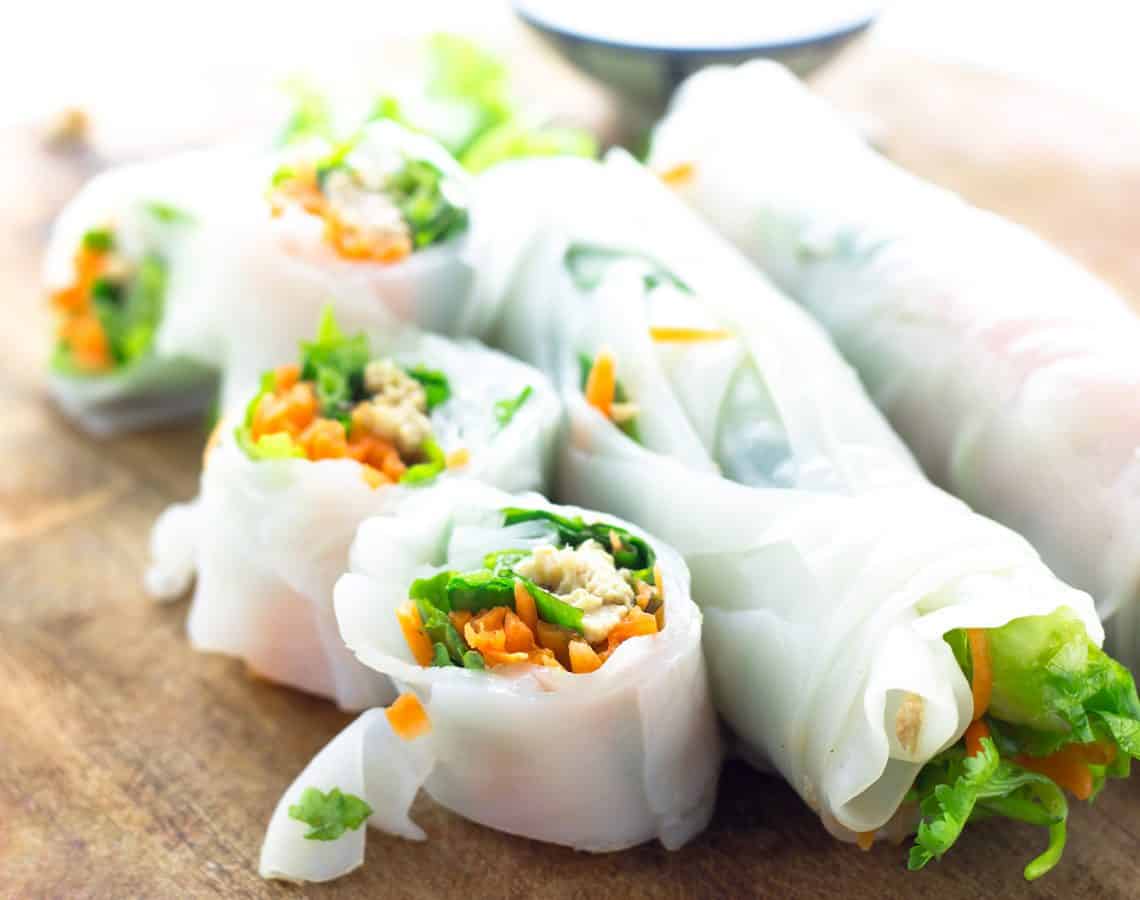 5 adult serves
Ingredients
20 x 15cm rice papers
400gm chicken breast, cooked and shredded
1 carrot, shredded
1 stick celery, finely sliced
1 avocado, cut into strips
1/2 red capsicum, cut into batons
1 Lebanese cucumber, or 1/2 continental cucumber cut into batons
1 cup mixed herbs (basil, mint, coriander)
Method
Drop each rice paper one at a time into a bowl of lukewarm water for 10 – 15 seconds, then remove and allow any excess water to drip off before laying flat on a plate.
Place whatever ingredients you like on the front third of the rice paper, fold in the sides, then roll up tightly to form a cylinder.
Eat immediately.
Soy and Sesame Dipping Sauce
100ml soy sauce
50ml rice vinegar
20gm palm or brown sugar
2 tsp sesame oil
Stir all ingredients together in a small bowl until the sugar has dissolved.
Green Goddess Dipping Sauce
1 ripe avocado
½ cup natural Greek yoghurt
1 tbs lemon juice
½ cup mixed herbs
1 clove garlic
Salt and pepper
Place all ingredients in a food processor and blend until combined. Thin out with cold water to make a dipping sauce consistency.
Sweet and Sour Sauce
150ml pineapple juice
50ml tomato sauce
30 ml rice vinegar
30 ml soy sauce
1 tbs cornflour
1 tbs water
Place the pineapple juice, tomato sauce, rice vinegar and soy sauce into a small saucepan and bring to a simmer. Mix together the cornflour and water and stir into the hot liquid to thicken.
Nutritional Information
Per serve (based on 5 serves): 1062kj energy, 7.9g fat ( 1.7g saturated fat), 26g protein and 5g fibre.
Recipe created by Matt Golinski, Health and Wellbeing Queensland Ambassador.