Healthy meals are now an easier option at hospital cafes in Queensland

Tasty, nutritious and healthier meals are now easier to identify at cafes at 3 hospitals in Queensland as part of the A Better Choice 'Pick me' promotion.
The promotional trial began in June at the Mater Hospital Brisbane (Café on 3) and Toowoomba Base Hospital (Wellbean Co café), followed by the Bundaberg Hospital (Thirst Aide Café) in July.
'Pick me' stickers (pictured) have been placed on healthy food and drink food products such as salad wraps, sandwiches, fresh fruit and hot and cold beverages at selected hospital cafes, making it easier for consumers to choose the most nutritious options available.  
Health and Wellbeing Queensland (HWQld) developed the promotion as part of its work on A Better Choice, which is a public health approach to make it easier to choose healthy food and drink options in the places where Queenslanders spend their time.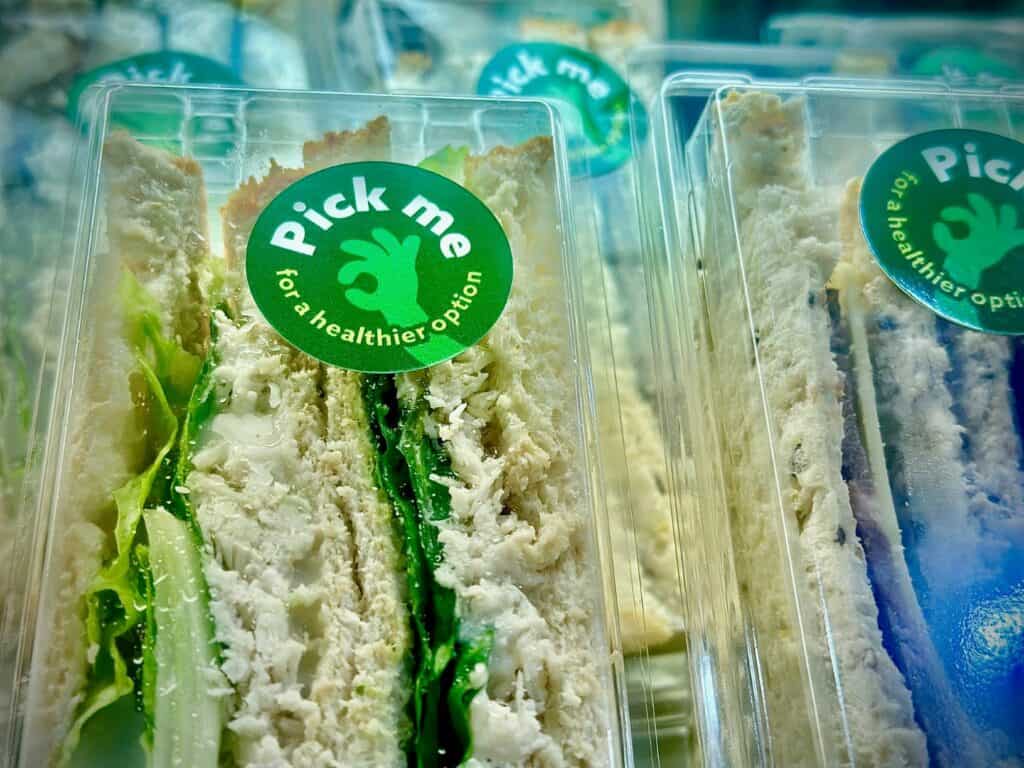 Health and Wellbeing Queensland Chief Executive Officer Dr Robyn Littlewood said HWQld was delighted to introduce the 'Pick me' promotion to the healthcare sector in Queensland as part of A Better Choice.
'Health and Wellbeing Queensland is delighted to work with nutrition and dietetics teams, and catering services, at hospitals across Queensland as part of the A Better Choice 'Pick me' promotion,' Dr Littlewood said.
'The promotion ensures more staff, visitors and consumers at the 3 participating Queensland hospitals – Toowoomba, Bundaberg and Mater Brisbane – will be able to be more easily spot and select the most nutritious options by looking out for the 'Pick me' stickers.'
The 'Pick Me' promotional campaign was developed using a combination of expert public health messaging and evidence-based marketing and design techniques. Early designs were shared with healthcare consumers, to gather feedback on its acceptability and impact. The trial at the 3 hospitals is intended to test the real-world impact of the resources.
HWQld is also evaluating the effectiveness of the 'Pick me' promotion through consumer surveys to share their thoughts on the promotion and opportunities to buy healthier food and drinks. The 'Pick Me' campaign has been developed to be relevant to the different sectors where A Better Choice is implemented.
HWQld initially trialled the 'Pick me' promotion from 16 April to 11 June 2023 for the sports sector, during the Queensland netball season, by working in partnership with Australian Catering Services, Netball Queensland and the Nissan Arena.  The resources were evaluated for their impact on the food purchasing behaviours of stadium attendees. These results will be combined with the insights from the hospital trial to inform future enhancements of the campaign, before they are more widely distributed later in the year.
The promotion advances the A Better Choice Food and Drink Supply Strategy for Queensland Healthcare Facilities which applies to all public health services and sets targets for the sale, provision, promotion and advertising of food and drinks on site.
A Better Choice is based on a traffic light system that classifies products based on nutritional value:
green for best nutritional value
amber for some nutritional value, and
red for limited or no nutritional value.
At the participating hospital cafes, only food and drinks from the green category will be marked with the 'pick me' sticker. Food and drink options from the amber and red categories will still be available but will not be actively promoted. This strategic marketing is designed to empower consumers to value, easily identify and choose the healthier options available to them, when eating out of home.