Frozen and tinned veggies: get to know them, they're aok!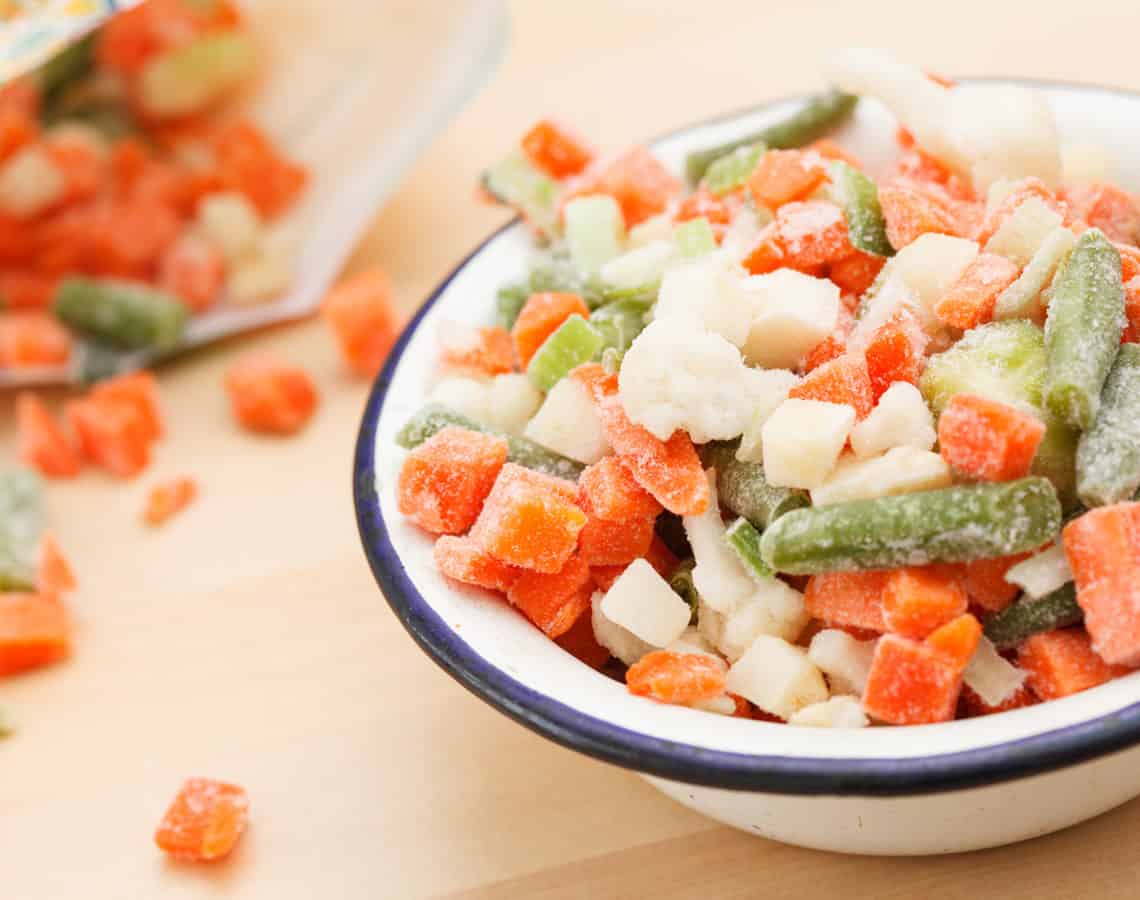 Let's not be veggie snobs, both frozen and tinned veggies should have a home in everyone's heart—and stomach, according to Matt Golinski our very own healthy food ambassador.
With so many quality frozen vegetable products available these days, it's worth having a good look through the freezer section of your supermarket to see what you can find, so you can stock up and have good, nutritious food ready in no time.
Here's 11 reasons frozen and tinned veggies are aok
Save on time
Most frozen vegetables don't need much cooking time at all, generally 1 to 2 minutes is enough for things like peas and beans. That's a tick for the time savers among us.
Can be cooked and prepared with minimal kitchen equipment
Frozen veggies lend themselves to different cooking methods. Only got a microwave? No problem. Read the instructions on the pack or tin and you'll find alternatives for different cooking methods such as boiling, microwave, steaming.
Steam is preferable to boil, but both result in delicious veggies
On cooking methods, if you can, try to steam frozen vegetables instead of boiling to help preserve as many nutrients as possible (nutrients leach out into the boiling water). If you do boil them, use only a small amount of water and boil for the minimum suggested time—usually 1 to 2 minutes is enough.
Maximise on nutrients
If adding frozen veggies to curries, stews or casseroles all the nutrients remain in the dish, rather than being drained away. Win!
Innovation in the frozen veggie department? You bet!
Depending on where you shop, a quick rifle may reveal options like cauliflower and broccoli 'rice': a great low GI (Glyacemic Index) alternative to actual rice. And for those who get a bit teary chopping onions seek out frozen diced onion. It's a thing.
#VeggieDiversity
Mixed bags of diced vegetables like corn, peas and carrots are great value because you're getting three different coloured vegetables in one meal and different nutrients from each. Plus, it gets you closer toward eating a rainbow.
Lovely legumes
Tinned legumes like chickpeas, cannellini beans and lentils are an easy, cheap, delicious and healthy way to get more nutrients (especially fibre and protein) into your diet. Most canned legumes are quite salty, so be sure to drain or rinse them before using to reduce your salt intake.
Meat-free Monday
Legumes are counted as both veggies and alternatives to meat, fish or poultry. If you're keen in increasing the plant-based foods you eat, add legumes to recipes or replace meat where appropriate.
Dinner in a flash!
Tinned tomatoes are always a great ingredient to have on hand. If you have tomatoes and pasta in the pantry, you'll always have a dinner up your sleeve. Remember, commercial tomato pasta sauce may be high in sugar and salt (sodium), so why not make your own by using tinned crushed or diced tomatoes, with added herbs.
Get thrifty
If you're not using a full tin of something, transfer the leftovers to a container and use within 24 hours or freeze immediately to use another day. Remember, if in doubt, throw it out. Learn more about food safety.
When frozen is king
Products like frozen spinach are perfect for making spinach and cheese pies, curries, pastas and soups and are cheaper and easier than using the fresh stuff.
So, next time the fast food siren calls, ask yourself instead: what's in the cupboard or freezer? Make it sport. Making something yourself will provide a sense of achievement and will typically be more nutritious and delicious.
Blog contribution by Matt Golinski Health and Wellbeing Queensland's Ambassador.