Bundaberg people encouraged to take charge of health and 'Do Your Thing'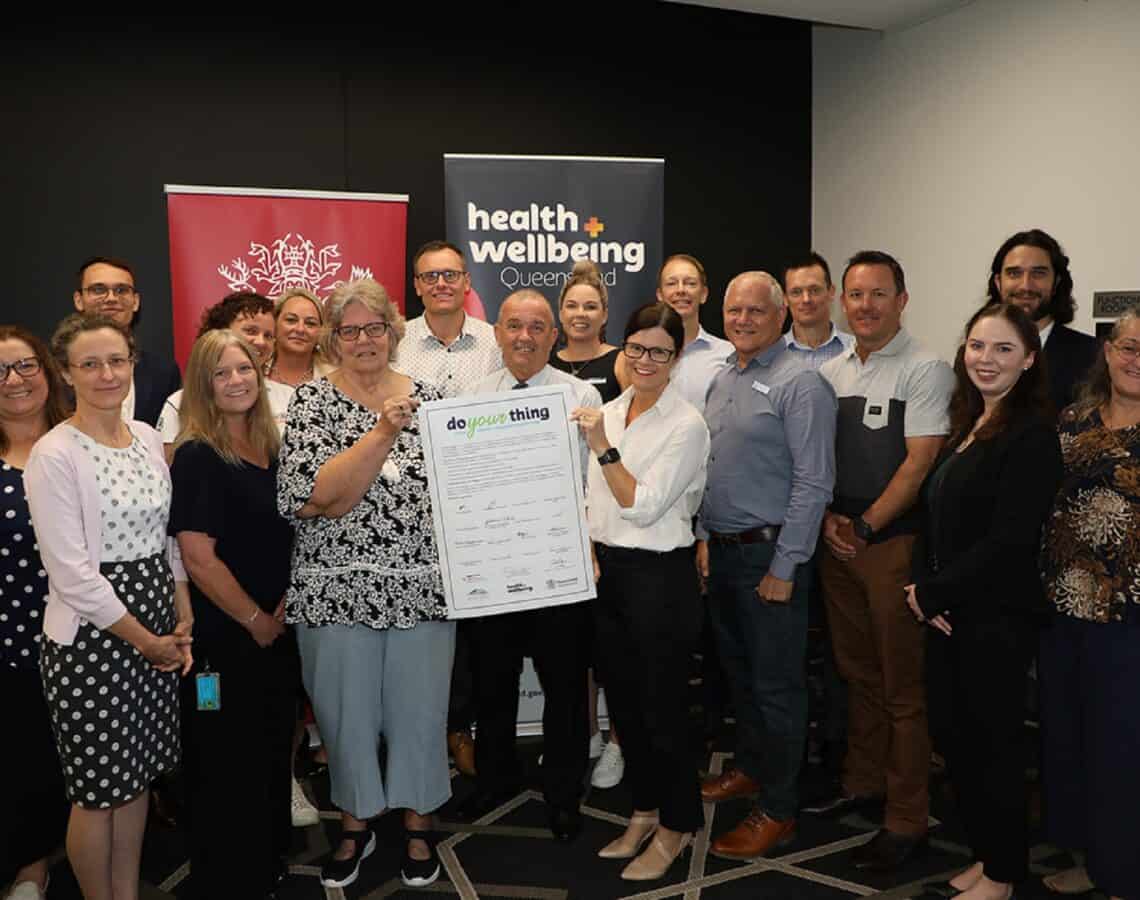 An innovative project has brought a raft of organisations and community groups together to encourage Bundaberg residents to 'Do Your Thing' and make healthy choices easier for everyone.
Do Your Thing is a Building a Healthier Bundaberg Alliance project, which has the goal of reducing the region's overweight and obesity rate to below the national average by 2030.
The project, launched in Bundaberg this week, is led by Health and Wellbeing Queensland, Bundaberg Regional Council and the Department of Tourism, Innovation and Sport, together with other peak health bodies.
Do Your Thing supports local organisations to work together to make it easier for members of the community to make healthy changes that work for them. It aims to improve access to health and wellbeing programs and services and creates a one-stop resource where people can learn about ways to lead a more active, healthy life.
Health and Wellbeing Queensland Chief Executive, Dr Robyn Littlewood, said HWQld was delighted to be playing a part in making healthy happen for Bundaberg.
"Do Your Thing is an exciting and innovative example of a science-backed, community-led, place-based approach to improving the health and wellbeing of Bundaberg's people," Dr Littlewood said.
Do Your Thing came about after the Building a Healthy Bundaberg Alliance was set up in 2020 to better understand what could be done to improve the health and wellbeing of residents.
HWQld has been working in partnership with the alliance since that time and invested significantly in Do Your Thing. This started with the development of A Behavioural Science Strategy for a place-based health initiative in Bundaberg.
Between December 2020 and March 2021, 100 stakeholders were engaged across 33 organisations to develop this strategy, with 200 papers, reports, and reviews collated and analysed.
"The analysis confirmed that Bundaberg is a diverse, unique and beautiful place. We know the only way success can be realised is when the work is informed and led by local communities who needs to identify what works for them," Dr Littlewood said.
"HWQld's role is to wrap the right support around communities that allows them to make decisions easily and sustainably. We are listening to our community partners and feel privileged to be invited to be part of this important work."
Programs participating in Do Your Thing include:
Active and Healthy Bundaberg – A free program aimed at encouraging young women to improve their physical activity and mental wellbeing and adopt healthy lifestyle choices.
Pick of the Crop – HWQld's whole-of-school healthy eating program to increase opportunities for primary school children to learn about and eat more fruit and vegetables.
My Health for Life – Aims to reduce chronic health conditions by providing a practical program targeting nutrition, exercise, and mental wellbeing throughout the community.