Veggie Hashbrowns with Avocado on Toast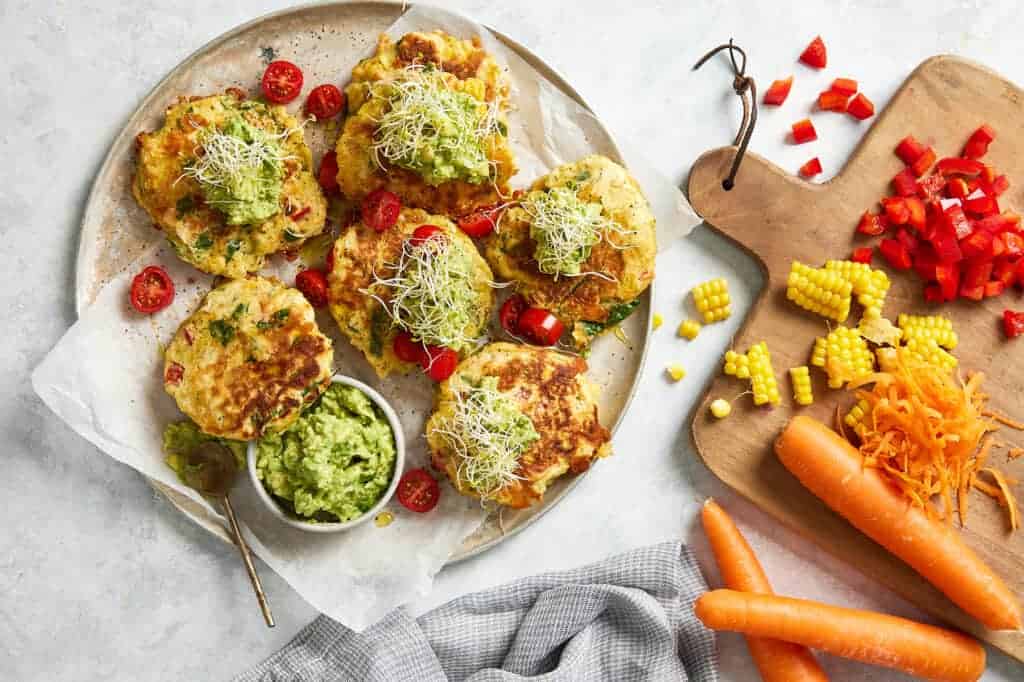 Using a variety of veggies to help you reach 5 serves a day, these veggie hash browns by Karen Stafford are packed with a range of nutrients, plus it's a great recipe to get the kids involved.
8
Serves
0
Serves of Fruit
(Per Serve)
1.5
Serves of Vegetables
(Per Serve)
INGREDIENTS:
1 cup self-raising flour
3 eggs, lightly whisked
1/2 cup milk
3/4 cup grated cheese
1/4 onion, finely diced
1 tbsp parsley, finely chopped
Pepper to taste
Extra virgin olive oil, for frying
2 cups of vegetables of your choice, such as 1/2 cup red capsicum, de-seeded and diced/or 1/2 cup corn kernels, parboiled/or 1/2 cup carrot, grated/or 1/2 cup baby spinach, shredded
Sliced avocado, to serve
8 slices of wholegrain toast, to serve
METHOD:
To make the fritter base, combine the flour, eggs, milk, cheese, onion, parsley, and salt and pepper in a large bowl.
Add 2 cups of different coloured vegetables to the base mixture and stir to combine.
Heat olive oil in a large non-stick fry pan. Add 1/4 cup of fritter mixture to the pan at a time, allowing room for the fritters to spread.
Cook for 2-3 minutes on a medium heat. Flip and cook for a further 2-3 minutes or until fritters are lightly browned and cooked through.
Serve with wholegrain toast and sliced avocado.
RECIPE NOTES:
Use up leftover veggies so they don't go to waste. Check the fridge for wilted veggies or use leftover bits and pieces from last night's dinner.
Fritters can be prepared ahead of time and enjoyed all week. They can also be frozen.
Combining the fritters with wholegrain toast and avocado gives you a well-balanced brekkie with protein, good quality carbohydrates and healthy fats for a nutritious kick start to the day.