Veggie Burger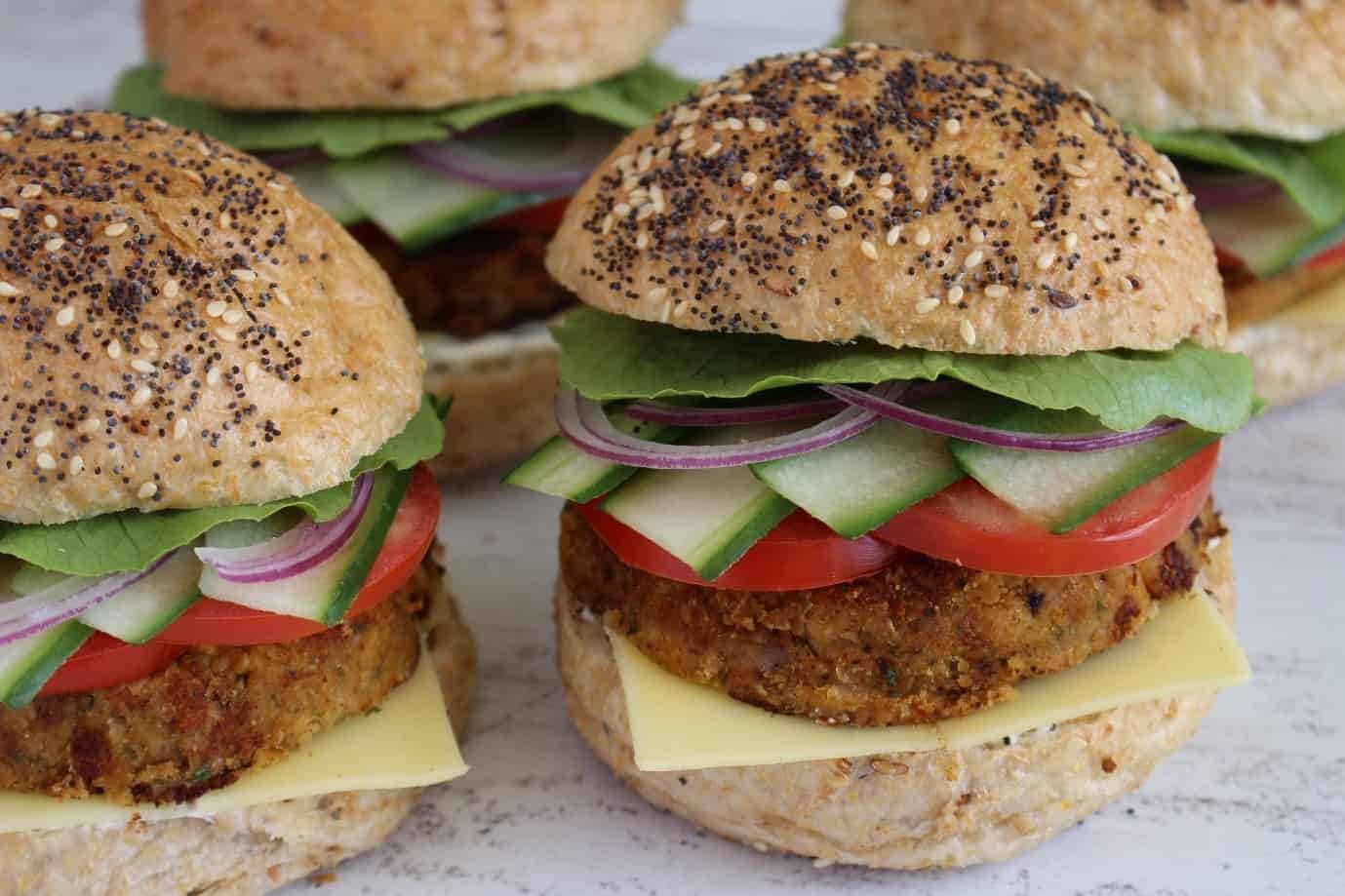 The burgers are better when they're made with love at home—satisfying, veggie laden and delicious. This burger has got all the stuff you want and none of what you don't.
4
Serves
0
Serves of Fruit
(Per Serve)
4
Serves of Vegetables
(Per Serve)
INGREDIENTS:
¾ cup dried red lentils, washed and drained
1 tablespoon extra virgin olive oil
1 large brown onion, finely diced
3 garlic cloves, crushed
2 teaspoons ground paprika
2 teaspoons ground cumin
2 teaspoons ground coriander
420g can chickpeas (no added salt), drained and rinsed (235g once drained)
3 tablespoons coriander leaves, finely chopped
Zest of 1 lemon
Cracked black pepper
½ cup plain Greek yoghurt
1 tablespoon mint leaves, finely chopped
4 wholegrain bread rolls, halved
4 light tasty cheese slices
2 medium tomatoes, sliced
1 medium Lebanese cucumber, thinly sliced into ribbons
¼ small red onion, thinly sliced
4 lettuce leaves, washed and dried
METHOD:
Cook the washed and drained lentils in a large saucepan of boiling water for 10 minutes or until tender. Once cooked, drain well and allow to cool. Once cooled, squeeze out any excess water.
Meanwhile, heat 1 teaspoon of the extra virgin olive oil in a small non-stick frypan over a medium heat.
Add the finely diced brown onion and cook for 5 minutes or until softened.
Add the crushed garlic, ground paprika, ground cumin and ground coriander. Cook until fragrant. Once cooked, remove from the heat and allow to cool.
Once cooled, add the cooked red lentils, onion mixture, chickpeas, finely chopped coriander leaves and lemon zest to a food processor or blender. Season with cracked black pepper. Process until well combined and almost smooth.
Divide the lentil mixture into four and shape into patties. Place on a plate, cover and refrigerate for 30 minutes until firm.
Meanwhile, to make the mint yoghurt, combine the plain Greek yoghurt and the finely chopped mint leaves in a small bowl. Cover and refrigerate until serving.
To cook the patties, heat the remaining 3 teaspoons of extra virgin olive oil in a large non-stick frypan over a medium heat. Cook the patties for 4 - 5 minutes on each side or until golden brown and heated through. Be sure to flip gently. Once cooked, remove the pan from the heat and keep the patties in the pan until serving to keep warm.
To assemble the burgers, spread a spoonful of the mint yoghurt onto the bottom of each wholegrain bread roll. Top each with the light tasty cheese, cooked pattie, sliced tomato, cucumber, red onion, lettuce and the top of each wholegrain bread roll.
RECIPE NOTES:
Leftover patties could be stored in the fridge for 2 – 3 days or in the freezer for 2 – 3 months.
These patties could also be served in a wrap with salad or broken up and tossed through a salad.
Mix up the spices used in this recipe to include what you have available or your flavour preferences – e.g. swap ground paprika, cumin and coriander for other spices such as ground turmeric, ginger, cayenne, chilli or even curry powder.
If possible, choose lettuce grown locally in the Granite Belt and southern Queensland region.
ACKNOWLEDGEMENT:
Recipe produced in conjunction with Nutrition Australia Qld.