Vegetable Paella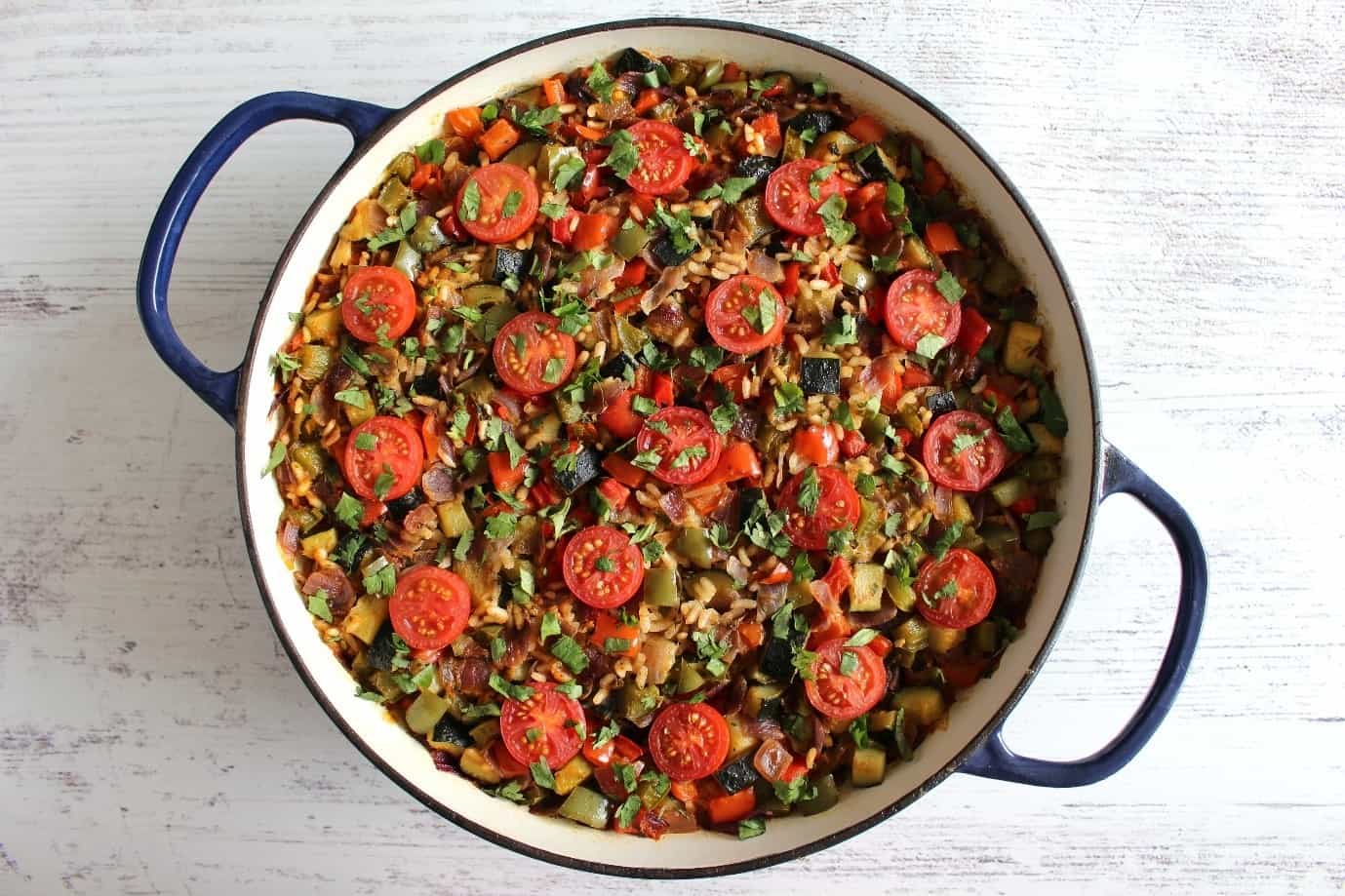 Paella takes its name from the serving dish—so don't let this one intimidate you. Impressive in flavour and its veggie quota, this is a prep, cover and cook wonder that everyone will love.
6
Serves
0
Serves of Fruit
(Per Serve)
1.5
Serves of Vegetables
(Per Serve)
INGREDIENTS:
1 vegetable stock cube
1L (4 cups) water
1 tablespoon extra virgin olive oil
1 medium red capsicum, chopped
1 medium green capsicum, chopped
2 medium zucchini, chopped
2 medium red onions, diced
6 garlic cloves, crushed
1 long red chilli, deseeded and finely chopped
1 ½ cups arborio rice
3 teaspoons ground paprika
¼ cup parsley leaves, finely chopped
Cracked black pepper
150g cherry tomatoes, halved
2 tablespoons fresh coriander, chopped, to serve
METHOD:
Dissolve 1 vegetable stock cube in 1L (4 cups) of water and set aside.
Heat the extra virgin olive oil in a large, deep, non-stick frypan over a medium heat.
Add the chopped red capsicum, green capsicum, zucchini and diced red onion. Cook for approx. 10 minutes or until softened.
Add the crushed garlic and finely chopped chilli. Mix well and cook for 2 minutes.
Add the arborio rice, ground paprika, finely chopped parsley and cracked black pepper. Mix well and cook for 1 minute.
Reserve ½ cup of the prepared vegetable stock, then add the remaining stock to the pan. Bring to the boil, then reduce the heat to low and simmer, covered, for 20 – 25 minutes, without stirring.
Once the rice has cooked, arrange the halved cherry tomatoes over the top, gently pushing the tomatoes into the rice. Ladle over the reserved ½ cup of stock. Without stirring, cook for a further 5 minutes, uncovered, or until the rice has absorbed the liquid.
Remove from the heat and allow to cool slightly. Top with chopped coriander and serve.
RECIPE NOTES:
If desired, add prawns or mussels during step 7 of this recipe. Or serve with grilled meat, chicken or fish.
Leftovers can be stored in an airtight container in the fridge for 2 – 3 days or in the freezer for 3 – 4 months. Ensure the rice is reheated until it steams.
Mix up the vegetables used in this recipe to include what you have available and what's in season – yellow capsicum and peas would also work well.
If possible, choose capsicums grown locally in the Granite Belt and southern Queensland region.
ACKNOWLEDGEMENT:
Recipe produced in conjunction with Nutrition Australia Qld.