Tofu, Noodle and Vegetable Stir Fry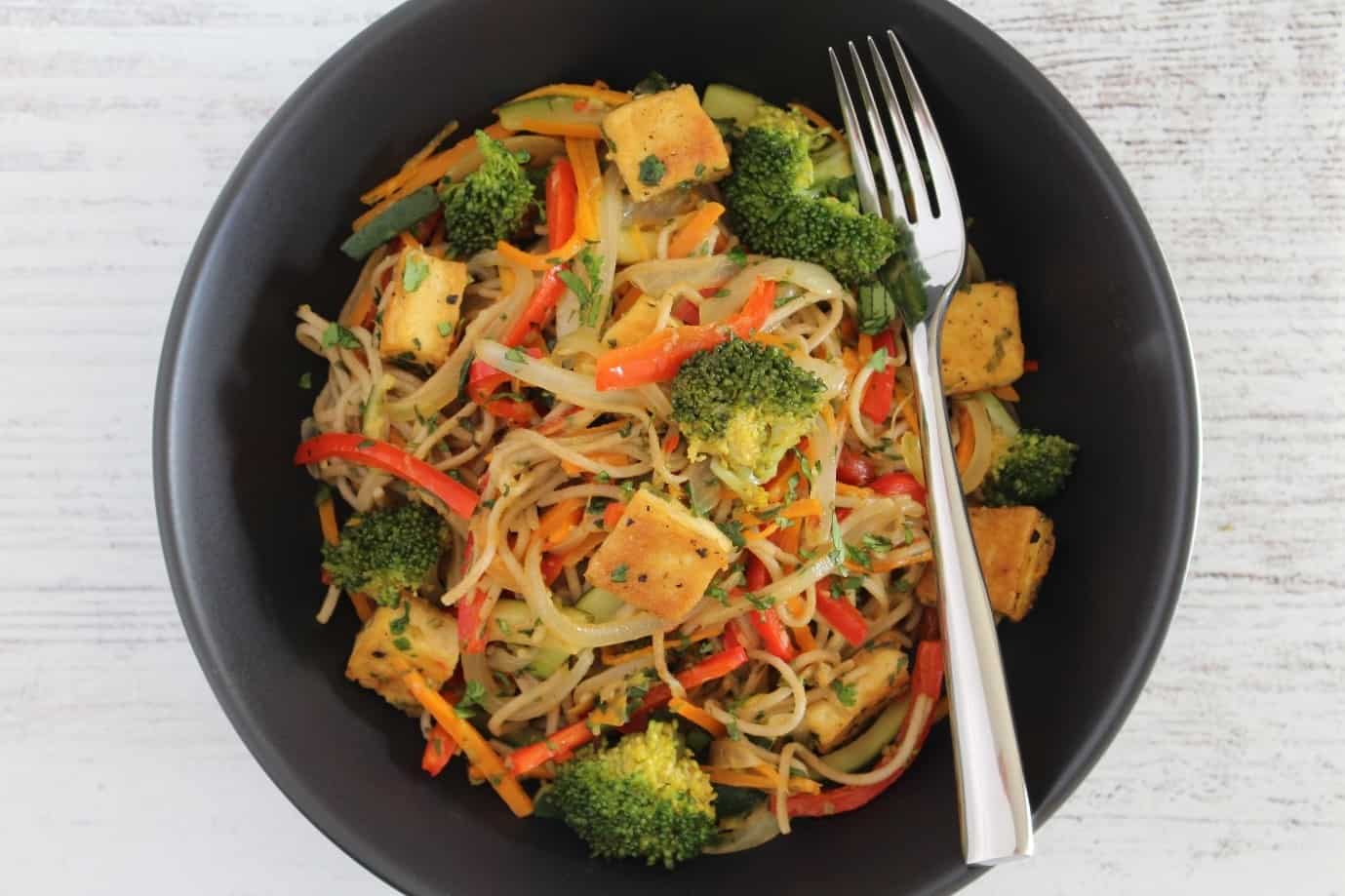 Stir fry is the ultimate fast food that can be made at home to deliver all the nutritional goods. As flexible as it is fabulous.
4
Serves
0
Serves of Fruit
(Per Serve)
3
Serves of Vegetables
(Per Serve)
INGREDIENTS:
400g firm tofu
3 teaspoons cornflour
Cracked black pepper
1 tablespoon sesame oil
1 bunch fresh coriander, leaves and stalks finely chopped
1 large brown onion, thinly sliced into wedges
1 large red capsicum, thinly sliced into strips
1 large carrot, thinly sliced into strips
1 medium zucchini, thinly sliced into strips
1 medium head broccoli, cut into small florets
180g soba noodles
4 garlic cloves, crushed
3 teaspoons finely grated ginger
1 long red chilli, deseeded and finely chopped
2 tablespoons lime juice
1 ½ tablespoons salt reduced soy sauce
1 tablespoon honey
2 tablespoons hot water
METHOD:
To prepare the tofu, squeeze out any excess moisture from the tofu block using a clean tea towel. Cut the tofu into cubes and place in a bowl. Dust with cornflour and season with cracked black pepper.
Heat ½ tablespoon of sesame oil in a large non-stick frypan over a medium heat.
Add the prepared tofu and cook, turning occasionally, until lightly golden all over. Once cooked, remove from the pan and set aside until needed.
Heat the remaining ½ tablespoon of sesame oil in the same non-stick frypan over a medium heat.
Add the finely chopped coriander stalks, sliced brown onion, thinly sliced red capsicum, julienned carrot, thinly sliced zucchini and small broccoli florets to the pan. Cook until softened.
Meanwhile, cook the soba noodles in a large saucepan of boiling water according to packet instructions. Once cooked, drain and rinse well with cold water and drain again.
To make the sauce, combine the crushed garlic, finely grated ginger, finely chopped chilli, lime juice, salt reduced soy sauce, honey and hot water in a small bowl. Mix well to combine all ingredients.
Add the cooked tofu, drained soba noodles and the prepared sauce to the vegetables in the pan and mix well to combine. Stir through the coriander.
To serve, divide the tofu, vegetable and noodle stir fry among four bowls.
RECIPE NOTES:
Adapt this recipe to suit your preferences – replace the tofu with another lean protein source such as chicken breast, beef strips or prawns. Replace the soba noodles with steamed rice.
Mix up the vegetables used in this recipe to include what you have available and what's in season – snow peas, green beans, cauliflower and leafy greens would also work well.
If possible, choose broccoli grown locally in the Darling Downs.
ACKNOWLEDGEMENT:
Recipe produced in conjunction with Nutrition Australia Qld.