Sweet Potato Nachos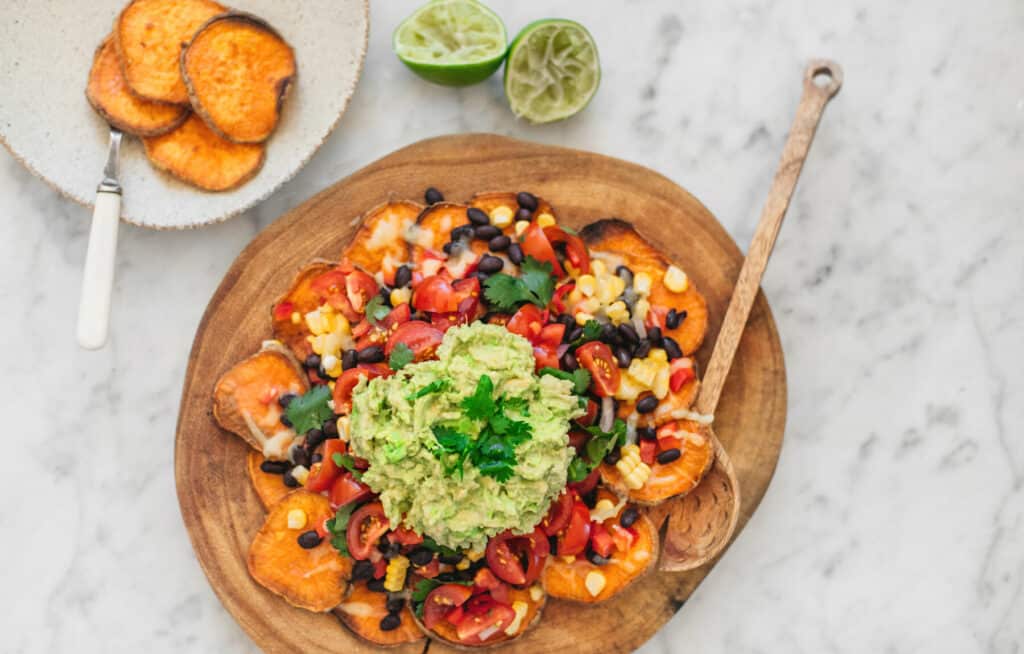 This dish is vibrant in colour, flavour and texture. A great lunch, game-day snack or kid-friendly meal makes this an all-round winner.
2
Serves
0
Serves of Fruit
(Per Serve)
0
Serves of Vegetables
(Per Serve)
INGREDIENTS:
2 small sweet potato, thinly sliced
Spray of pure vegetable oil
2 cobs fresh corn, removed from cob
½ capsicum, diced
1 cup canned black beans (drained, rinsed)
60g grated low fat cheese
1 small avocado, mashed
SALSA
1 punnet cherry tomatoes, diced
½ red onion, finely chopped
2 tablespoons chopped fresh coriander
1 lime, juiced
Red chilli finely chopped (optional)
METHOD:
Line a large baking tray with baking paper and layer the sweet potato slices over it, then spray with oil. Bake in a hot oven, 200°C, for 20-25 minutes or until crisp and browned.
Meanwhile, combine salsa ingredients in a bowl and set aside.
Once the sweet potato slices are cooked, remove from the oven and sprinkle with corn, capsicum, black beans and cheese.
Place under griller for 5 minutes until cheese is melted and vegetables heated through.
Remove from grill and top with salsa and mashed avocado. Serve immediately.
RECIPE NOTES:
Baked sweet potato slices are a healthier option for making nachos than corn chips.
If you wash and dry sweet potato well, you can leave the skin on, which adds more fibre to your meal.
Mix up your topping ingredients by adding your favourites such as shredded red capsicum, grated carrot, black olives, or jalapeno peppers.