Spanish Chicken and Vegetable Skewers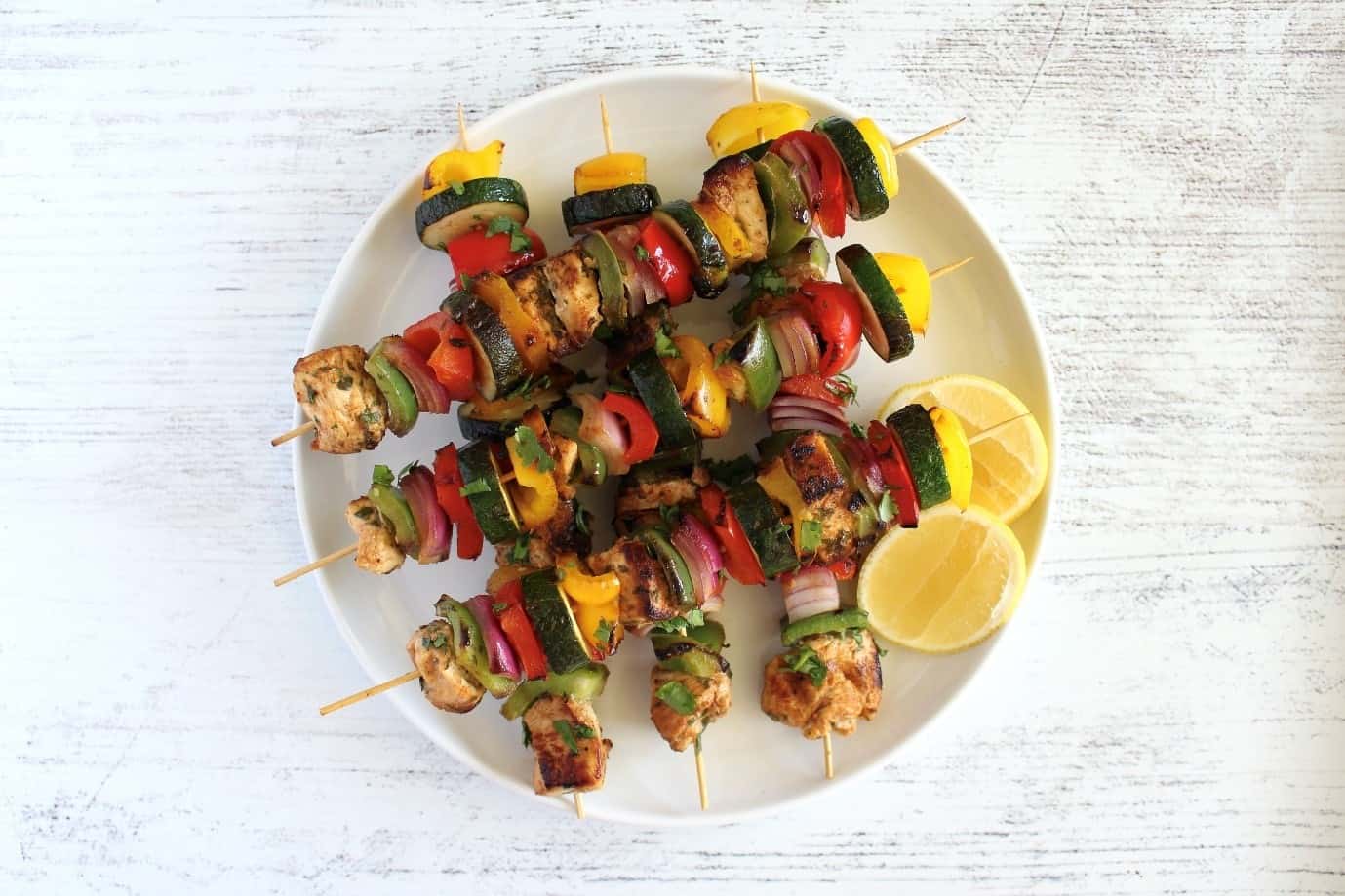 This is the fast-track version of roast chicken and vegetables and all the family will love them for their interactive, colourful tastiness.
6
Serves
0
Serves of Fruit
(Per Serve)
1.5
Serves of Vegetables
(Per Serve)
INGREDIENTS:
600g chicken breast, without skin, cut into 3cm pieces
¼ cup lemon juice
3 garlic cloves, crushed
1 teaspoon ground paprika
½ teaspoon ground cumin
½ teaspoon ground coriander
Cracked black pepper, to season
3 tablespoons fresh coriander, chopped
1 large red capsicum, cut into 3cm pieces
1 large green capsicum, cut into 3cm pieces
1 large yellow capsicum, cut into 3cm pieces
1 medium red onion, cut into 3cm pieces
3 small zucchinis, cut into 3cm pieces
2 tablespoons extra virgin olive oil
1 lemon, to serve
METHOD:
Place the chicken breast pieces, lemon juice, crushed garlic, ground paprika, ground cumin, ground coriander, cracked black pepper and 2 tablespoons of coriander in a large mixing bowl. Mix thoroughly to combine.
Thread pieces of chicken and each of the vegetables onto skewers – approximately three pieces of each ingredient should fit on each skewer. Repeat until you have made 12 skewers.
Heat 1 tablespoon of extra virgin olive oil in a large non-stick frypan over a medium heat.
Cook 6 skewers at a time, turning occasionally, for 15 -20 minutes or until the chicken is cooked through.
Repeat with the remaining 1 tablespoon of extra virgin olive oil and 6 skewers.
To serve, garnish the skewers with the remaining 1 tablespoon of chopped coriander and a squeeze of lemon juice.
RECIPE NOTES:
If using bamboo skewers, soak these in water prior to using them to ensure they don't burn when cooking. Or alternatively use metal skewers.
Mix up the vegetables in this recipe to include what you have available and what's in season – pineapple, asparagus and eggplant would also work well.
Serve with rice, cous cous or homemade flat bread.
These skewers could also be cooked in one batch on a BBQ. If using a BBQ at a high heat, consider using an oil with a higher smoke point such as pure vegetable oil.
If possible, choose capsicums grown locally in the Granite Belt and southern Queensland region.
ACKNOWLEDGEMENT:
Recipe produced in conjunction with Nutrition Australia Qld.