Soft Fish Tacos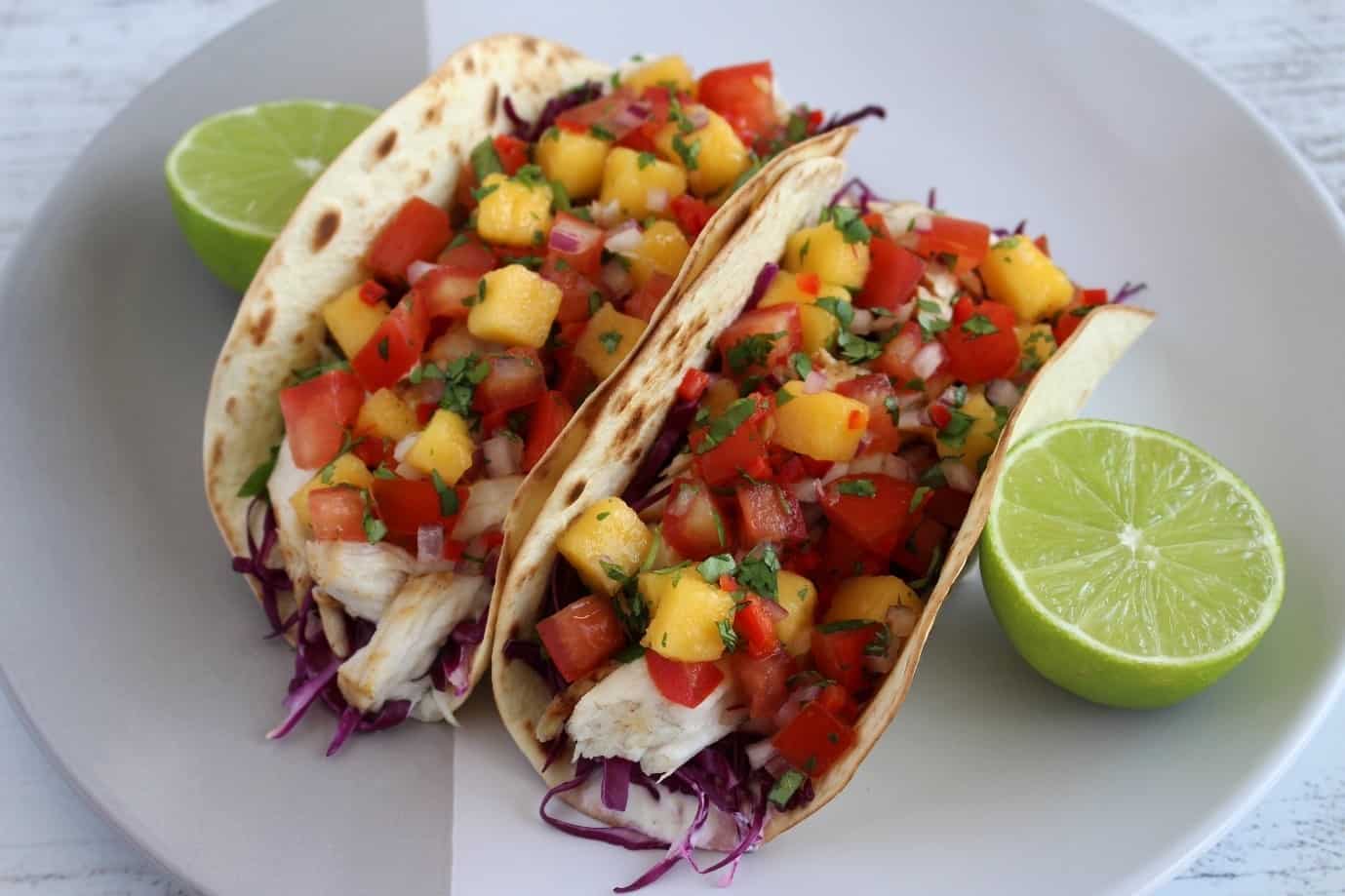 It's tacos any day when they're this good. Bright, tasty and full of the good stuff, these guys will entice the fish fence-sitters!
4
Serves
0.75
Serves of Fruit
(Per Serve)
1.5
Serves of Vegetables
(Per Serve)
INGREDIENTS:
3 garlic cloves, crushed
1 teaspoon finely grated ginger
½ teaspoon ground paprika
½ teaspoon ground cumin
½ teaspoon ground coriander
Cracked black pepper, to season
2 limes, juiced
500g firm, skinless, boneless white fish fillets
250g red cabbage (approx. 2 cups), finely shredded
200g plain Greek yoghurt
4 tablespoons fresh coriander leaves, finely chopped (approx. 1 bunch)
2 medium tomatoes, diced
1 medium mango, diced
½ small red onion, finely diced
1 long red chilli, deseeded and finely diced
2 teaspoons extra virgin olive oil
8 small tortillas
2 limes, in wedges, to serve
METHOD:
Place the crushed garlic, finely grated ginger, ground paprika, ground cumin, ground coriander, cracked black pepper and the juice of 1 lime in a bowl and mix to combine. Add the fish to the bowl and coat well. Cover and refrigerate to marinate until ready to cook.
To make the yoghurt dressing, combine the plain Greek yoghurt, the juice of ½ a lime and 1 tablespoon of the chopped fresh coriander leaves in a small bowl. Cover and refrigerate until serving.
To make the salsa, combine the diced tomatoes, mango, red onion and chill in a bowl along with the remaining juice of ½ lime and 1 tablespoon of chopped fresh coriander leaves. Mix well to combine. Cover and refrigerate until serving.
To cook the fish, heat the extra virgin olive oil in a large non-stick frypan over a medium heat. Cook the fish fillets for 3 – 5 minutes on each side, or until cooked through. Remove the fish from the pan and allow to rest. Fake the fish with a fork.
Warm the tortillas according to packet instructions, or warm in a frypan or grill pan over a high heat for 1 minute on each side.
To assemble the tacos, spread a spoonful of the yoghurt dressing onto the middle of each tortilla. Top each tortilla with the shredded red cabbage, flaked fish, salsa and the remaining 2 tablespoons of chopped fresh coriander leaves. Serve with lime wedges.
RECIPE NOTES:
Mix up the vegetables used in this recipe to include what you have available and what's in season – corn, capsicum, avocado and canned beans would also work well in the salsa.
Mix up the protein used in this recipe – salmon fillets, prawns and chicken breast would also work well.
If possible, choose cabbage grown locally in the Darling Downs and tomatoes grown locally in the Granite Belt region.
ACKNOWLEDGEMENT:
Recipe produced in conjunction with Nutrition Australia Qld.