San Choy Bow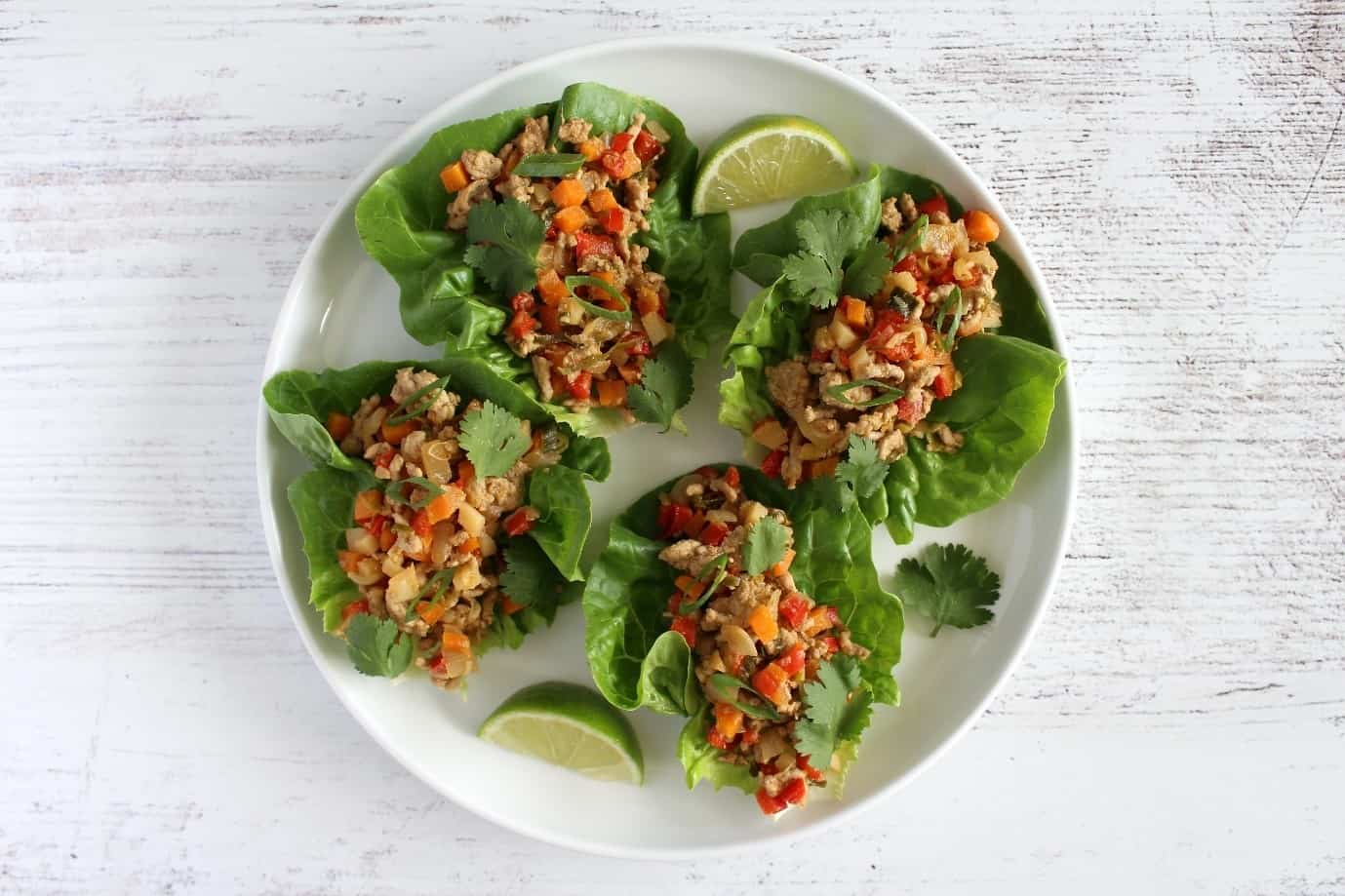 San Choy Bow literally translates to 'wrapped in lettuce'. We like to think of these as delicious and nutritious little gifts!
5
Serves
0
Serves of Fruit
(Per Serve)
2.5
Serves of Vegetables
(Per Serve)
INGREDIENTS:
15 – 20 lettuce leaves (e.g. little gem, cos, iceberg), washed and dried
1 tablespoon sesame oil
2 carrots, peeled and finely diced
1 brown onion, peeled and finely diced
1 red capsicum, diced
2 teaspoons finely grated ginger
4 garlic cloves, crushed
1 long red chilli, deseeded and finely chopped
500g extra lean pork mince
200g canned water chestnuts, drained and finely chopped
2 spring onions, finely sliced
2 tablespoons salt reduced soy sauce
½ lime, juiced
2 tablespoons fresh coriander leaves, to serve
1 lime, in wedges, to serve
METHOD:
Heat the sesame oil in a non-stick frypan over a medium heat.
Add the diced carrot and cook for 2 minutes, then add the diced brown onion and red capsicum and cook for a further 2 minutes or until softened.
Add the finely grated ginger, crushed garlic and finely chopped chilli and cook for 1 minute.
Add the extra lean pork mince to the pan. Break the mince up with a wooden spoon and cook until browned.
Add the water chestnuts and the spring onions to the pan.
Add the salt reduced soy sauce and lime juice. Stir well to combine and cook for a further 2 minutes.
Remove from the heat and transfer to a serving bowl.
Fill the lettuce cups with the mince mixture and top with fresh coriander leaves and serve with lime wedges. Serve immediately.
RECIPE NOTES:
Leftover mince mixture can be stored in an airtight container in the fridge for 1 -2 days or in the freezer for 3 – 4 months.
Cooked rice, quinoa or rice noodles could be added to the mince mixture to bulk up the san choy bow filling.
If possible, choose lettuce grown locally in the Granite Belt and southern Queensland region.
ACKNOWLEDGEMENT:
Recipe produced in conjunction with Nutrition Australia Qld.