Roasted Vegetable Frittata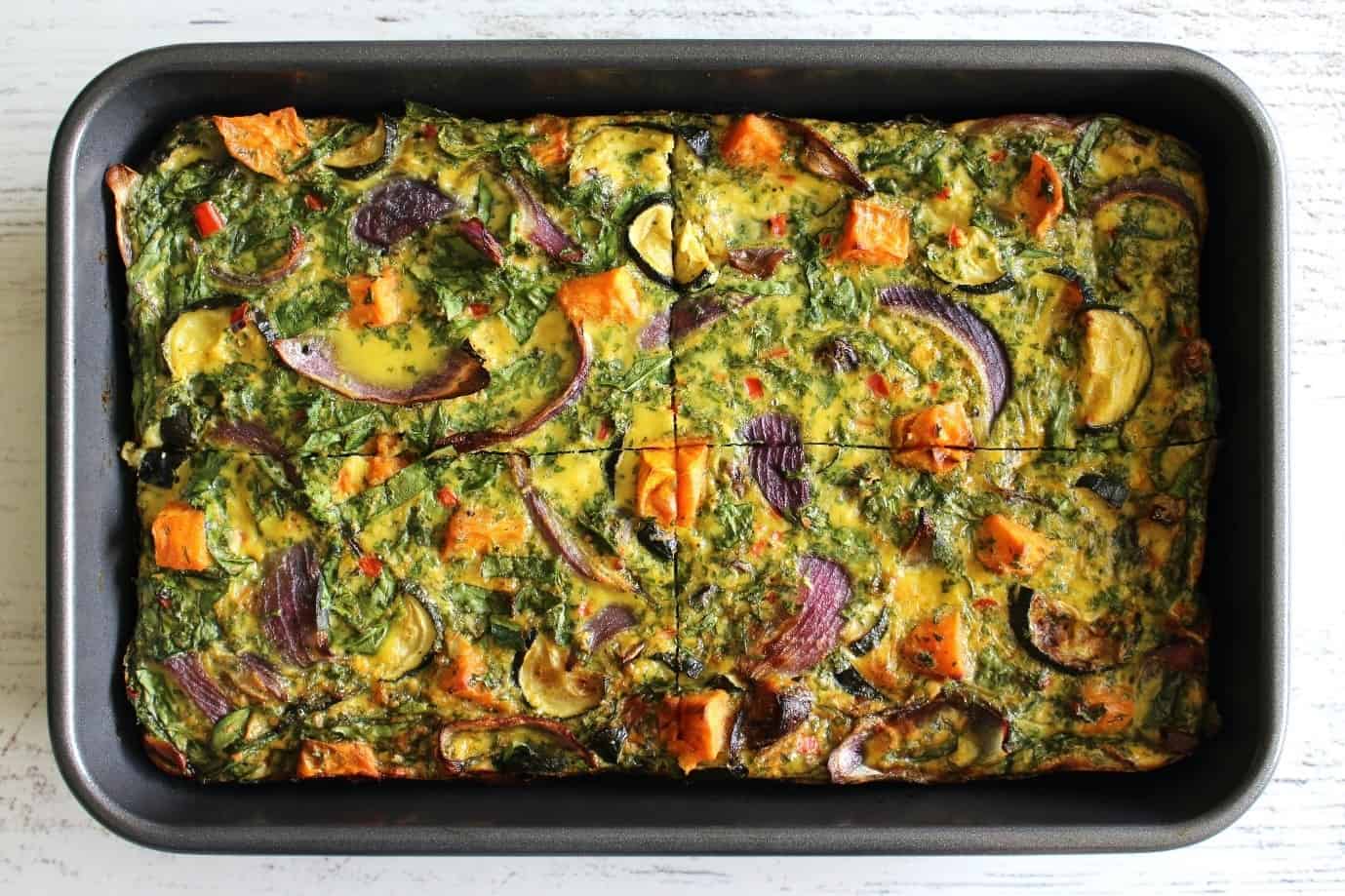 Satisfying yet light, frittata is fancy for eggs plus available and in-season veggies.
4
Serves
0
Serves of Fruit
(Per Serve)
2
Serves of Vegetables
(Per Serve)
INGREDIENTS:
1 small sweet potato, peeled and cubed
2 small red onions, peeled and sliced into wedges
2 small zucchinis, halved length-ways and sliced into pieces
2 teaspoons extra virgin olive oil
6 eggs
¼ cup milk
Cracked black pepper, to season
¼ cup parsley leaves, finely chopped
4 garlic cloves, crushed
1 long red chilli, deseeded and finely chopped
1 cup baby spinach leaves, shredded
METHOD:
Preheat oven to 180°C.
Place the sweet potato, red onion and zucchini into a non-stick baking dish and drizzle over the extra virgin olive oil, tossing to coat. Roast for approximately 40 – 45 minutes or until cooked through, turning occasionally. Once cooked, remove from the oven and allow to cool slightly.
Meanwhile, whisk together the eggs, milk, cracked black pepper, finely chopped parsley, crushed garlic and finely chopped chilli in a bowl. Stir through the shredded baby spinach.
Pour the egg mixture over the roasted vegetables in the non-stick baking dish and gently mix to evenly distribute the ingredients. Bake for 30 – 35 minutes or until completely set and lightly golden. Allow to cool slightly. To serve, cut frittata into 4 portions.
RECIPE NOTES:
This recipe is so adaptable. Use around 600g of any vegetables you have. For example, carrots, cauliflower or broccoli can be substituted, as as well as peas, corn kernels or halved cherry tomatoes.
Use frozen vegetables. They will need to be heated in boiling water first, then drained, before adding to the egg mixture. Frozen vegetables do not need to be roasted.
If not available, this recipe can still be made without garlic, chilli, parsley or spinach leaves.
Cut the frittata into 4 servings for a main meal, or into 8 portions for snack size servings.
For a complete meal, serve with a side salad and/or bread.
ACKNOWLEDGEMENT:
Recipe produced in conjunction with Nutrition Australia Qld.