Roasted cauliflower, brussels sprout and chickpea salad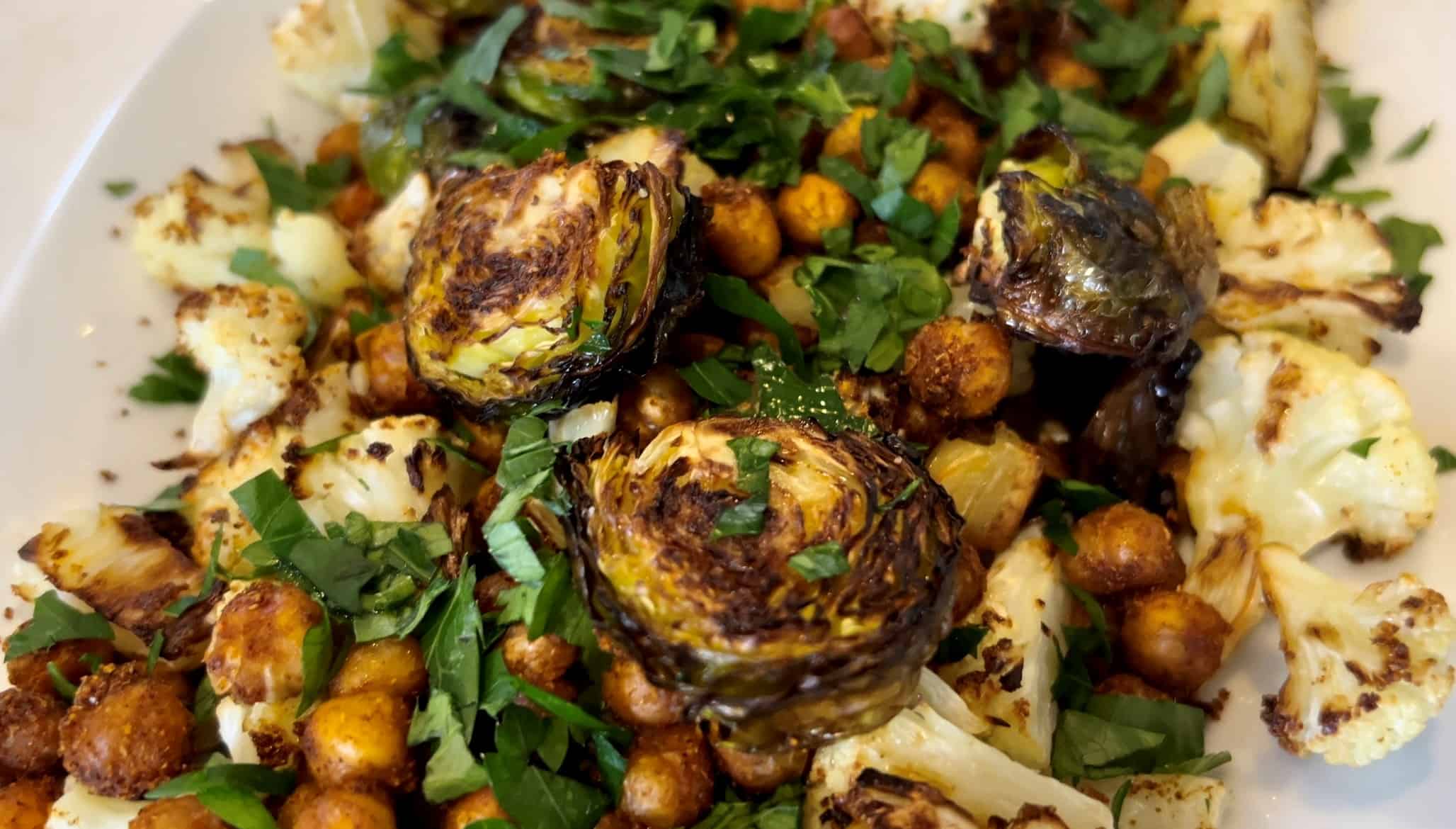 Roasted cauliflower and chickpeas make an unbeatable pair. When mixed with Brussels sprouts, fresh lemon and parsley, you've got yourself a delightful springtime salad.
4
Serves
0
Serves of Fruit
(Per Serve)
3.5
Serves of Vegetables
(Per Serve)
INGREDIENTS:
1 small cauliflower (680gm), cut into florets and stem cut into small pieces
220 gm Brussels sprouts, trimmed and halved
2 tbsp olive oil
400 gm canned chickpeas, drained and rinsed
1 tbsp smoked paprika
1 tsp ground cumin
1 tsp ground coriander
2 cloves garlic, quartered
2 tbsp flat-leaf parsley, coarsely chopped
2 tbsp lemon juice
METHOD:
Preheat oven to 220°C.
Place cauliflower, Brussels sprouts, and garlic on an oven tray, drizzle with half the oil and toss to coat. Place chickpeas on another oven tray, then sprinkle with paprika, cumin and coriander, and drizzle with remaining oil.
Roast vegetables and chickpeas until vegetables are tender and chickpeas are crisp (approx. 25 minutes).
Arrange roasted vegetables and chickpeas on a serving platter, then sprinkle parsley and drizzle lemon juice over and serve.
RECIPE NOTES:
Enjoy this yummy spring dish on its own or in a wholemeal pita or with some cooked quinoa or brown rice.
ACKNOWLEDGEMENT:
Recipe adapted from original Gourmet Traveller recipe.