Pumpkin, Chickpea and Coconut Curry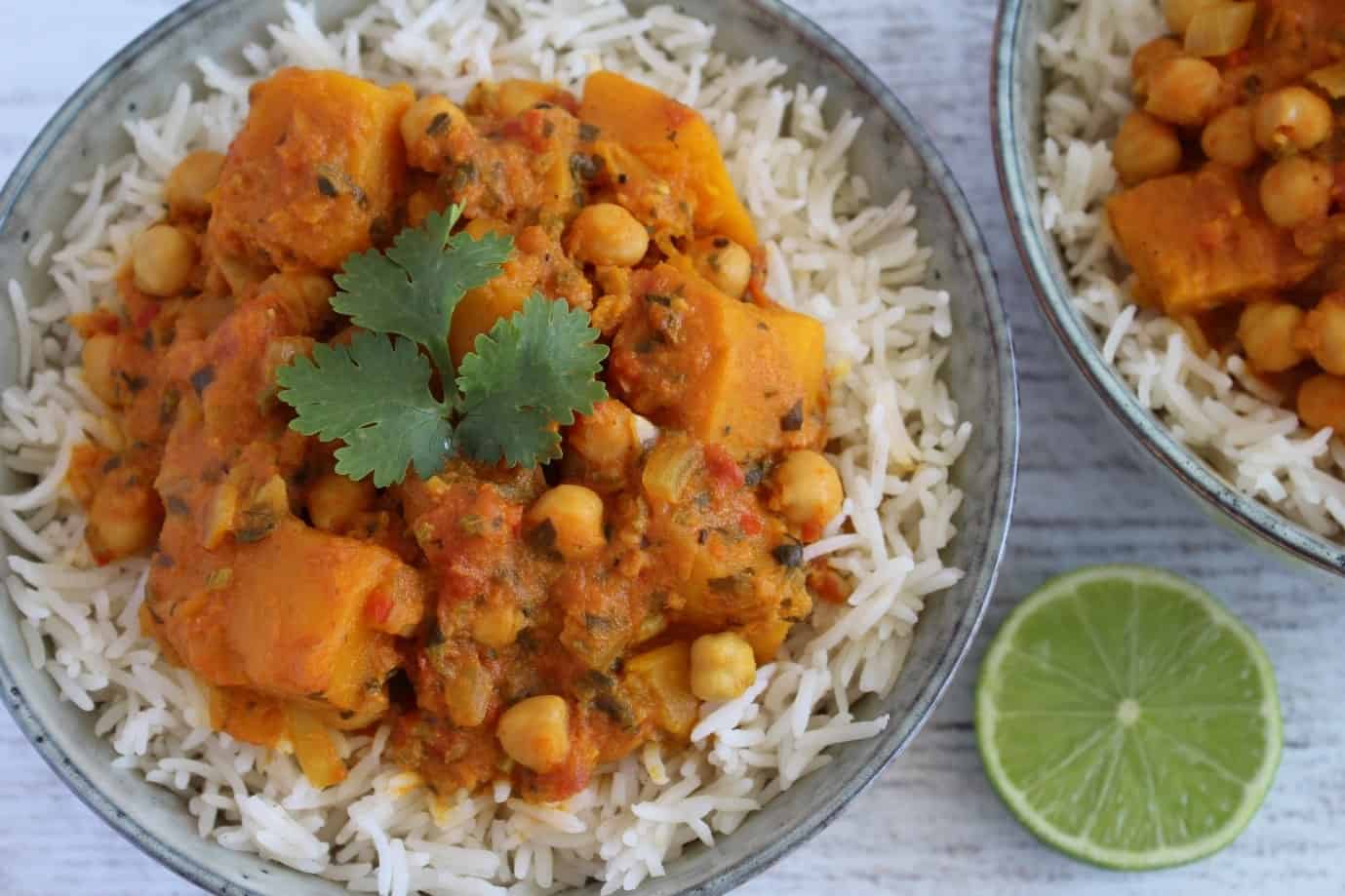 Someone say #MeatFreeMonday? With a stocked spice rack, a few pantry staples and fresh ingredients, you can have this party-for-your-mouth ready in no time.
4
Serves
0
Serves of Fruit
(Per Serve)
5
Serves of Vegetables
(Per Serve)
INGREDIENTS:
1 tablespoon extra virgin olive oil
1 medium brown onion, finely diced
4 garlic cloves, crushed
3 teaspoons finely grated ginger
1 long red chilli, deseeded and finely chopped
1 bunch fresh coriander, leaves and stalks finely chopped
2 teaspoons ground turmeric
2 teaspoons ground cumin
2 teaspoons ground coriander
Cracked black pepper
400g can diced tomatoes (no added salt)
400mL can light coconut milk
800g pumpkin, peeled and chopped into 3cm cubes
420g can chickpeas (no added salt), drained and rinsed (Note: 235g once drained)
1 cup basmati rice
1 lime, juiced
METHOD:
Heat the extra virgin olive oil in a large pot over a medium heat.
Add the finely diced brown onion and cook for 2 minutes.
Add the crushed garlic, finely grated ginger, finely chopped chilli and finely chopped coriander stalks. Cook until softened and fragrant.
Add the ground turmeric, ground cumin, ground coriander and season with cracked black pepper. Cook until fragrant.
Add the diced tomatoes and coconut milk. Rinse the diced tomato can with ½ cup of water and add to the pot. Bring the boil and add the chopped pumpkin and chickpeas. Reduce the heat to low and simmer, covered, for 30 minutes or until the pumpkin is tender but still holding its shape.
Meanwhile, cook the basmati rice according to packet instructions.
Once the curry is almost ready, stir through the finely chopped coriander leaves and lime juice. Cook for a further 5 minutes, uncovered, until the curry thickens.
To serve, divide the rice among four bowls and top each with the curry.
RECIPE NOTES:
Mix up the spices used in this recipe to include what you have available or your flavour preferences – e.g. swap fresh garlic, ginger and chilli for ground/dried versions, or add in other spices such as cinnamon, cardamom, cayenne, mustard or curry powder.
Mix up the vegetables used in this recipe to include what you have available and what's in season – potato, sweet potato, green beans, cauliflower and broccoli would also work well.
Instead of serving with basmati rice, this recipe could also be served with other varieties of rice such as brown rice or even quinoa or homemade flat bread.
If possible, choose pumpkin grown locally in south east and southern Queensland.
ACKNOWLEDGEMENT:
Recipe produced in conjunction with Nutrition Australia Qld.