Lamb Shank Tagine with Orange, Kale, Green Olives and Cous Cous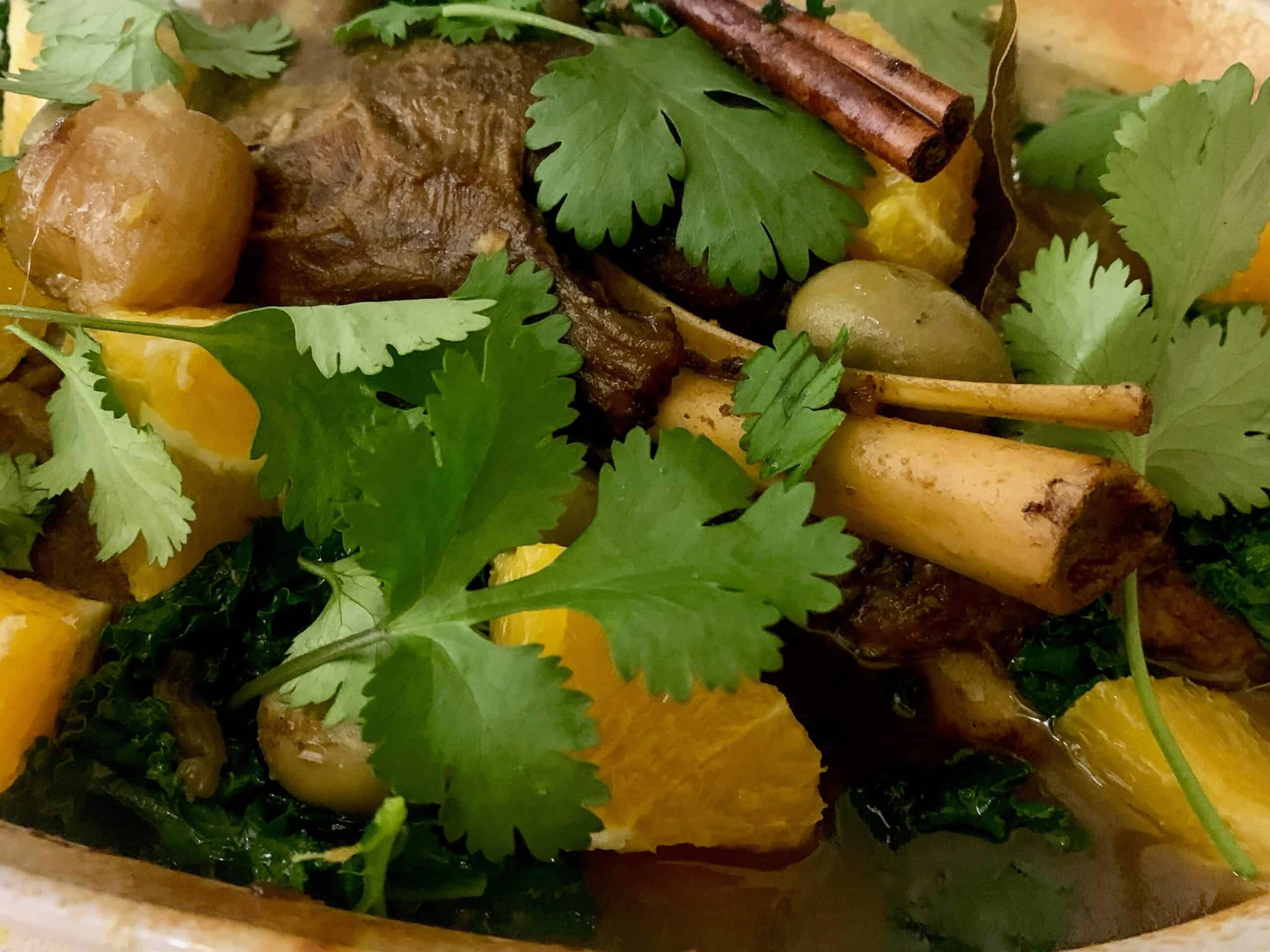 Tagine is simply North African for a stew of spices, meat and vegetables cooked slowly—give it a try, the reward is a divinely flavoured dish that sings!
4
Serves
0.3
Serves of Fruit
(Per Serve)
2
Serves of Vegetables
(Per Serve)
INGREDIENTS:
4 lamb shanks
1 large onion, peeled and sliced or 12 pickling onions
A drizzle pure vegetable oil
4 fresh or 2 dried bay leaves
2 tbs ground cumin
1 tbs ground coriander
1 tsp turmeric
2 tsp sweet paprika
2 cinnamon sticks
1 cup chicken stock, reduced salt
1 cup of water
80 gm pitted green olives
2 cups torn kale leaves
2 oranges
½ cup coriander leaves
Salt and pepper to taste
For the Couscous:
1 cup couscous
10ml pure vegetable oil
1 cup water
Salt to taste
METHOD:
Preheat oven to 150°C, then heat the pure vegetable oil in a heavy based frying pan and fry the lamb shanks on all sides until coloured all over. Transfer to a deep casserole dish or oven proof pot.
Use a peeler to remove strips of the zest from the oranges.
In the same pan, fry the onions or pickling onions (depending on which you choose) until golden then add to the lamb shanks.
Add the zest, bay leaves, spices, chicken stock and water, cover with a sheet of baking paper, then cover tightly with two layers of foil so the pot is well sealed. Cook for 4 hours or until the shanks are falling off the bone.
Pour off some of the cooking liquid into a saucepan, bring to the boil and add the kale and olives. Simmer for 3 - 4 minutes until the kale is wilted. Season to taste with salt and pepper then add the kale, olives and sauce back to the shanks.
In a small heatproof bowl, use your fingers to rub the oil through the couscous until each grain is coated evenly. Bring the water to the boil and pour over the couscous, leave to swell for 10 minutes, then gently run a fork through it to fluff it up. Salt to taste if needed.
Cut all the skin and pith from the outside of the oranges and cut each into 8 large wedges. Add the orange and fresh coriander to the tagine and serve hot with couscous on the side.
RECIPE NOTES:
Stocks can often be high in salt (also known as sodium or sodium chloride), so always look for powdered or liquid stock that is low in salt.
If wanting to make this meal gluten free, check your stock doesn't have traces of gluten.

Leftover mixture can be stored in an airtight container in the fridge for 1 – 2 days or in the freezer for 3 – 4 months.

 
ACKNOWLEDGEMENT:
Created by Matt Golinski, celebrity chef and Health and Wellbeing Queensland's healthy food ambassador.