Herb and Potato Fish Cakes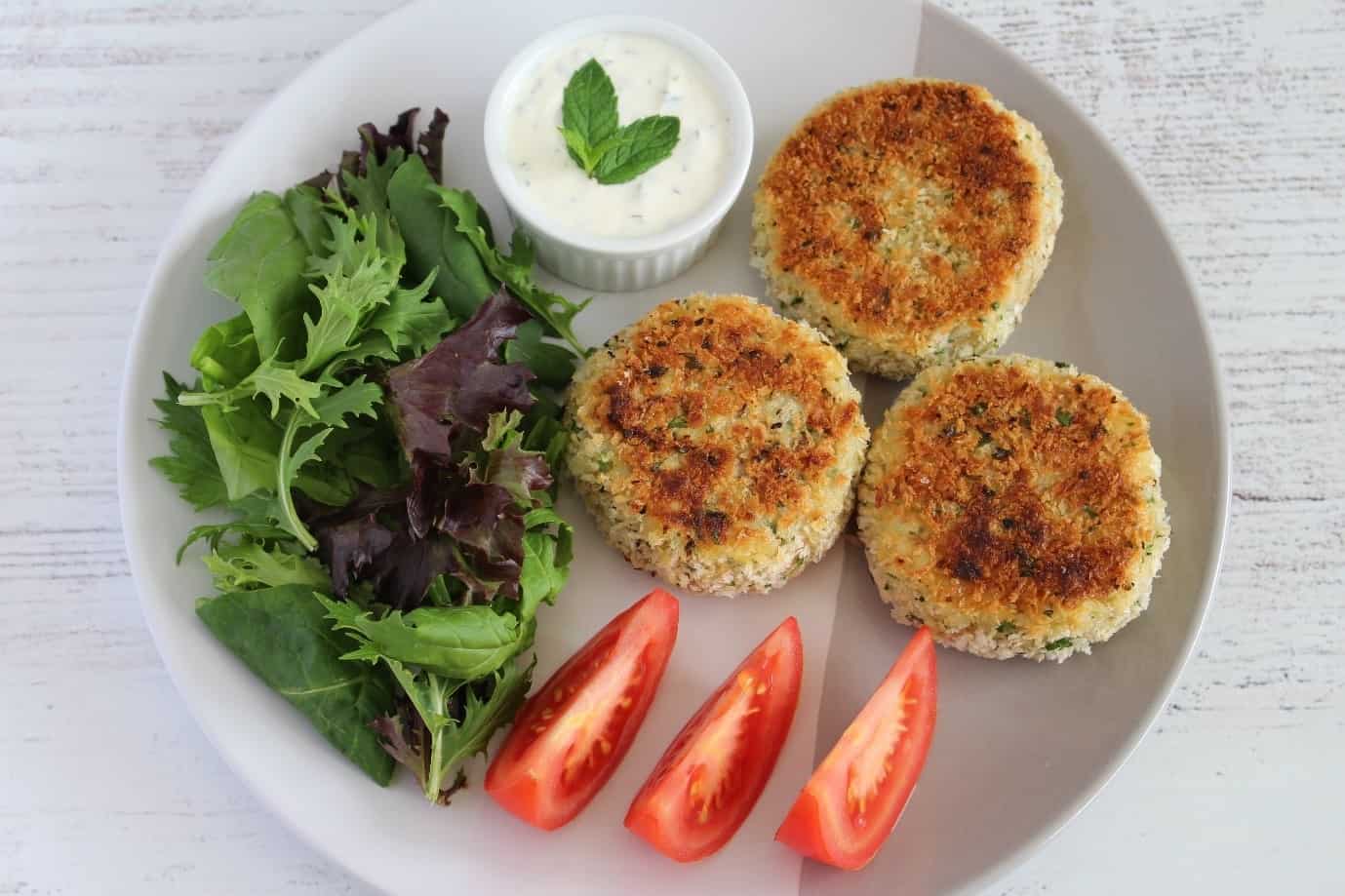 Here's the goodness of fish dished up in a way everyone will love. Introducing fish cakes that pack a nutritional punch!
4
Serves
0
Serves of Fruit
(Per Serve)
4
Serves of Vegetables
(Per Serve)
INGREDIENTS:
800g potatoes (approx. 4 medium potatoes), peeled and quartered
1 garlic clove, crushed
425g can tuna in springwater, drained and flaked (280g once drained)
4 spring onions, finely sliced
Zest of 1 lemon
2 tablespoons lemon juice
½ cup parsley leaves, finely chopped
Cracked black pepper
¾ cup plain Greek yoghurt
2 tablespoon mint leaves, finely chopped
½ cup plain flour
1 large egg, whisked
1 cup panko bread crumbs
2 ½ tablespoons pure vegetable oil
4 cups mixed lettuce leaves, to serve
2 medium tomatoes, in wedges, to serve
METHOD:
Place the potatoes in a large saucepan. Cover with water and bring to the boil. Once boiling, simmer for 15 – 20 minutes or until tender.
Once cooked, drain the potatoes and mash well. Transfer to a large bowl and stir through the crushed garlic. Cover and refrigerate until cooled.
Once cooled, add the flaked tuna, finely sliced spring onions, lemon zest, lemon juice and 1/3 cup of the finely chopped parsley. Season with cracked black pepper. Mix well to combine.
Divide the mixture into twelve and shape into fish cakes. Place on a plate, cover and refrigerate for 30 minutes until firm.
Meanwhile, to make the mint yoghurt, combine the plain Greek yoghurt and the finely chopped mint leaves in a small bowl. Cover and refrigerate until serving.
Once firm, remove the fish cakes from the fridge. To set up for crumbing, place the plain flour and the whisked egg into separate bowls. Combine the panko bread crumbs and the remaining finely chopped parsley in another bowl. To crumb, dip the fish cakes in the plain flour, then in the egg, then in the panko bread crumbs to coat well.
Cook the fish cakes in two batches. Heat half of the pure vegetable oil in a large non-stick frypan over a medium heat. Cook the first batch of six fish cakes for 4 - 5 minutes on each side or until golden brown and heated through. Repeat this process, by heating the remaining pure vegetable oil to cook the remaining six fish cakes.
To serve, divide the mixed lettuce leaves, tomato wedges and fish cakes among four plates. Serve with the mint yoghurt.
RECIPE NOTES:
Leftover fish cakes could be stored in the fridge for 2 – 3 days or in the freezer for 2 – 3 months.
These fish cakes could also be served with some steamed or grilled vegetables.
Mix up the ingredients used in this recipe to include what you have available – tinned salmon would work in the place of tuna, while mashed sweet potato would work in the place of potato. Parsley and mint leaves could also be replaced with another type of herb.
If possible, choose potatoes grown locally in southern Queensland.
ACKNOWLEDGEMENT:
Recipe produced in conjunction with Nutrition Australia Qld.