Grilled Chicken Breast with Roasted Sweet Potatoes, Cherry Tomatoes and Seared Spinach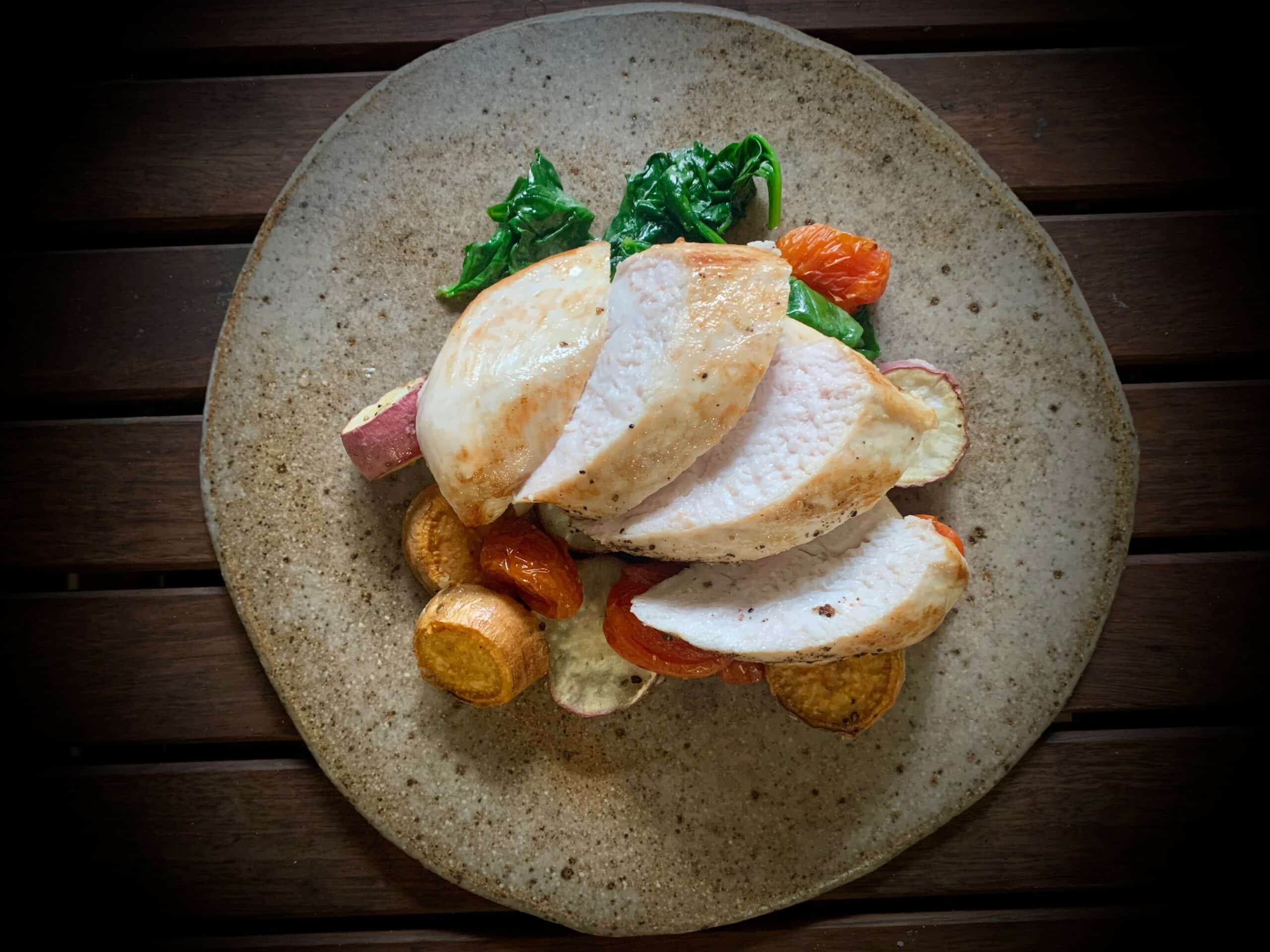 Five everyday ingredients and you've got a winning chicken (and veggie) dinner everyone will love.
4
Serves
0
Serves of Fruit
(Per Serve)
3
Serves of Vegetables
(Per Serve)
INGREDIENTS:
4 x 150gm chicken breasts, no skin
500gm sweet potato, cut into 1cm discs
1 punnet (200gm) cherry tomatoes
200gm spinach
30ml pure vegetable oil or olive oil
METHOD:
Preheat the oven to 180C. Lightly toss the sweet potato and cherry tomatoes in half of the oil, and lay out in a single layer on a roasting tray lined with baking paper. Roast for 20 minutes or until soft and lightly coloured.
Fry the chicken breasts in the remaining oil in a heavy based pan until golden all over. Transfer to the roasting tray with the vegetables for the last 8 – 10 minutes of cooking.
Heat a large frying pan and cook the spinach until it is lightly wilted then give it a little squeeze with your tongs to remove any excess water.
Arrange the cherry tomatoes, sweet potatoes and spinach on four plates, slice the chicken breasts into 2 or 3 pieces and arrange on top and season with salt and pepper.
RECIPE NOTES:
Give your sweet potato a good scrub and you don't need to peel it. Peeling results in loss of some of the good stuff like fibre, antioxidants and nutrients.
ACKNOWLEDGEMENT:
Created by Matt Golinski, celebrity chef and Health and Wellbeing Queensland's healthy food ambassador.