Chicken Pesto Pasta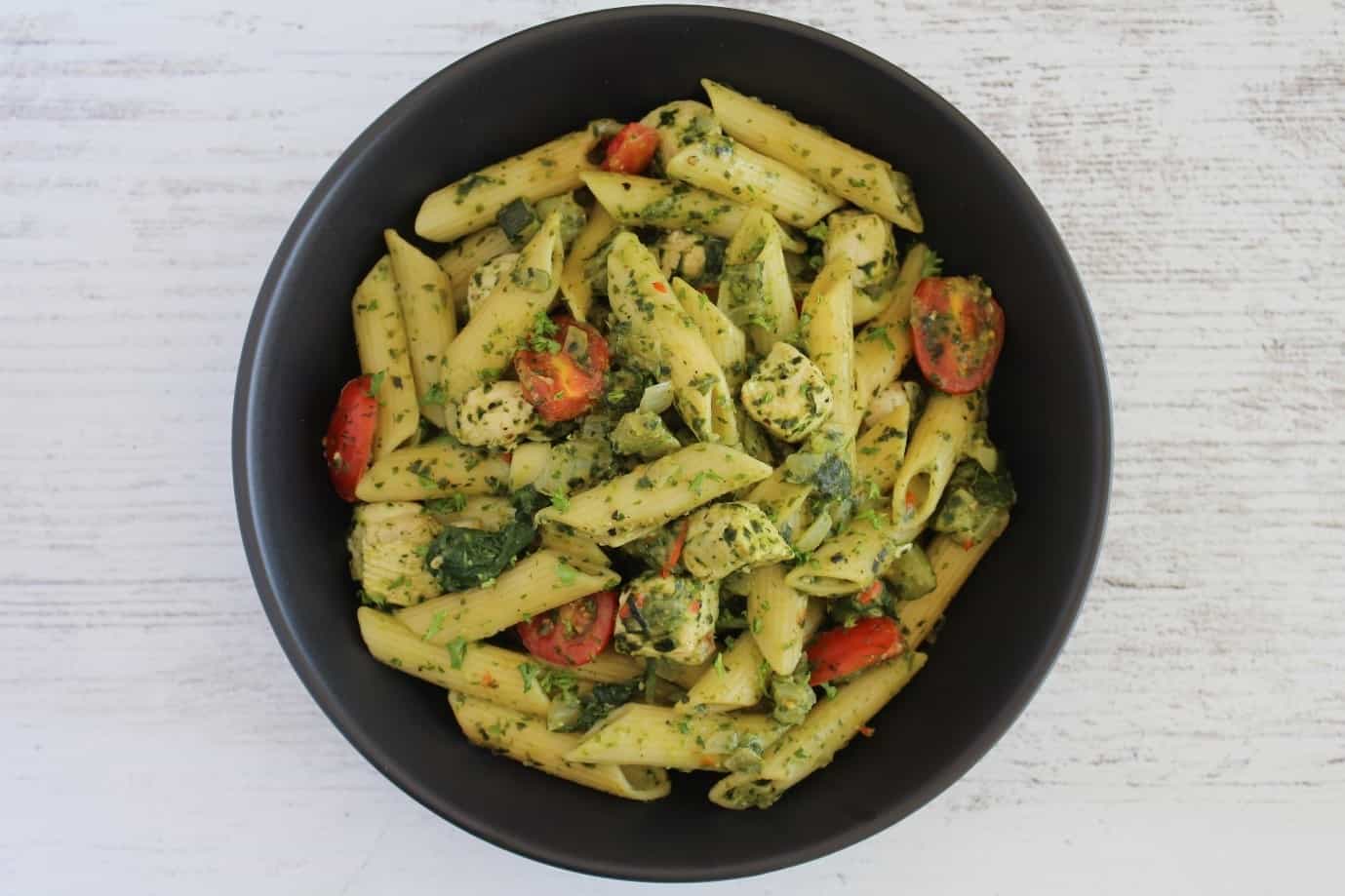 Home-made pesto is next-level delicious (and easy to make). But no judgement here, store bought works equally well in this very adaptable (and quick) dinner delight. No chicken? We're got substitutions galore.
4
Serves
0
Serves of Fruit
(Per Serve)
3
Serves of Vegetables
(Per Serve)
INGREDIENTS:
1 tablespoon pine nuts, lightly toasted
3 cups basil leaves, packed (approx. 3 bunches)
4 garlic cloves, crushed
25g parmesan cheese, grated
1 ½ tablespoons extra virgin olive oil
Cracked black pepper
300g penne pasta
1 large brown onion, finely diced
1 medium zucchini, diced
1 long red chilli, deseeded and finely chopped
400g chicken breast, without skin, cut into bite sized pieces
2 cups baby spinach leaves
200g grape tomatoes, halved (or medium tomato, chopped)
2 tablespoons parsley leaves, finely chopped, to serve
METHOD:
Add the toasted pine nuts, basil leaves, 2 cloves of crushed garlic, grated parmesan cheese and 1 tablespoon of extra virgin olive oil to a food processor or blender. Season with cracked black pepper. Process until finely chopped and well combined. This should make approx. ¾ cup of pesto. Transfer to a bowl, cover and set aside until needed.
Cook the penne pasta in a large saucepan of boiling water according to packet instructions. Once cooked, reserve 1 cup of pasta cooking water.
Meanwhile, heat the remaining ½ tablespoon of extra virgin olive oil in large non-stick frypan over a medium heat.
Add the finely diced brown onion and diced zucchini and cook until softened.
Add the remaining 2 cloves of crushed garlic and finely chopped red chilli and cook for 1 minute.
Move the vegetables to the side and add the chicken breast pieces to the pan. Season with cracked black pepper. Cook, whilst turning, until the chicken is lightly golden and cooked through.
Add the cooked penne pasta, halved grape tomatoes and baby spinach leaves to the pan. Mix well to combine. Stir through the prepared basil pesto.
Whilst stirring, slowly add the reserved pasta cooking water to the pan until the sauce reaches your desired consistency.
To serve, divide the chicken pesto pasta among four bowls and top with finely chopped parsley leaves.
RECIPE NOTES:
No chicken? Substitute with tin tuna, salmon, chickpeas, tofu, cheese, or more veggies!
Store bought pesto is a fine substitute.
If making your own pesto, substitute the herbs and nuts used to include what you have available. Replace basil with other herbs such as mint, parsley, rocket or other leafy greens. Replace pine nuts with almonds, walnuts, macadamias, or even sunflower seeds.
Left over pesto can also be used as a dip with wholegrain crackers and vegetable sticks, or as a spread on toast with eggs or tomato. Stored in an airtight container in the fridge, it will last for 2 – 3 days, or in the freezer for up to 3 months.
Zucchini can be substituted with another vegetable such as broccoli or frozen peas and tomato with capsicum.
ACKNOWLEDGEMENT:
Recipe produced in conjunction with Nutrition Australia Qld.