Chicken Noodle Salad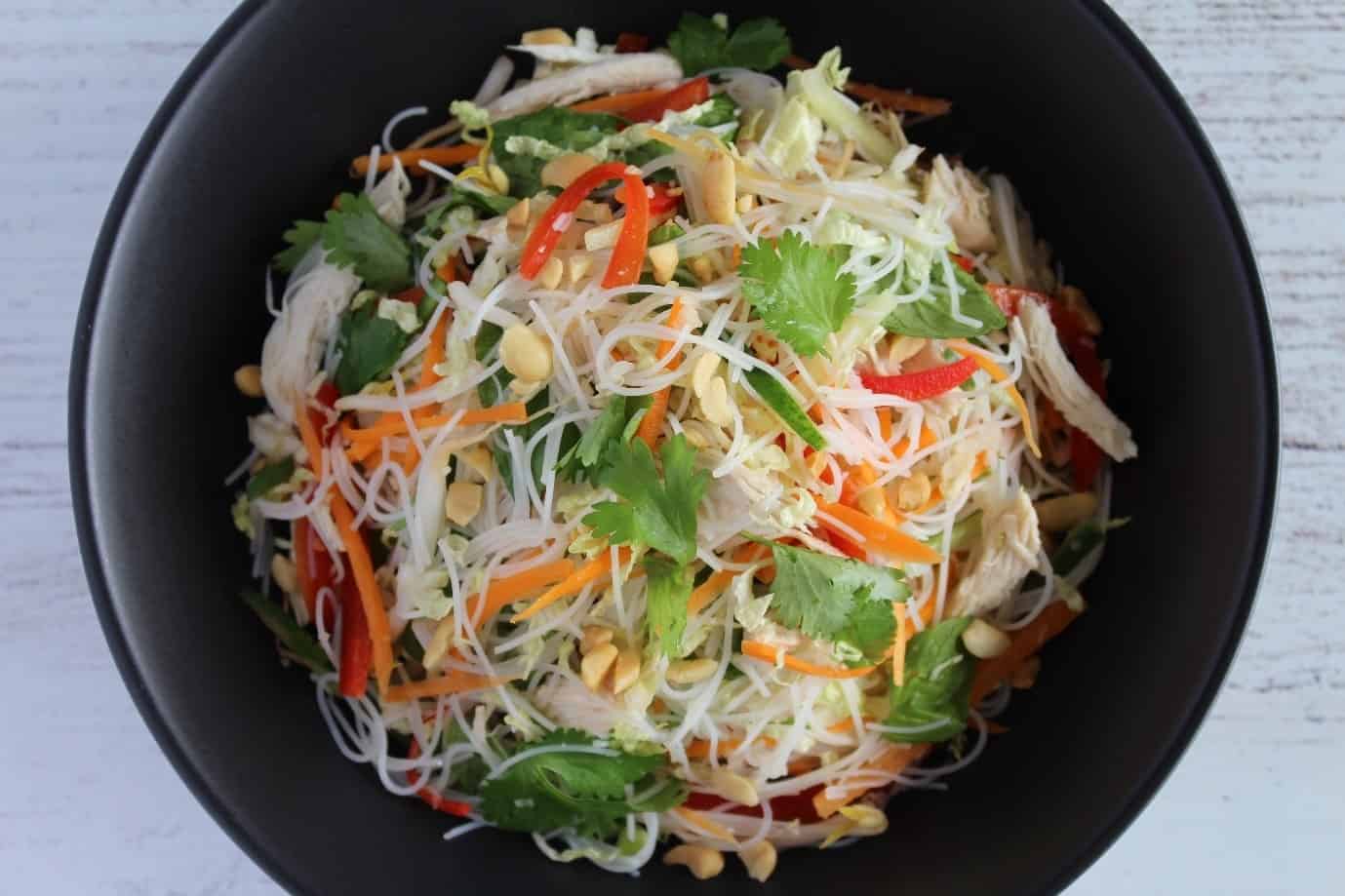 It's a fresh flavour bomb that's got it all: crunch, texture, nutrition. Get a good dose of veggies and protein in this delightful dish.
6
Serves
0
Serves of Fruit
(Per Serve)
2
Serves of Vegetables
(Per Serve)
INGREDIENTS:
600g chicken breast, without skin, cut into large pieces
200g rice vermicelli noodles
1 medium carrot, julienned (cut into long thin strips)
1 medium Lebanese cucumber, seeds removed, julienned
1 medium red capsicum, finely sliced
200g Chinese cabbage, finely shredded (approx. 2 ½ cups)
3 spring onions, finely sliced
1 cup bean sprouts
1 long red chilli, deseeded and finely sliced
½ cup coriander leaves, packed
½ cup mint leaves, packed
1/3 cup lime juice
3 teaspoons sesame oil
3 teaspoons fish sauce
2 garlic cloves, crushed
2 teaspoons finely grated ginger
1/3 cup unsalted peanuts, chopped
METHOD:
To poach the chicken, place the chicken breast in a large saucepan and cover with water. Bring to the boil, then reduce to a simmer. Cover and gently simmer over a very low heat for 10 minutes. Remove from the heat and leave the chicken in the poaching liquid for 10 minutes. Remove the chicken from the saucepan and shred using two forks. Cover the shredded chicken and refrigerate until needed.
Meanwhile, place the rice vermicelli noodles in a large heatproof bowl and cover with boiling water. Set aside until tender (approx. 5 minutes), then drain and rinse under cold water and drain again.
To make the dressing, combine the lime juice, sesame oil, fish sauce, crushed garlic and finely grated ginger in a small bowl.
To make the salad, combine the drained rice vermicelli noodles, shredded poached chicken, julienned carrot, julienned cucumber, finely sliced red capsicum, finely shredded Chinese cabbage, finely sliced spring onions, bean sprouts, finely sliced red chilli, coriander leaves and mint leaves in a large bowl. Toss well to combine all ingredients.
Add the dressing to the prepared salad and toss to combine.
To serve, divide the chicken noodle salad among six plates and top each with the chopped unsalted peanuts.
RECIPE NOTES:
If you have any leftover roast chicken or cooked prawns, these ingredients are a perfect addition to this salad. Simply skip poaching the chicken in step 1 and add the leftover roast chicken or cooked prawns to the salad in step 3.
Adapt this recipe to suit your preferences or what you have available. For example, replace the Chinese cabbage with green or red cabbage, or replace the mint and coriander leaves with another type of herb.
Leftovers can be stored in an airtight container in the fridge for 2 – 3 days.
If possible, choose Chinese cabbage grown locally in the Darling Downs.
ACKNOWLEDGEMENT:
Recipe produced in conjunction with Nutrition Australia Qld.