Charred Corn with Roasted Red Onion, Avocado and Tomato Salad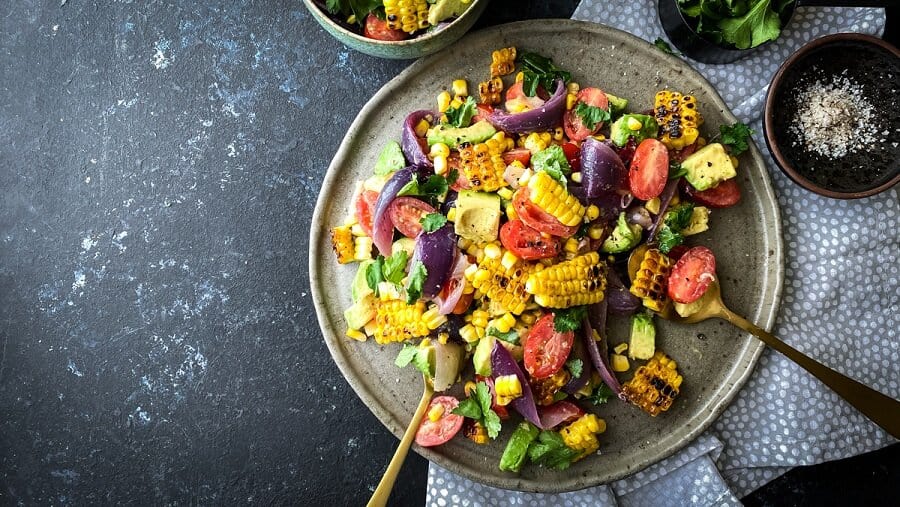 All these fresh flavours dance together, making it a perfect side salad for any meal.
4
Serves
0
Serves of Fruit
(Per Serve)
5
Serves of Vegetables
(Per Serve)
INGREDIENTS:
2 red (Spanish) onions
3 ears of corn
1 ripe avocado
250g cherry tomatoes
½ cup coriander, roughly chopped
Salt and pepper to taste
DRESSING
3 tablespoons olive oil
1 tablespoon Dijon mustard
1 tablespoon maple syrup
Juice of 1/2 lemon
METHOD:
Preheat oven 200°C or 400°F.
Cut onions in half lengthwise with skin on and place cut side down on oven tray and drizzle with olive oil, season with salt, then roast in oven for 30 minutes until soft and brown.
Remove onions from oven to cool. Then slice approximately 1cm thick lengthwise (from top to root)
Preheat pan to medium-hot heat. Coat corn with olive oil, place on grill and cook for 15 minutes or until well charred. Remove from grill to cool.
Wash and cut cherry tomatoes in half lengthwise.
Using a sharp knife cut corn from cob.
Peel avocado and cut into 2cm cubes.
To make the dressing, mix olive oil, lemon juice, Dijon mustard, maple syrup in a small bowl and mix.
To assemble, place all ingredients in a large serving bowl, add dressing and toss well together. Season with salt and pepper if desired and enjoy.
RECIPE NOTES:
Add bread, some cheese maybe and you've got a light main meal.
ACKNOWLEDGEMENT:
Recipe adapted from content originally published by
Nutrition Australia
and created by The Devil Wears Salad.