Bircher Muesli with Poached Pears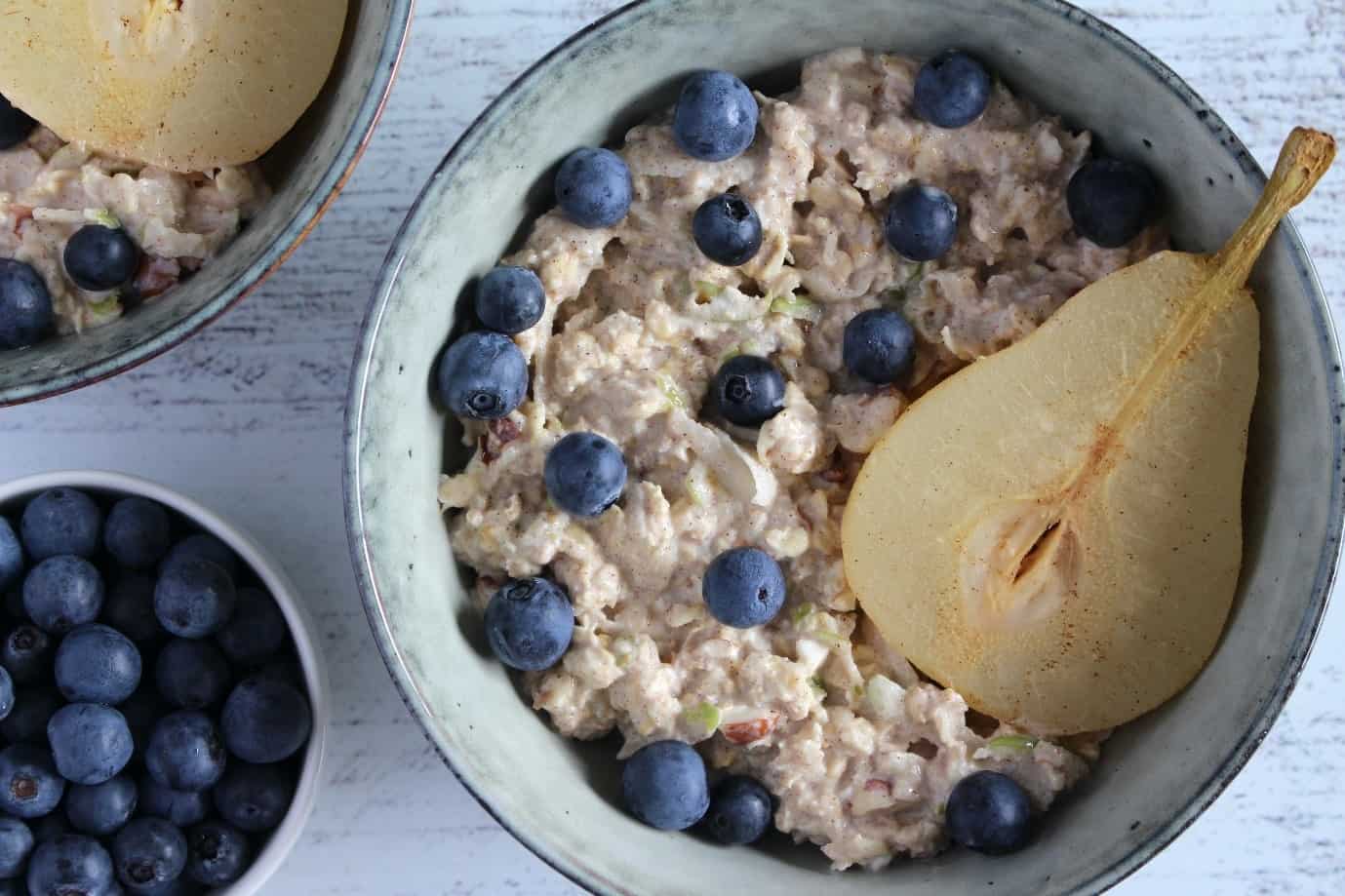 Creamy, crunchy and mouth-wateringly good, this is healthy and yum in a bowl.
4
Serves
1.5
Serves of Fruit
(Per Serve)
Serves of Vegetables
(Per Serve)
INGREDIENTS:
1 ½ cups rolled oats
¼ cup almonds, chopped
2 ½ teaspoons ground cinnamon
2 granny smith apples, grated
1 orange, juiced
1 cup milk
½ cup plain Greek yoghurt
2 pears, peeled and sliced in half
1 teaspoon ground ginger
1 teaspoon vanilla extract
Water
1 cup fresh blueberries, to serve
METHOD:
Place the rolled oats, chopped almonds and 1 ½ teaspoons of the ground cinnamon in a bowl. Mix to combine.
Add the grated granny smith apples, orange juice, milk and plain Greek yoghurt to the bowl.
Stir all ingredients together to combine. Cover and refrigerate overnight.
For the poached pears, place the halved pears in a large saucepan, along with the remaining 1 teaspoon of ground cinnamon, ground ginger and vanilla extract. Cover with water and gently mix to incorporate the ingredients. Bring to the boil and allow the pears to simmer for 15 – 20 minutes or until tender.
Once cooked, use a slotted spoon to remove the poached pears from the liquid and allow to cool slightly.
Divide the prepared bircher muesli among four bowls and top each bowl with a halved poached pear and fresh blueberries.
RECIPE NOTES:
Adapt this recipe to suit your preferences or what you have available. For example, replace the almonds with other nuts, seeds, dried fruit or shredded coconut. Also adjust the toppings to include fruit that is in season.
While bircher muesli is generally served chilled, if you prefer warm oats you can heat them in the microwave before serving.
If possible, choose apples grown locally in the Granite Belt region.
ACKNOWLEDGEMENT:
Recipe produced in conjunction with Nutrition Australia Qld.