Berry and Yoghurt Parfaits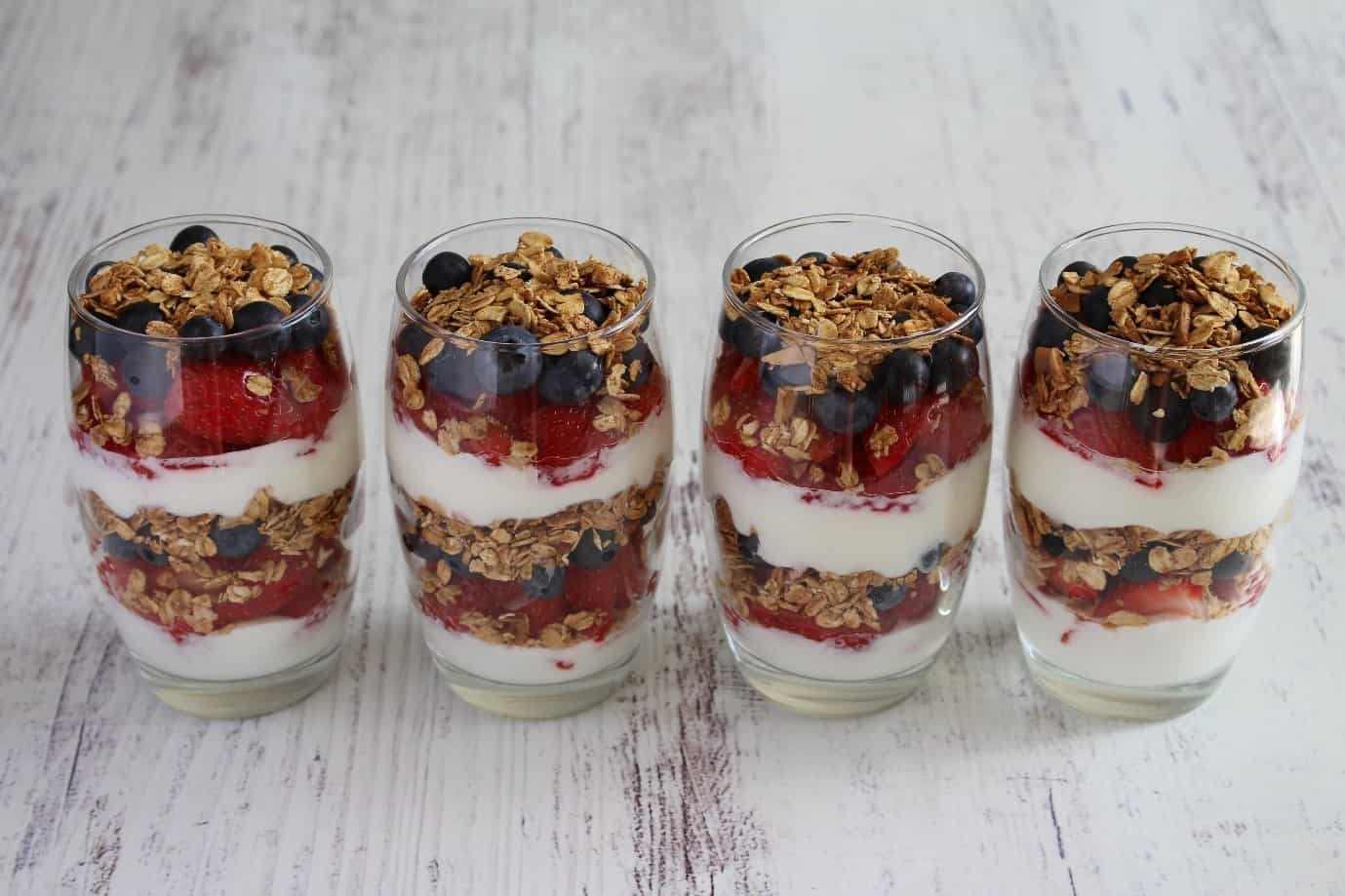 This parfait is a delight for the eyes as well as the taste buds. Simple and versatile, this is your breakfast, lunchbox or afternoon snack buddy.
4
Serves
1
Serves of Fruit
(Per Serve)
0
Serves of Vegetables
(Per Serve)
INGREDIENTS:
½ cup rolled oats
2 teaspoons slivered almonds, chopped
½ teaspoon ground cinnamon
½ teaspoon vanilla extract
2 teaspoons pure maple syrup
1 ½ cups vanilla Greek yoghurt
3 cups strawberries, stems removed, quartered
1 ½ cups blueberries
METHOD:
Preheat oven to 180°C. Line a baking tray with baking paper.
To make the granola layer, combine the rolled oats, slivered almonds, ground cinnamon, vanilla extract and pure maple syrup in a mixing bowl. Use your fingers to work the ingredients together. Once well combined, evenly spread the granola over the prepared baking tray.
Bake in the oven for 10 – 15 minutes or until golden brown. Allow to cool.
To make the parfait, layer the vanilla Greek yoghurt, strawberries, blueberries and granola to fill four glasses.
RECIPE NOTES:
Adapt this recipe to suit your preferences or what you have available. For example, replace the slivered almonds in the granola layer with other nuts, seeds, dried fruit or shredded coconut. Also adjust the fruit layer to include fruit that is in season.
If not served immediately, leftovers can be stored, covered, in the fridge for up to 1 day. If not served as a dessert, this recipe is also a great breakfast option.
If possible, choose strawberries grown locally in south east Queensland.
ACKNOWLEDGEMENT:
Recipe produced in conjunction with Nutrition Australia Qld.