Beef and Lentil Bolognaise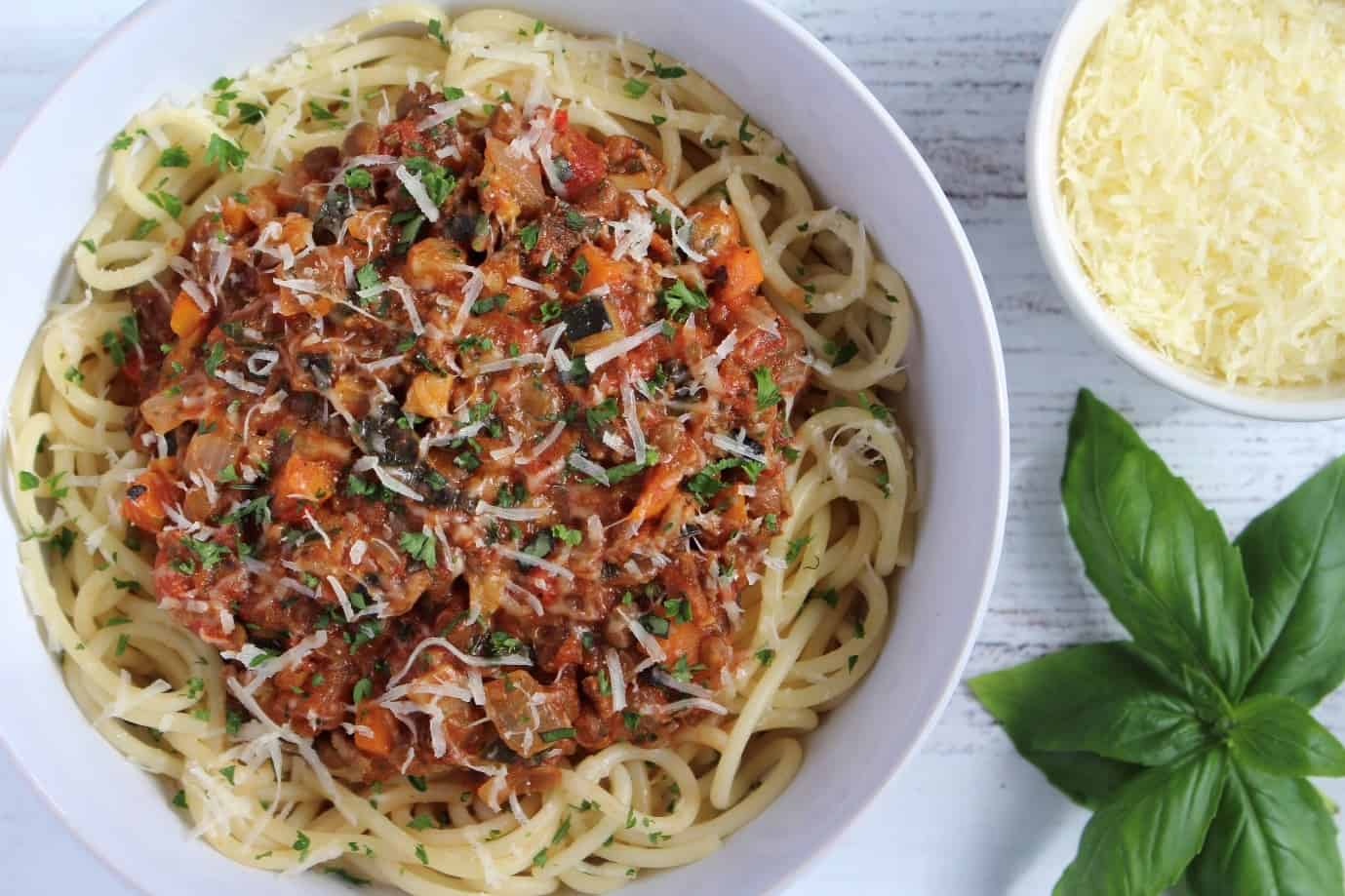 The undisputed family favourite with an extra dose of healthy. Introduce some legume love into your life with beef and lentil bolognaise.
6
Serves
0
Serves of Fruit
(Per Serve)
3.5
Serves of Vegetables
(Per Serve)
INGREDIENTS:
1 ½ tablespoons extra virgin olive oil
1 large brown onion, peeled and finely diced
1 large carrot, finely diced
200g mushrooms, finely diced
1 large zucchini, finely diced
6 garlic cloves, crushed
1 long red chilli, deseeded and finely chopped
300g extra lean beef mince
4 tablespoons tomato paste (no added salt)
2 x 400g cans diced tomatoes (no added salt)
1 teaspoon dried oregano
1/3 cup parsley leaves, finely chopped
Cracked black pepper
1 cup water
400g spaghetti
420g can brown lentils (no added salt), drained and rinsed (Note: 225g once drained)
1/3 cup basil leaves, finely chopped
30g parmesan cheese, to serve
METHOD:
Heat the extra virgin olive oil in a large non-stick frypan over a medium heat.
Add the diced brown onion, carrot and zucchini and cook for 2 minutes, then add the diced mushrooms and cook for 5 minutes or until all vegetables are softened.
Add the crushed garlic and finely chopped chilli and cook for 1 minute.
Add the extra lean beef mince to the pan. Break up the mince with a wooden spoon and cook until browned.
Add the tomato paste and cook for 1 minute.
Add the diced tomatoes, dried oregano, finely chopped parsley and season generously with cracked black pepper. Rinse the diced tomato cans with 1 cup of water and add to the pan. Bring to the boil and reduce the heat to low to simmer for 20 – 25 minutes or until the sauce has thickened.
Meanwhile, cook the spaghetti in a large saucepan of boiling water according to packet instructions.
Once the Bolognaise sauce is almost ready, add the brown lentils and finely chopped basil and heat through. If the sauce becomes too thick, add a spoonful of pasta water to loosen.
To serve, divide the spaghetti among six bowls and top each with the Bolognaise sauce and a grating of parmesan cheese.
RECIPE NOTES:
No mince? Just substitute with the same quantity of lentils or lentil and veggies.
For a quick meal, make a double batch and store leftover Bolognaise sauce in an airtight container in the fridge for 2 – 3 days or in the freezer for 3 – 4 months.
Mix up the vegetables used in this recipe to include what you have available – finely diced celery, capsicum and baby spinach leaves can work well.
Mix up your choice of pasta for this recipe – all shapes and sizes work well, as well as wholewheat, pulse and gluten free pasta options.
ACKNOWLEDGEMENT:
Recipe produced in conjunction with Nutrition Australia Qld.