Apple and Oat Crumble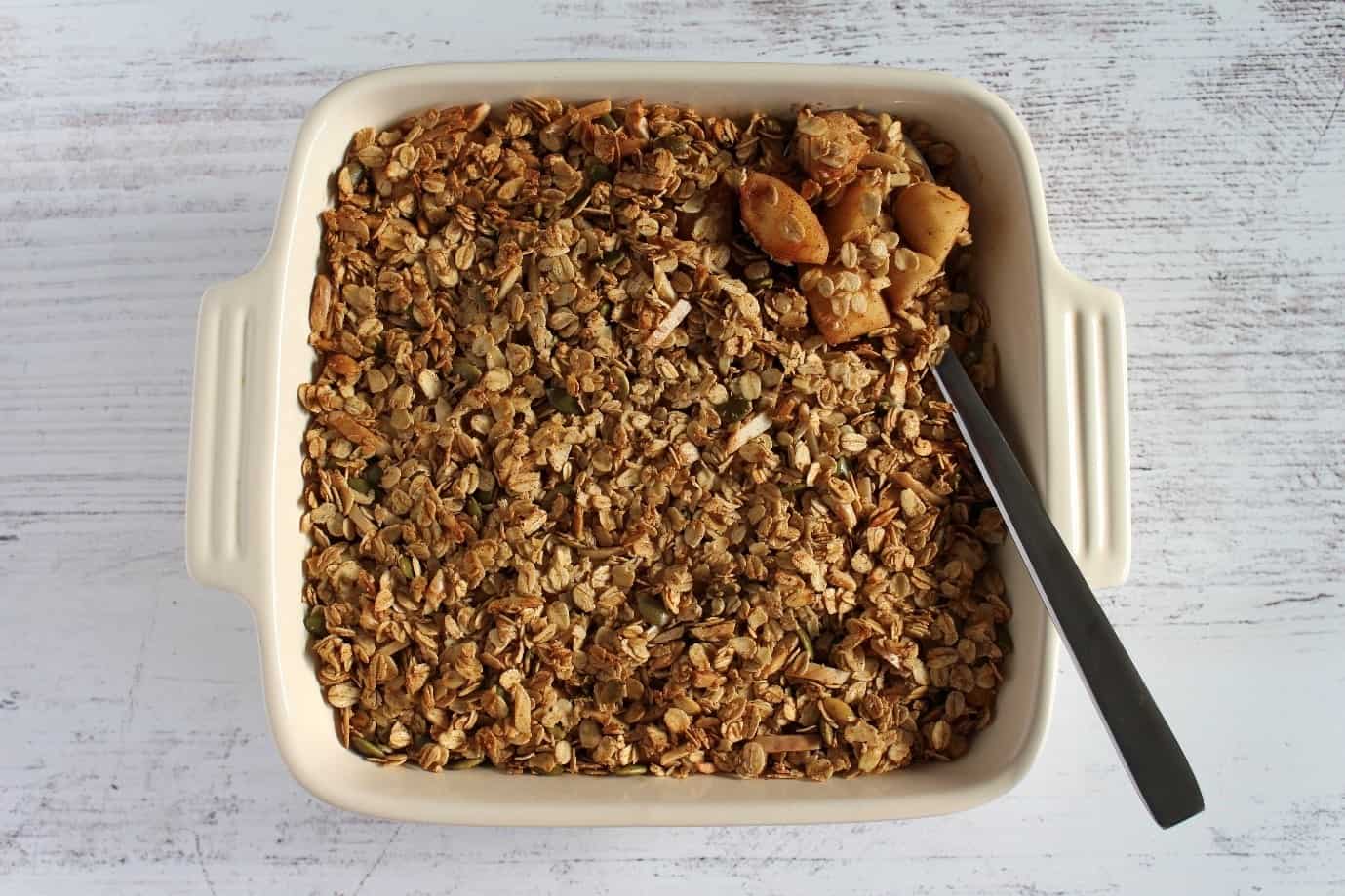 Crunchy, cinnamon coated crumble with spicy sweet apples. Can it get any better? Add a dollop of plain or vanilla Greek yogurt and you've got nutritious and delicious.
6
Serves
1
Serves of Fruit
(Per Serve)
Serves of Vegetables
(Per Serve)
INGREDIENTS:
6 medium granny smith apples, peeled, cored and diced into 2cm cubes
1 tablespoon lemon juice
3 teaspoons ground cinnamon
2 teaspoons vanilla extract
¼ cup water
1 ½ cups rolled oats
1 ½ tablespoons slivered almonds
1 ½ tablespoons pepitas
1 ½ tablespoons pure maple syrup
METHOD:
Preheat oven to 180°C.
In a saucepan, combine the diced granny smith apples, lemon juice, 1 ½ teaspoons of ground cinnamon, 1 teaspoon of vanilla extract and water. Cook over a low heat, whilst stirring occasionally, until the apples have softened slightly. Transfer the apples and any remaining liquid to an ovenproof dish.
To make the crumble topping, combine the rolled oats, slivered almonds, pepitas, pure maple syrup, the remaining 1 ½ teaspoons of ground cinnamon and the remaining 1 teaspoon of vanilla extract in a mixing bowl. Use your fingers to work the ingredients together. Once well combined, evenly spread the crumble topping over the apples in the ovenproof dish.
Bake in the oven for approx. 30 minutes or until golden brown
To serve, divide the warm apple and oat crumble among six bowls.
RECIPE NOTES:
If desired, serve with a spoonful of plain or vanilla Greek yogurt.
Adapt this recipe to suit your preferences or what you have available. For example, replace the slivered almonds and pepitas with other nuts, seeds, dried fruit or shredded coconut.
Leftovers can be stored in an airtight container in the fridge for up to 3 days or in the freezer for up to 1 month.
If possible, choose apples grown locally in the Granite Belt region.
ACKNOWLEDGEMENT:
Recipe produced in conjunction with Nutrition Australia Qld.