Matt Golinski's Sweetcorn, Capsicum and Cheese 'Waffle Jaffles'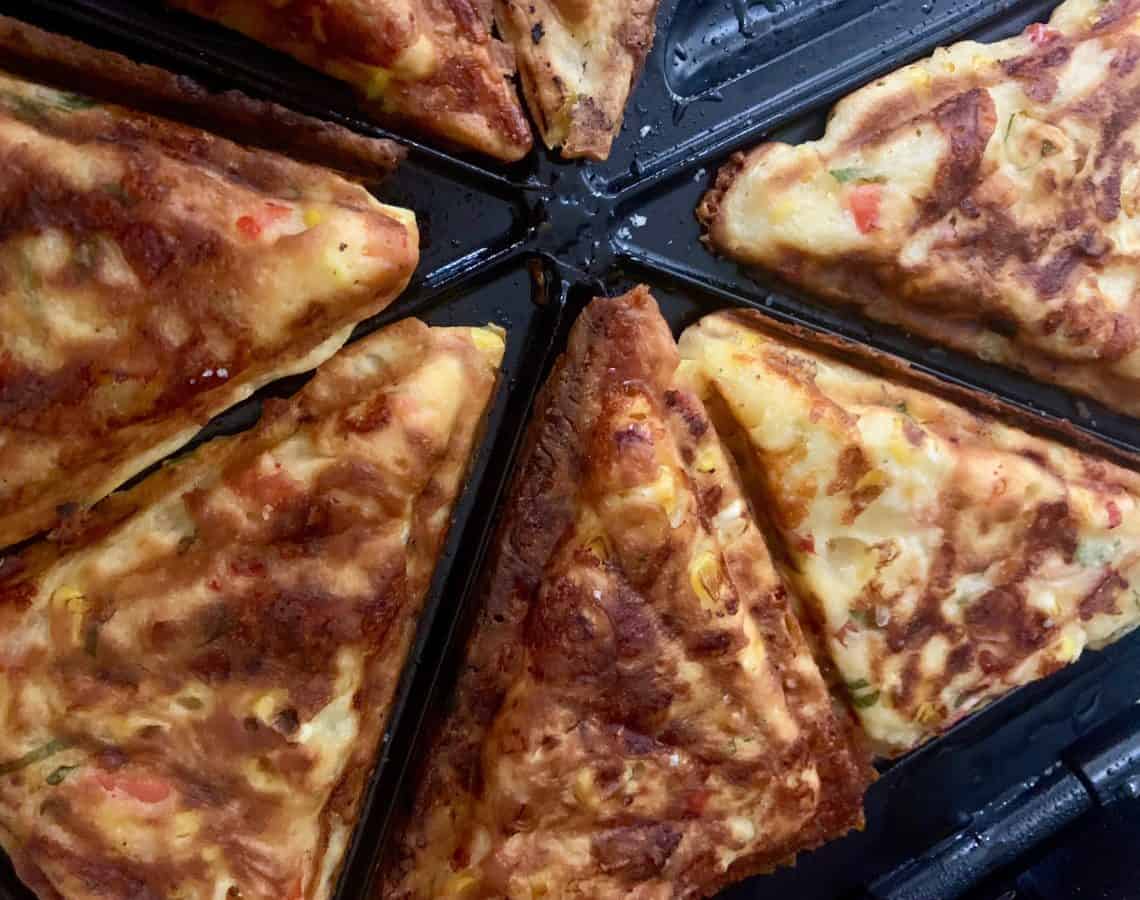 I was trying to think of a way to make corn fritters without the hazards of rogue corn kernels exploding in a frying pan, when it struck me—why not make a waffle batter, put lots of vegetables in it, and cook it in my jaffle iron. And so the savoury 'waffle jaffle' was born!
And they're really good. Straight from the jaffle iron or cold the next day in a lunchbox, these guys work with whatever vegetables you like: even mixed frozen vegetables would work fine.
The mix can be made ahead of time and stored in the fridge and cooked as needed.
If being taken to school in a lunchbox this snack with need to start its journey cold and be kept cold with an icepack or two. Get the back to school food safety essentials here.
Makes 4 serves
Ingredients
150 gm (1 cup) plain flour (try half wholemeal to increase your fibre intake)
1 tsp baking powder
1/2 tsp salt
1 large egg
250 ml (1 cup) milk
250 gm corn kernels (1 tin, drained, or 2 fresh cobs kernels removed)
100 gm red capsicum, diced
100 gm low fat cheddar cheese, grated
1 tbs chopped parsley (optional)
Method
Turn on the jaffle iron to get it hot.
In a medium bowl, mix together the flour, baking powder and salt.
In a jug or small bowl, whisk together the milk and egg lightly.
Whisk the milk and egg mixture into the flour mixture a little at a time to form a smooth batter.
Stir in the corn, capsicum, cheese and parsley and mix well.
Spray the jaffle iron on the top and bottom lightly with oil or brush with butter or vegetable oil.
Spoon the mixture evenly into the jaffle iron (this mix makes 4, so if you have a 2 sandwich press then you'll need to do 2 batches)
Nutritional information
Per serve: 1432kj energy, 13g fat (7g saturated fat), 16g protein and 5g fibre.
Recipe created by Matt Golinski, Health and Wellbeing Queensland Ambassador.